Aperion Audio Intimus 6-LCR In-Wall Speakers
Summary
Product Name:

Intimus 6-LCR

Manufacturer:

Aperion Audio

Review Date:

June 12, 2009 03:05

MSRP: $225/each
First Impression:

Pretty Cool

Specifications

Dual 6.5" long-throw, woven-fiberglass, dual-voice coil woofers
1" aimable audiophile grade silk-dome tweeter
Separate bass and treble equalization switches
Ten year warranty
30-Day No-Risk In-Home Audition™
FREE SHIPPING BOTH WAYS
FREE lifetime customer support
Retails for $225 and shipping now
Executive Overview
As displays are getting thinner and thinner, consumers are demanding speakers that match. What matches a flat panel hung on a wall better than a few in-wall speakers installed around it? Aperion Audio has heard the call and has introduced a new in-wall speaker dubbed the Intimus 6-LCR. With a 2.5 way MTM design, the 6-LCR is designed for either vertical or horizontal placement making it perfect for either main or center channel duty.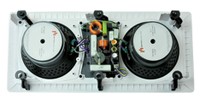 There are a few things you'd really like to see in an in-wall speaker and the Aperion Audio Intimus 6-LCR has them all. Aimable tweeter? Check. +/-3dB tweeter and bass boost/cut? Check. Enough bass to integrate well with a sub? Check. The 6-LCRs spec a low point of 65Hz which is well below the THX recommended 80Hz crossover point and should make mating with a sub a breeze. The aimable tweeter should allow fine tuning of the upper end which may be hampered by placement issues (darn those studs) and user preference. It should also allow users to focus the imaging. The bass and treble boost/cut switches are a nice touch as they give some adjustments to compensate for boundary reinforcement or poorly located lamps (HGTV really is the nemesis of quality home theater).
The rear of the speaker is lacking a back box which may affect how the speaker performs in each room. Remember, the wall becomes the enclosure and different heights/widths/amount of insulation will make a difference. Many installers like to create their own back boxes by blocking off part of the wall above and below the installation. Consult with Aperion Audio for their recommendations before you decide to do this. Installation is done by using the included template to cut out the hole, connecting the wires, and placing the speakers in the wall. A few screw twists will bring the "dog ear" drywall clips in to clamp the speaker tightly to the wall. There are 6 clamps which should make for a very secure installation especially considering the speaker is only 8lbs.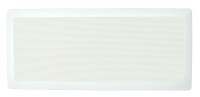 The speaker grill and frame is designed to be paint to become a part of your home. This is an important selling point as the whole purpose of the in-wall speaker is to "disappear" into a room. The 6-LCRs sport dual 6.5" strong and lightweight woven fiberglass woofers and a 1" silk dome tweeter. The binding posts are of the spring-loaded variety - not my favorite for in-wall applications. While they make for easy installation, if they fail, you don't have a backup. Some sort of locking mechanism would be preferred (but definitely not the norm in the price category).
The 6-LCRs look like a great speaker except for one problem - their size. While for vertical placements this shouldn't be an issue, the speakers are almost 19" tall (or wide depending on how you look at them). This makes horizontal installation a bit tricky since the standard stud gap is 16" from center. Aperion Audio notes this on their website suggesting that a licensed contractor should be consulted for center channel installation. They have even partnered with an installation company to help you out. While this doesn't technically preclude all you DIY-warriors, it is something to consider. A little research into your home and how you might need to modify your wall is in order. Remember, you can always install the center channel vertically as well. There are plenty of people that suggest this is the best option anyhow.
Conclusion
At $225 a piece, the Aperion Audio Intimus 6-LCRs look to be a very nice speaker. At this price, you couldn't really ask for any more options than what Aperion is giving you and can find lots of offerings with a lot less. Aperion has voice matched these speakers with their entire Intimus line which really expands your options for surround speakers (though it is unclear if that is the entire Intimus line or just the line of in-walls). With a 30 day in home trial with free shipping both ways, I'd usually suggest that this is a no-risk buy. But honestly, are you going to rip the speakers out of the wall if you don't like them? Well, at least you don't have to worry much about them breaking with the 10 year warranty.
For more information, please visit www.aperionaudio.com.
See also:
BigDaddy posts on June 17, 2009 13:49
I wonder how these would compare with the Axiom Audio in-wall speakers. They're at a similar price point and both internet-direct. I like Aperion (I own a pair of Intimus bookshelves), but it seems like they need to tweak a few things before I buy, unless the sound quality far outshines Axiom.