2008 CEDIA Loudspeaker Roundup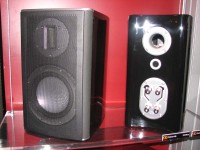 CEDIA Loudspeaker Round-up
Some manufacturers keep a steady stream of products going to consumers. Others believe they have created the perfect loudspeaker and further innovation is impossible. We cover the former at this year's CEDIA Expo and uncover some enticing and exciting new models as well as some duds that may not see the light of day (well, not for long, anyways).

Some of the exciting models included speakers from Yamaha, Monitor Audio, Boston Acoustics, Sunfire and Earthquake Sound.  It's also good to see JL Audio get into designing home theater speakers, but from what we saw, they tend to be a bit pricey for what you are getting.  Read on to find out more details....


Boston Acoustics VS Series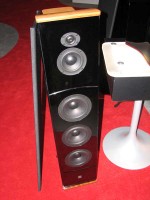 Boston Acoustics went through a rather bizarre makeover last year by placing more emphasis on lifestyle products instead of their heritage audiophile grade loudspeakers that earned them great marks by many of the major home theater publications. Gone are those garbage can looking speakers and subs and back in full force is a new lineup of more traditional based loudspeaker products that are worthy of living up to the heritage of the Boston Acoustics name. Best of all they seemed to have gotten the cosmetics right this time as evident by the beautiful VS 336 towers ($1,699/ea) and the VS 260 ($699/ea) & VS 240 ($399/ea) matching bookshelf speakers.
The VS 336 towers sport triple 6 1/2" bass drivers, 1 4" midrange and a newly designed 1" soft dome tweeter that looks as if someone stuck their finger in the middle of it. According to Eric Pomerleau – Boston's National Product Trainer, the dimple in the middle is there for good reason. It is somehow partly responsible for the lowering the tweeters resonance frequency so it can play lower and achieve a better blend with the midrange. All of the speakers in this series share the same tweeter with the VS 260 sporting a 6 1/2" driver and the VS 240 sporting a 4 ½: driver. These speakers are available in standard black or cherry.
The brief demo I heard of this system definitely charged me up to conduct a formal review in the near future. There seemed to be a lot of detail coming from those dimpled tweeters and despite the noisy showfloor, the exhibited good imaging qualities.
For more information, visit: www.bostonacoustics.com
Yamaha NS Series Loudspeakers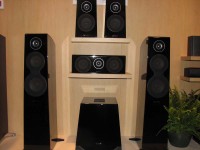 Yamaha unveiled some highly styled speakers with a premium black piano finish and a goal to reproduce lifelike audio dynamics. The NS-F700 3-way towers retail for $799/ea, the NS-B750 2-way bookshelf system retails for $499/ea, NS-B700 2-way bookshelf for surrounds retail for $299/ea and the NS-C700 2-way center channel retails for $499/ea. All of the speakers in this series employ their new 1 1/8" aluminum dome tweeter, vertical ladder-type bracing and 3-way mitered joint construction to minimize cabinet resonances.
These speakers are said to incorporate high-performance, precision designed drivers to help realize exceptional dynamics, range and tonal characteristics. Yamaha's exclusive A-PMD (Advanced Polymer-injected Mica Diaphragm) woofer and mid-range cones utilize PMP (Poly-Methyl-Pentene), a low specific gravity material that is much lighter than polypropylene. This material provides ultra-fast response time for superior dynamics, and also delivers excellent mid-range clarity and bass response. Unwanted resonances are also reduced, resulting in very natural sounding vocals.
For more information, visit: www.yamaha.com/yec
Monitor Audio Platinum Series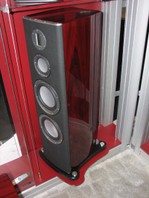 Monitor Audio kicked it up a notch with their introduction to their new premium line of speakers known as the Platinum Series. This series consists of a floorstander PL300 ($10k/pair) with dual 8" bass drivers, a 4" C-CAM mid driver and a 1 " C-CAM ribbon tweeter with a reported frequency response of 29Hz to 100kHz.
The PL100 ($4500/pair) bookshelf speaker system is a two-way design with a 6 ½" mid bass C-CAM driver and a 1" ribbon tweeter with a frequency response from 42Hz to 100kHz. The PL350C is a dedicated center channel with a similar driver complement to their flagship PL300 tower speaker system.
I sat and listened to their demo of the Eric Clapton crossroads DVD and was impressed with that I heard. These speakers are simply stunning to look at and their sound appears to be on equal footing. I am eagerly awaiting to review their PL100s to determine if they can become a new bookshelf standard for Audioholics.
For more information, visit: www.monitoraudiousa.com/
Earthquake Sound iQuake Speaker System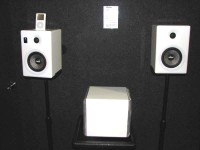 Earthquake unveiled a new compact speaker system designed for gaming or portable audio situations. Their new iQuake IQ-52W/B serves as an iPod / MP3 docking station where it will charge and play music. The system is powered by a 200 watt amplifier, has 3 switchable inputs and is controlled via remote control with a range of 32 ft. The speakers have 5 ¼" woofers and ¾" soft dome tweeters and is capable of interfacing with their MiniMe subwoofer system for extended bass.
The system retails for $399 (sans the sub) and is offered in two finishes – piano black and white.
For more information, visit: www.earthquakesound.com
JL Audio Primacy x3

JL Audio introduced a new powered speaker system which boasts dual 6 1/2" drivers that utilize cones from Scan Speak but JL claims the motor structure was designed by them.  This system also employs a 3" silk dome midrange and 1 1/2" silk dome tweeter.  The Primacy system is internally powered by 3 amplifiers per speaker with up to 1000 watts of dynamic power.  the enclosure is sealed and well damped as far as i could tell.  Each driver is decoupled from the cabinet with "energy absorbing" gaskets.  Build quality is top notch as indicated that each speaker weighs a whopping 63lbs each despite they are only 23" high  x 8"wide x 13" deep.  The reported frequency response with a 50Hz HPF engaged is 50Hz to 20kHz +- 1.5dB. 

I heard a demo of this system in their demo room which also included 4 of their new in-wall subwoofers.  Overall the system seemed to image well, with excellent tonal characteristics but as usual they appeared to have the bass boosted a bit too hot for my liking.  A true assessment must be made in my theater room but JL Audio set no date as to when these would be shipping.  At $10k/ea they are awfully expensive and I wonder if the audiophile crowd will truly embrace a self powered speaker at this price range.  I posed this question to JL Audio and they said this speaker doesn't target the audiophile as much as it does the serious custom integrator.  Honestly when you're reaching for this price level, how could one NOT be an audiophile? 

For more information, visit: www.jlaudio.com

Sunfire XT Series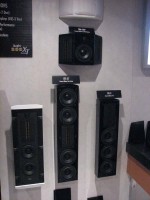 Sunfire released a new series of on-wall ribbon style speakers. Their line up consists of CRS-3C center trio which has 4 4.5" woofers and 1 ribbon tweeter, CRS-3 trio left/right which has one less woofer than the CRS-3C and the CRM-2BIP which is a ribbon on-wall bipole speaker for surround sound. The package as a whole looks pretty cool and although I didn't get a chance to hear them, I am definitely interested.
Fore more information, visit: www.sunfire.com
Matt34 posts on September 14, 2008 04:18
Glad to see Boston Acoutics saw the error in their ways and got rid of the "lifestyle" mistake.

JL, $10K/speaker......more money than sense? I really hope this is part of a plan to trickle down technology to use mere mortals.
jliedeka posts on September 13, 2008 20:38
If I were really into the 2-channel thing, I'd be looking at all passive full range towers or the Mythos STS speakers. While I understand some of the advantages of an active speaker, it's not something I want for home theater. Running speakers cables to 5 or 7 speakers is one thing but then having to power them all is something I wouldn't want to deal with. I have the same objection to wireless speakers. I'd rather run speaker wires than power.

Jim
AVRat posts on September 13, 2008 14:22
Good to hear somebody at Boston pulled their head out and are hopefully getting back on track!
mike c posts on September 10, 2008 17:31
gene;454077
Yes they are a bit spendy aren't they? People that can drop that sort of cash on audio equipment don't even break a sweat doing it. I am sure they will do well in that segment despite how niche it is.
if i had that dough, i'd probably get those (yes no sweat)
but most who have that dough really are audiophiles ... i would think audiophiles hate 1) subwoofers 2) a subwoofer company MAKING speakers 3) even i have the impression, JL Audio = SQ car subwoofer (though high end)
GlocksRock posts on September 10, 2008 12:17
I was wondering when JL would finally get around to making home theater speakers.