WarBeast PS3 Wireless Guitar
Summary
Product Name:

WarBeast PS3 Wireless Guitar

Manufacturer:

dreamGEAR

Review Date:

January 07, 2009 15:05

MSRP: $89.99
First Impression:

Gotta Have It!

Specifications

Compatible with Playstation 2 and Playstation 3
2.4GHz wireless technology
Responsive whammy bar
Extended strum bar for enhanced comfort
Removable neck and headstock for portability
Executive Overview
dreamGEAR's newest video game accessory (which garnered an Innovations 2009 Design and Engineering Award honoree status) is the WarBeast PS3 Wireless Guitar. The WarBeast is a full-size wireless guitar controller compatible with the PS3 that is fully licensed by iconic heavy metal guitar manufacturer B.C. Rich. It is designed to bridge the gap between professional guitars and gaming equipment. It is compatible with both Rock Band and Guitar Hero (and probably Rock Revolutions but no one plays that game anyhow).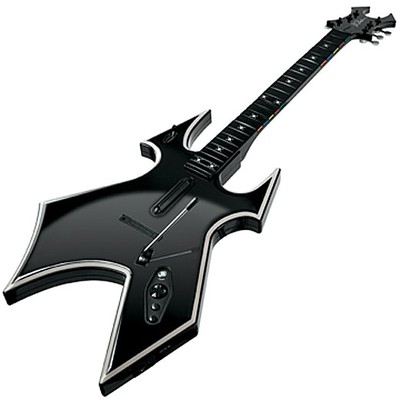 The guitar looks awesome and feels a bit more solid in the hands than your standard game controllers. The neck features the same dual controls that exist both on top and bottom for tighter control during solos. This is something a lot of people are going to really enjoy using. It's about as close to the real thing as gamers will likely get without strings.
For more information, visit www.dreamGEAR.net or www.iSound.net.
sejiro posts on August 16, 2009 13:50
hi, i'm from Singapore and i owned a warbeast guitar controller that i bought off from amazon. however lately the wireless receiver went dead on me, anyone here have any idea where i can get a replacement for wireless receiver. thanks in advance..
darien87 posts on February 02, 2009 14:17
I played the Warbeast a little last weekend. I guess I'm getting used to it. It's still a little awkward, but it's so damn cool looking that I think I'll keep it.

I was getting my Mustang's windows tinted yesterday, and there was a Guitar Center right next door, so I popped my head in for the hell of it. I saw the Warbeast on the wall!! Looked just like my controller back home!
DonBattles posts on January 29, 2009 02:54
darien87;515786
Yikes, the thing is big.
Well it is supposed to be a ''full size replica". So if you decide to take up real guitar someday you should be very comfortable
darien87 posts on January 28, 2009 13:14
Got the Beast last night. Yikes, the thing is big. It's going to take some getting used to. My left hand sits out pretty far to the left when playing. It's a little awkward. I think the stock RB guitars are actually a bit better, since they're only a little bit smaller than the WarBeast. The strum bar is a little too noisy for my taste. Also, the button for star power is right where I keep my palm when strumming, so I accidentally activated it once while playing last night.

The jury's still out on this one. It's definitely cool looking. I'll have to see if I can get used to it. If not, it's going back to Best Buy.
darien87 posts on January 21, 2009 18:44