Man on the Moon DVD Review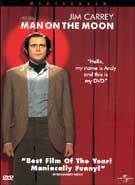 Movie Summary
Based on a true story, Jim Carrey stunningly portrays the late Andy Kaufman - considered the most innovative, eccentric and enigmatic comic of his time - in Man On The Moon. "Jim Carrey is extraordinary," says The New York Post. "Jim Carrey may be a better Andy Kaufman than Andy Kaufman," writes Newsweek. Also starring Danny DeVito as Kaufman's manager, Courtney Love as the woman Andy falls in love with and Paul Giamatti as his best friend. You'll stand up and cheer for Carrey in one of the year's most entertaining movies!
Audio Performance
The sound performance in this movie was very good. Of course, this was no disc of the action genre, but was still crisp and clear. The surround sound could be definitely be discerned throughout. Great!
Video Performance
Great video performance. The characters and environment were colorful enough, but no true lighting tests were in the movie for me to really push the score to perfection. Very good, though.
Special Features

This disc featured: Interactive Menus, Filmographies, Original Screenplay, Liner Notes, Trailers, Story Boards, Photo Gallery, Documentaries, Multiple languages and Subtitles. All-around, it had
a very good selection, though I wish they had something more on Andy Kaufmann and his life.
Interface Presentation
Nice and animated. I truly liked the way it was presented. Simple interface, also.
Overall
This was a very solid DVD movie presentation. As a fan of both Jim Carrey and Andy Kaufmann, I couldn't wait until this was in my collection. Great acting from Carrey and an interesting story about a very intriguing person makes this a rental at the very least.
Happy Viewing!