Gone in 60 Seconds DVD Review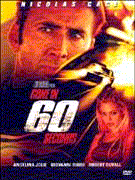 Movie Summary
Academy Award winners Nicolas Cage (The Rock) and sexy Angelina Jolie (The Bone Collector) ride an unstoppable wave of speed and adrenaline in this hot, edgy action hit from high-octane producer Jerry Bruckheimer (Armageddon). Legendary car booster Randall "Memphis" Raines (Cage) thought he'd left the fast lane behind - until he's forced out of retirement in a do-or-die effort to save his kid brother (Giovanni Ribisi - Saving Private Ryan) from the wrath of an evil mobster! But with speed to burn and attitude to spare, Memphis hastily re-assembles his old crew - a rogues' gallery including Academy Award winner Robert Duvall (A Civil Action) - and floors it in a full-throttle race to pull off the ultimate car heist: 50 exotic beauties in 24 hours - and the cops are already on to them! Directed by Dominic Sena and written by Scott Rosenberg, Gone In 60 Seconds is an action-packed thrill ride that comes out fast and never slows down.
Audio Performance
Solid sounds stemming from many high-performance vehicles really impressed me about this film. Since this was a movie of the action genre, it was "constant". It was certainly better than the original film, when it comes to audio.
Video Performance
The video performance was fine. I experienced no glitches or MPEG breakup. The cars looked fantastic as well as Angelina Jolie.
Special Features
This particular DVD featured: Music Videos, Story Boards, Theatrical Trailer, Scene Access, Behind-the-scenes Footage, Audio Commentary, Interactive Menus, Interviews. This had more than enough features for a film of this nature. Great extras make this a keeper in my DVD library!
Interface Presentation
Nice! The menu just leads one to know that this is an action film, even if one was not familiar with it.

Overall

Great DVD. Its excelled in sound, was flawless in video, and provides the movie fan with a bundle of extra's on the disc. Couple these with an attractive menu interface, and you've got a winner. This ones a keeper for action fans.
Happy Viewing!