Gladiator DVD Review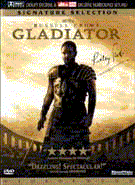 Movie Summary
Discover the unparalleled power and glory of Gladiator, a dazzling combination of vivid action and extraordinary storytelling that critics called a "stunning, explosive, breathtaking epic!" --Bill Diehl, ABC Radio Network
Masterfully directed by Ridley Scott (Alien, Blade Runner), Gladiator features a riveting performance from Academy Award-nominated star Russell Crowe, hailed by Newsweek as "a genuine larger-than-life hero!"
Note: Two-Disc Set.

Audio Performance
Great sound performance from such an incredibly great movie. The opening scene against the Germanic Barbarians is enough to give this movie a 5-thumber. IT IS AWESOME…nuff said.
Video Performance
The DVD video performance was flawless. From the gladiator battles to the recreation of great Rome, this movie is a feast for authentic sights. Getting the Best Costumes at the Academy Awards helps out in this category, also.
Special Features 
This particular DVD featured: Documentaries, Audio Commentary, Interactive Menus, TV Spots, Theatrical Trailer, Story Boards, Photo Gallery, Parental Lock, Cast/Crew Bios, Production Notes, Additional Footage, Interviews, Deleted Scenes, Behind-the-scenes Footage, Scene Access. Remember…this is the 2-disc set and provides the fans the extras that give it the 5-thumb Audioholics rating. You want information on this film? It has it! It even boasts a parental lock for those not wishing to subject your kids to all that gore. Great!
Interface Presentation
Straightforward design with no flaws gives this DVD an above average rating. Nothing at all to complain about.
Overall
Incredible DVD that belongs in any one's library. It has it all! In my estimation, all "Movie of the Year" winners belong in a movie collection. This is one of them! Go get it; as long as you remember to get the 2-disc version.
Happy Viewing!