Eagles – Farewell I Tour: Live from Melbourne (DTS)
by
John Hopkins
—
December 07, 2006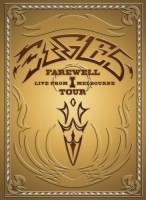 Label: WarnerVision (2 Disc Set)
Price: $29.98 | Get the Best Price
In 1994, the hit band, the Eagles, reunited after a long, 14 year break-up. Together again, they embarked on the highly successful Hell Freezes Over tour. To mark the occasion they recorded a live TV special for M TV, later released to video. The Hell Freezes Over (HFO) DVD became highly regarded in the home theater community for its outstanding fidelity, particularly in its DTS incarnation. It has since become a mainstay with countless magazines who use it as source material for product reviews. The disc also found its way into retail demo rooms where it gained even further exposure. HFO reached legendary status when it became the largest selling music video in history. Now, 11 years later, the Eagles have again released a concert DVD, and again it is in conjunction with a tour, titled Farewell I Tour: Live from M elbourne (Farewell 1).
Farewell 1 is a two-disc collection of live concert footage shot in November 2004. This new package highlights performances from Rod Laver Arena in M elbourne , Australia . The compilation offers 29 songs including two new tracks, One Day at a Time and No M ore Cloudy Days . Nearly three hours of music are presented over the two discs. M issing is guitarist and long-time band member Don Felder, who was fired in 2001. Also gone is the large orchestra seen in HFO . In Farewell 1 , the band is instead backed by a second drummer, two keyboardists, four saxophone players, and Felder's replacement, guitarist Stueart Smith.
Review Methodology
Review material is evaluated twice. I wait a period of two days between sessions. This allows me time to properly reflect on what I've observed. The first evaluation is less critical. I allow myself to become immersed within the medium, just as anyone not writing a review would be, but remain focused enough to take a few notes. The second evaluation is a much more careful assessment. I take notes in more detail and often pause and replay certain areas of significance.
Prior to each review, audio and video levels are tweaked with both the preamp's (NAD T 163) test tones and the Digital Video Essentials calibration disc. M ain, center, and surround speakers are set to small with the low pass crossover set to 80Hz. Bass management is provided by the preamp for DVD Video and by the DVD player (Pioneer 563A) for SACD and DVD-Audio. A component video connection is used with 480p progressive scan engaged. For SACD and DVD-Audio a 5.1 analogue connection is used, and for DVD Video an optical connection outputs DTS or DTS-ES when available. With certain material, the two-channel mix is examined to form a point of reference, but ultimately the surround mix is under review.
The Songs
Disc 1
1) The Long Run - The concert kicks off with the title track from their last studio album released way back in 1979. Right away noticeable differences in the audio characteristics of HFO and Farewell 1 become apparent. The reverberations in the arena are quite different from what was heard in HFO . Various camera shots show the enormous crowd gathered to watch them play both from the stage and from behind. The stage is wide, the ceiling high, and the back of the arena seems miles away. The performance of the song itself is solid. Henley 's lead vocals are balanced and blend well with the host of instruments. Drums are not overly heavy, but low frequencies provide work for the subwoofer. Subtle saxophone and keyboards parts feed the surround channels.
2) New Kid In Town - This mellow tune is played pretty close to the vest. Glenn Frey sings vocals that are a little weaker than I'm used to hearing for this song and as a result backing vocals seem to stand out a bit. The guitar parts are executed very cleanly, particularly considering it isn't Don Felder playing them. Overall it's well executed. The song isn't played with a tremendous amount of enthusiasm, but it is rather mellow in nature anyway. Surround material is well mixed and consists mainly of rhythm guitar, congo , and keyboard parts.
Note: Fans rejoice. Frey explains that Farewell I could likely become Farewell II sometime soon.
3) Wasted Time - This song was also included on HFO and my recollection of it helps me nail down the primary difference between the way HFO and Farewell 1 sound. The acoustic control of Farewell 1 is inferior to HFO , by the very nature of the venue itself. The intricacies of Don Henley's voice are lost by the sheer volume of the arena. The intimate setting of the HFO concert provided for a more delicate, more revealing recording. The surround presence is consistent with what I would expect. Quieter passages reveal the audience, but primarily the violin is mixed in both left and right surrounds. The reprise at the end is pretty darn cool, a special touch.
4) Peaceful, Easy Feeling - This song reconfirms what I've already said about the Rod Laver Arena. Farewell 1 sounds just as it should. The ambient realism is there, it's just realistically large. There is good balance in the harmony and lead vocals. Both the violin solo and guitar solo are up front in the mix when they should be, though some of the rhythm guitar parts remain a little too loud in the right channel. The vocals on this track are at the levels I'm accustomed to hearing. A new harmony is added to the song that I'd not heard before. The surrounds fill out my listening room; keyboard and second drum parts on the left, violin on the right.
5) I Can't Tell You Why - I've always found the drum beat and the long guitar solo of this song to be its best assets. Bassist Timothy B. Schmit, the most overlooked member of the band, stays in a nice tight, steady groove right along with Henley 's drums. All the while he belts out this tune with the same ease he did back in '79. His vocal talents are the best in the band in my opinion, and it is a joy to see his energy ignite the audience. Stueart Smith's guitar solo, is remarkably similar to Felder's studio effort, some of the high notes waver lightly during string bends, but otherwise he's dead on. The solo is enough to draw Schmit over to Smith for a quick comment and laugh. They really look like they are enjoying themselves. Surround material is an appropriate mix of keyboard and second drums.
6) One of These Nights - Like "Witchy Woman", which is absent from this collection, "One Of These Nights" has a powerful, driving bass line that has nice extension. Schmit does a nice job of coupling his bass riffs with the drums. This song is a real treat. Henley is geared up vocally and puts forth some effort I thought he lacked on "The Long Run" track. His falsetto parts are particularly energetic. Vocal harmonies are wonderfully mixed and the surround effect is a particularly effective blend of piano and saxophone. All in all, it is very well done.
7) One Day at a Time - This is a new tune by Joe Walsh. It is written with regards to his battle with alcoholism. He jokes in his introduction, "I only got drunk once for 20 years." There is liberal use of saxophone backing. At times they are a little too forward in the mix, but horns often are. They are notorious for this in many types of music (mix engineers don't always like to apply to much compression which allows them to get a bit dynamic). Walsh's short guitar solos are typical of his trademark sound, and his lyrical prose would fit on any one of his previous albums. Backing vocals of "Oh yea!" are appropriate and the surround channels blend well. Saxophones, second drums, and keyboards make up the surround mix.
8) Lyin' Eyes - This song's country flavor is further explored by adding a violin into the mix. Frey's vocals are solid and meld gracefully across the front channels. Aside from the violin, this plays almost exactly as it did on the original studio version. The background "ooh-ing" is well timed and matched. Vocals come together precisely with the lead during each chorus. The surround material is a nice intermingling of the violin and a maraca-like instrument.
Note: I dig the little black hats the sax players are wearing.
9) Boys of Summer - Henley provides his most solid vocal effort yet. Walsh actually leaves his feet at one point. Smith's guitar playing and solo are superb here and it draws Henley 's attentions and approval. The keyboards are the key supplemental instrument mixed to the surrounds and it helps flesh out this upbeat tune. One serious advantage of Farewell 1 over HFO is that the performers are much more relaxed, enjoying each others company and playing.
10) In the City - The congo on second drums has a small mike just in front of it. In my opinion it is mixed a bit too loudly into the right surround on this track. To the engineer's credit, Henley does pound them pretty hard with the sticks. Henley also plays the congas in "One Day at a Time" with sticks, but in a more reserved fashion so the problem never presents itself. It's especially annoying at around 20 seconds into the song, but afterward is less obvious. This is the first real flaw I've found in the surround implementation. It's a shame too, because otherwise the song's mix is very good. Saxophones take the place of many of the guitar parts Felder would usually play, which is an interesting twist. There is a great deal of energy in the performance.
Note: The stage is made up of many large video monitors on its rear wall; some songs appear to have their theme visually portrayed there, others just alternate camera angles for audience members distanced from the stage. This song has taxi cabs, skyscrapers and other common visuals you would find "in the city".
11) Already Gone - This is the song I'd point newcomers to who are interested in indoctrinating themselves with the Eagles. It incorporates pretty much everything that they are known for: multi-part harmonies, a strong rock guitar presence, and a hint of country twang. Frey delivers a strong vocal performance, while Henley 's kick drum delivers nice punch to the subwoofer. Rear channels are a medley of piano and violin, which works particularly well here.
Note: At the end of "Already Gone" there is a short, but wonderful keyboard performance of Frey's "Silent Spring" intro by keyboardist M ichael Thompson. It is a little difficult to navigate to, since it's at the end of the chapter point.
12) Tequila Sunrise - The band plays a very melodic version of "Tequila Sunrise" atop their bench stools reminiscent of performances in HFO . There is some wonderfully graceful trumpet playing that helps add a Spanish feel. Lead and backing vocals are smooth and synchronous. Rear channels are a beautiful fusion of percussion, accordion, and trumpet.
13) Love Will Keep Us Alive - Schmit provides a vocal performance that differs very little from the one he gave originally on HFO . Walsh's acoustic guitar is clean and steady, piano parts interject on cue, and background vocals add a full presence (the Eagles are darn good at blending vocals). Bass is deep and crisp with excellent extension into low frequencies. Smith's guitar is appropriately played with gentle texture. Surround material consists of various forms of percussion.
Note: This is an excellent song to compare Farewell 1 to HFO since it exists on each. Listen for the delay of vocals in the surrounds and you'll get a good idea of the acoustic characteristics of Rod Laver Arena.
14) No More Cloudy Days - This is a wonderful new song lead by Frey. The highlight of Farewell 1 for me is the moment when the background vocals join in for the chorus. It is one of those moments that made me think, "Yea, I just witnessed something special". This is unquestionably the song that impressed me most. Smith plays with his most confidence, and the tune ends with a nice saxophone solo by Dutchmen, Chris Mostert. Keyboards highlight the left channel. Vocals, lead percussion, and lead guitar all melt into the center and main channels, acoustic guitar in the right. Keyboards and percussion fill in the surround.
Note: Die hard Eagles' fans might want to buy the set just for this track alone.
15) Hole in the World - This is a tune composed in response to the September 11 th tragedy. The Eagles strive to maintain a certain level of similarity to their studio recordings since that is what fans are accustomed to hearing. This song is pretty much a carbon copy of their studio single release of a few years ago. The harmonies are strong and well matched. Percussion and drums are mixed with vocals across the front channels and surrounds are a basic blend of backing vocals and guitar parts. Bass and kick drums are prevalent in the sub regions.
16) Take it to the Limit - I think it is something of a mistake to include this song since Randy M eisner, who quit the band long ago, originally sang its vocals. Frey does a reasonable job, but with all the other songs they have I just don't really see the need. Drums, acoustic, bass and electric guitars, are intermingled in the left, center, and right channels. Vocals are primarily in the center as normal, but do spread out into the mains as I would expect. Surround channels are primarily made up of keyboards. There is good bass definition.
17) You Belong to the City - Here the band gets off its stools for the first time in five songs. They spice things up with Frey's 80's solo effort "You Belong to the City". Frey's vocals are okay but there is point in the middle where his falsetto doesn't work. Saxophone is a little high in the mix at different intervals. Walsh's electrified solo is a welcome effort, Schmit gets in a nice groove, and they each provide a strong finish.
18) Walk Away - This is a song I did not expect to see in this collection, but it is a welcome surprise. M aybe with Felder gone Frey and Henley have decided to give Walsh more face time. Walsh kicks off this old Jam es Gang tune waking the audience from its slumber and doing what he does best: rock. Smith has a big grin on his face as he finally has a chance to let loose a little. The drum performance is good and heavy. Vocals and drums are across the front channels. Guitars are mixed between the center and mains. Surrounds are filled with keyboard parts. This is definitely a stand out track on Farewell 1 .
19) Sunset Grill - Bass is prominent throughout this track. Henley 's vocal performance is on par with his last few efforts. There are a couple of very nice solo moments by both Thompson on keyboards and Smith on guitar. Horns provide a nice deep soundstage. The center channels provide most of the musical information, as has been the case from the start. Drums and vocals are heavily present here, but do a nice job of bleeding over to the mains to prevent narrow localization. Keyboards are more up front, but can also be heard in the surrounds as can the saxophones.