Talking Heads – Speaking in Tongues DualDisc Review
by
John Hopkins
—
December 07, 2006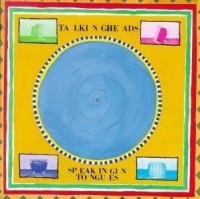 Format: DualDisc
Label: Sire/Warner/Rhino R2 76453
Price: $19.98 | Get the Best Price
Late last year the entire collection of eight Talking Heads studio albums was remastered and reissued in DualDisc format as a boxed set humorously entitled Brick . Subsequently, the albums were made available individually beginning in January of this year. So admittedly this reissue flew underneath my radar for some time before I "discovered" it. I chose to review this particular album because it is one the casual fan will likely most appreciate. The DualDisc offers the entire album in stereo on the CD side and in advanced resolution stereo and surround on the DVD side, along with bonus tracks and music videos.
Review Methodology
Review material is evaluated twice. I wait a period of two days between sessions. This allows me time to properly reflect on what I've observed. The first evaluation is less critical. I allow myself to become immersed within the medium, just as anyone not writing a review would be, but remain focused enough to take a few notes. The second evaluation is a much more careful assessment. I take notes in more detail and often pause and replay certain areas of significance.
Prior to review, audio and video levels have been tweaked using test tones, a SPL meter, Yamaha's YPAO set to flat, and the Digital Video Essentials calibration disc. Main, center, and surround speakers are set to small with the low pass crossover set to 90Hz. Bass management is provided by the receiver for DVD Video and by the DVD player (Denon 2910) for SACD and DVD-Audio. An HDMI to DVI video connection is used directly to the DLP display with 720p upscaling engaged. For SACD and DVD-Audio a 5.1 analogue connection is used, and for DVD Video an optical connection outputs DTS or DTS-ES when available. With certain material, the two-channel mix is examined to form a point of reference, but ultimately the surround mix is under review.
The Songs
1. Burning Down The House
2. Making Flippy Floppy
3. Girlfriend Is Better
4. Slippery People
5. I Get Wild/Wild Gravity
6. Swamp
7. Moon Rocks
8. Pull Up The Roots
9. This Must Be The Place (Naive Melody)
Audio Quality
I'm most interested in the surround material on this disc, though having said that, I've heard the original CD release of this same material and can say that the remastering on either side of this disc is easily superior to any of the earlier incarnations in terms of fidelity. So if you are just looking for a definitive copy of Speaking in Tongues , this is your ticket. Keep in mind this album was first released in June of 1983, but you wouldn't know it by listening to it. The clarity is markedly good and does not exhibit the common aberrations that are associated with music of this age. This album is a remarkable example of what can be done to preserve the fidelity of music in general, especially in a time when audio quality has been subjected to a downfall in priority since the advent of digital compression. I must applaud the work by engineers Jerry Harrison and Eric Thorngren, who coincidentally received three awards for their surround work on the Brick collection of which this album is a significant part.
Video Quality
There are a couple of music videos on the DVD side of the disc: Burning Down the House and This Must Be the Place (Naive Melody) . The quality of the video is as it was at the time these videos were shown with regularity on MTV in the early 80's. Much of the footage for the video is filmed by David Byrne in 8mm home movie style so the quality was never really intended to be of high resolution. Given that, they look as good as you could expect. The audio that is coupled with the videos is of slightly lesser quality. This is probably due to the fact that the videos use the Dolby mix and not the advanced resolution mix, though I was a little surprised that it was as easy to discern as it was. The menus on this disc are a pleasure to view. There are better organized, and easier to navigate than many DVD-A discs that I've experienced.
Surround Implementation
First off, it's always a good bet when you have material laden with layering and texture that it will be a good candidate for surround presentation. This is the case with this disc. Several of the songs on this album just scream for a surround a mix, sadly there are many other great rock albums out there which would fall into the same category ( E.L.O. are you listening?) that may never be realized, but for now we have this. Burning Down the House has always been a personal favorite, not just of the band, but as a song in general. Its bass rhythms and drums are so distinct that they left a permanent impression on my mind dating back to the early 80's. Having the song presented in this fashion where the groove can totally immerse itself and just wash over you is really an almost climatic event. I don't recall ever being so swept away in sound. In a word, WOW! Other songs had nearly the same impact. The surround use is very cleverly done and don't leave you wanting for anything throughout the original nine tracks of the album. The extended version of Burning Down the House is an added bonus at the end of the album. It is severely gimmicky, so purists beware. Personally I found it to be very fun. Since the original version is included in beautiful fashion, I saw no harm in pushing the envelope with a second mix and boy does it ever.
Extras
This disc includes the aforementioned videos as well as an on-screen photo gallery of concept material for cover art and the original hand written lyrics for most of the songs.(It is cool that you can actually read lyric corrections and changes that give a small bit of insight into the kooky mind of David Byrne.) Two bonus tracks are included on both sides: Two Note Swivel and an alternate extended and previously unreleased version of Burning Down the House . The later was created specifically to take advantage of the surround format. Lastly, there is a colorful liner notes booklet that provides all the album's details.
Summary
Speaking in Tongues is a wonderful example of a fusion of many different music styles. Any attempt to classify this album into genre is futile. (Why must we label everything anyway?) This classic album is probably the best known and loved of the Talking Heads and certainly one of the major reasons why the band was inducted into the Rock N' Roll Hall of Fame back in 2002. The remastering of this album has provided for the new definitive version. I would place this album with the very elite in terms of audio fidelity among its contemporaries and surround implementation is as good as anything available. Those concerned over the DualDisc format being compatible with your player, will be happy to know that the UK has released sets of DVD-A + CD of all the same releases that Brick contains. So there is no excuse not to enjoy this album in surround. This is one of those albums that make all the deliberation of purchase, furious tweaking, and fanatic obsession with surround audio worthwhile.
Technical Information
Release Date: 2/14/06
CD Side: Redbook CD
DVD Side: Advanced Resolution Stereo & 5.1 Surround (96khz/24bit), Dolby 2.0 & 5.1