Sting: Ten Summoner's Tales (DTS)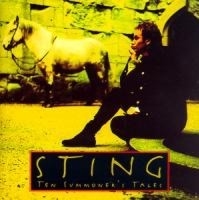 Introduction
This CD was produced by Sting in 1993 (former singer of the Police) and DTS Encoded by Jeff Levison & Ric Wilson. One thing I really respect about Sting is his attention to detail and quality of sound in his recordings. Just about every one of his CD's are recorded with the highest fidelity currently available at the time. This CD best illustrates this, but also elevates it to a new level by offering high quality 20 bit multi channel surround playback through a DTS decoder.
Track List
1. (Prologue) If Ever I Lose My Faith In You
2. Love Is Stronger Than Justice (The Munificent Seven)
3. Fields Of Gold
4. Heavy Cloud No Rain
5. She's Too Good For Me
6. Seven Days
7. Saint Augustine In Hell
8. It's Probably Me
9. Everybody Laughed But You
10. Shape Of My Heart
11. Something The Boy Said
12. Epilogue (Nothing 'Bout Me)
Sound Quality
Let me just blatantly come out and say that this CD sounds awesome! I will take it one step further and say it is one of the all time best sounding multi channel CD's I have ever heard. Immediately when the first track starts "If I ever loose my faith in you" it is obvious of how much more expansive the soundstage is when compared to the original 2 channel recording. The bass extension of this CD is absolutely amazing and will really let you know the capabilities of your sub. I found myself lost in the vocals of "Seven Days" at the parts where the voices seemed to come at you in all directions. I really appreciate the intimate mood that "Shape of my heart" presents while you hear the acoustic guitar and Stings voice emanate from your speakers. It is almost as if the speakers disappear and you're left in a room with just the sound of beautiful music. I can't say enough good things about the fidelity of this CD. If you enjoy Sting's music, I highly recommend you just go out and buy this CD. You will thank me every time you play it through your system.