Eric Clapton - Back Home (Dual Disc) Review
by
John Hopkins
—
January 31, 2007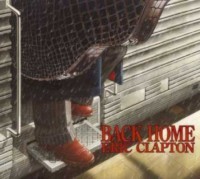 Format:
Dual Disc
Label: Reprise/Duck
Price: $29.98 | Get the Best Price
Eric Clapton's latest release Back Home is made up primarily of original material. This is his first such album in five years. The disc includes nine new tracks and three cover songs: George Harrison's "Love Comes To Everyone", the Spinners', "Love Don't Love Nobody", and Stevie Wonder & Syreeta Wright's "I'm Going Left". Clapton has been intermittently working on the album for the past couple of years, stopping and starting again between the Robert Johnson cover tunes that made up last year's Me and Mr. Johnson . Back Home is a thematic revelation of Clapton's current personal life. He sings about the experiences of being a touring musician, returning home, and beginning life over with his new family. In some ways it represents his challenge with domestication, a tough thing for a man who is nearly 60 years old.
This review concentrates on the limited edition Dual Disc version of the album. The Dual Disc includes a standard resolution CD version on one side and advanced resolution stereo and 5.1 surround track on the other. The 5.1 mix is my primary interest and the one under review here.
Review Methodology
Review material is evaluated twice. I wait a period of two days between sessions. This allows me time to properly reflect on what I've observed. The first evaluation is less critical. I allow myself to become immersed within the medium, just as anyone not writing a review would be, but remain focused enough to take a few notes. The second evaluation is a much more careful assessment. I take notes in more detail and often pause and replay certain areas of significance.
Prior to each review, audio and video levels are tweaked with both the preamp's (NAD T 163) test tones and the Digital Video Essentials calibration disc. M ain, center, and surround speakers are set to small with the low pass crossover set to 80Hz. Bass management is provided by the preamp for DVD Video and by the DVD player (Pioneer 563A) for SACD and DVD-Audio. A component video connection is used with 480p progressive scan engaged. For SACD and DVD-Audio a 5.1 analogue connection is used, and for DVD Video an optical connection outputs DTS or DTS-ES when available. With certain material, the two-channel mix is examined to form a point of reference, but ultimately the surround mix is under review.
The Songs
1) So Tired (Eric Clapton, Simon Climie)
2) Say What You Will (Eric Clapton, Simon Climie)
3) I'm Going Left (Stevie Wonder, Syreeta Wright)
4) Love Don't Love Nobody (Joseph Jefferson, Charles Simmons)
5) Revolution (Eric Clapton, Simon Climie)
6) Love Comes To Everyone (George Harrison)
7) Lost And Found (Doyle Bramhall II, Eric Clapton, Jeremy Stacey)
8) Piece of my Heart/Heaven (Doyle Bramhall II, Suzanna Melvoin, Mike Elizondo)
9) One Day (Vince Gill, Beverley Darnell)
10) One Track Mind (Eric Clapton, Simon Climie)
11) Run Home To Me (Eric Clapton, Simon Climie)
12) Back Home (Eric Clapton)
Audio Quality
Early on it became obvious the audio on Back Home is superb. After you've listened to enough music recorded and engineered with mediocrity, you immediately appreciate it when someone gets it right - and this album got it right. After the first few songs of my initial, less critical, evaluation, the audio quality of the 5.1 mix saw little scrutiny. Quoting my initial notes, I stated, "A.Q. - Precise, natural, distortion-free, concentrate on other things until something bad happens." Nothing bad ever did happen. During the second evaluation I listened for any hint of wavering or even the slightest anomaly, yet I still couldn't find anything to complain about.
A recording's dynamics and sound detail are a couple of the primary criteria I eagerly anticipate listening for when reviewing high resolution audio discs. The reason for this is that these recordings have the potential to be greatly superior to their CD counterparts in these two respective areas. Back Home reaches its full potential by excelling at both. The detail I experienced was delightfully welcomed by my ears. The guitar string squeaks from note changes on "Love Don't Love Nobody" placed Clapton in my room. When I closed my eyes I'd have sworn that I could've reached out and touched his guitar. The terrific dynamic range I observed was appreciated most during the many delicate passages, which slowly evolved into louder ones. These transitions highlighted the great contrasts in levels at different stages of the songs and acted as testament to the recording quality as they were completely noise free.
The female backing vocals on this album were wonderful. They did a great job great job of complementing Clapton's lead vocals. There were particular moments on "I'm Going Left" where guitars, drums, lead vocals, synthesizers, female vocals, and trumpets are all playing in unison. These passages will certainly challenge the accuracy of your speakers and make you appreciate them greatly if they are up to the task. (This track is recommended reference material the next time you are auditioning a new system) Vocal levels were precisely blended and never sounded too recessed or too overbearing. Sibilance was non-existent.
I never noticed any ill-fitting instrumentation that might have distracted me or made me wonder why it was used. I was very impressed with the compositional arrangement of this album. It was unlike most surround albums I'd heard thus far, whereby instruments came and went rather abruptly. Instrument transitions on this album were smoother and better organized. The arrangement of Steely Dan's Gaucho is the best I'd heard, but now I may find myself comparing others to this album as well.
Video Quality
Though there was only a 20 minute video portion on this disc, it was of excellent quality. Deep blacks and crisp detail were present throughout the interviews and sessions. Clapton's grizzly beard and arm hair looked three dimensional. Holes in the microphones mesh were visible. Oily fingerprints left on the guitar's polished finish could be easily distinguished. The three window video effects used during interview parts were a little strangely implemented at times, but that was the video editing geek in me complaining, as most wouldn't even think to notice. My only complaint was that the videos of the songs were nearly complete, but not quite. I wonder if they simply didn't have room enough to fit the video performances in their entirety due to disc size constraints.
Surround Implementation
I'd always felt that there was an inherent advantage in creating an album with the surround mix in mind from the onset rather trying to recreate the experience many years later. Since this was a brand new release it was able to take full advantage of the technology without any degradation caused by a lack of understanding or recollection of the feeling and technique presented in the original recordings. The 5.1 mix made extensive use of the surrounds and LFE channel. I'd heard some releases where the engineer seemed to be frightened by the daunting task of putting the listener in the middle of the performance, but this disc didn't suffer from any of that type of thinking. Nor did it suffer from anemic bass output; it had the type of deep extension that made you glad to own a subwoofer. The mix was truly enveloping and completely immersed you in the songs, which was the primary benefit of surround recordings over stereo recordings in my opinion. Surround levels were exactly as I like them, never seeming too trite or tricked out. During the track "So Tired" a baby began crying in the left rear surround and the first time heard it I had to hit pause for a moment to verify that no one had left an infant at my doorstep.
Extras
The DVD side includes a 20 minute interview which was intermingled with recording sessions of several song selections from the album. The interview was presented in widescreen format with Dolby Digital 5.1 audio. The tri-fold cardboard packaging includes four custom Eric Clapton guitar picks. There is also a coupon for $5 off Clapton merchandise located at his official online store.
Summary
This album made me realize that Clapton is getting up there in years, but that's not a bad thing, just a simple reality. He's got a message to present, and presented it in a more mature, more laid-back way than I was accustomed to. I thought of the days of Derrick and the Dominoes and it was obvious that he wasn't as interested in long, searing guitar solos that he once seemed to be. There were certainly moments of just that sort of thing on this album, but more so, he seemed interested in creating a comprehensive sound with a greater emphasis on arrangement. Like Journeyman , Clapton emphasized his appreciation for things he'd learned through life experience. His playing on this album was very relaxed, though very conscientious. He always seemed to know exactly where he wanted to go note to note. This made his playing incredibly smooth, and a joy to listen to.
If you are looking for the all out flamboyance of Clapton's younger days, this isn't going to fit that bill. If you enjoy his more recent material, then there are numerous reasons why you will enjoy this album immensely. First, it is excellently recorded. Second, surround material is ideally implemented. Thirdly, the Dual Disc format provides all the quality advantages of DVD-Audio, CD compatibility, video bonuses, and the convenience of one all inclusive disc. Finally, you'll have a difficult time keeping your foot from tapping.
Reviewer's Note : I was initially a little concerned about whether the Dual Disc's notoriously questionable spec issues would present a problem. After trying the disc in the three DVD players and two CD players of varying brands and ages I can happily report that I never once encountered a problem.