George Michael: Ladies and Gentlemen Review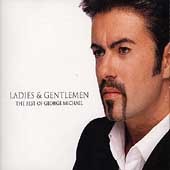 Introduction
This is a double box CD set containing a compilation of George Michael's greatest hits spanning over a decade (1984 to 1998). It contains 14 songs per CD for a grand total of 28 songs !!!
Track List
DISC 1: FOR THE HEART
1. Jesus To A Child
2. Father Figure
3. Careless Whisper
4. Don't Let The Sun Go Down On Me - (with Elton John)
5. You Have Been Loved
6. Kissing A Fool
7. I Can't Make You Love Me
8. Heal The Pain
9. Moment With You, A
10. Desafinado - (with Astrud Gilberto)
11. Cowboys And Angels
12. Praying For Time
13. One More Try
14. Different Corner, A
DISC 2: FOR THE FEET
1. Outside
2. Fastlove
3. Too Funky
4. Freedom 90
5. Star People 97
6. Killer / Papa Was A Rollin' Stone
7. I Want Your Sex (Pt. II)
8. Monkey
9. Spinning The Wheel
10. Waiting For That Day / You Can't Always Get What You Want
11. I Knew You Were Waiting For Me - (with Aretha Franklin)
12. Hard Day
13. Faith
14. Somebody To Love - (with Queen)
Sound Quality
This CD is the ultimate test of your systems capabilities. Most of the tracks are very bass heavy. Wimpy amps and speakers need not be played with this CD unless you want to put them out of their misery. "Jesus to a Child" has such a pleasant tonal balance that really allows the listener to hear the subtle details of George's vocals and background instruments. "Fastlove", "Hard Day" and "Faith" will rock your house, especially if you have a multi-channel surround system with all speakers set large. The bass slam and impact is second to none with respect to music CD's. It even rivals some DTS CD's in this regard. If you want to get funky or at least show off your systems capabilities to a friend, or annoy a neighbor, get this CD. I highly recommend it.