Chris Standring: Blue Bolero (2010) CD Review
by
Stanton Zeff
—
December 19, 2012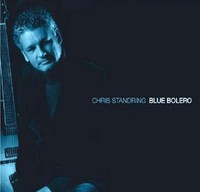 Chris Standring
Label: Ultimate Vibe Recordings (UVR 002)
Introduction
I've been a fan of Chris Standring for quite some time; he was a frequent collaborator with my good friend (keyboardist Rodney Lee) throughout the 1990's in a group called "Solar System" before launching a solo career at the turn of the millennium. He had a string of several good to very good releases (all the while co-writing and co-producing with Lee) until the breakout success of Blue Bolero. This CD is still in heavy rotation for weekend breakfasts at my house (along with a couple other of Chris' CDs). This is one of the few CD's I probably listen to more on my home stereo than on my iPod/iPhone. Before even reading the liner notes, you can see this release intended to be a "concept" CD, with each track representing one part of a story; further exploration reveals this story to be that of Chris' upbringing in rural England. I believe this CD delivers not only due to a departure in writing style, but also due to a departure in instrumentation. Standring had never before incorporated REAL strings/orchestrations in his releases, and it turned out to be such a success that he actually toured with a small string section following the positive reaction to this release.
Track List
1) Overture
2) Blue Bolero
3) Please Mind The Gap
4) Contemplation
5) Sensual Overload
6) Regarding Tetchwick
7) Fast Train To Everywhere
8) On Second Thoughts
9) Sunrise
10) Bossa Blue
11) Lost In Angels
12) March Of The Bowler Hats
13) At The End Of The Day
14) Finale (Bolero Reprise)
Audio Quality
Years of studio experience has made Chris Standring an outstanding record producer in his own right, and this recording places those skills front and center. A combination of both live and synthesized drum/percussion tracks are seamlessly mixed with both acoustic and electric keyboards and guitars, resulting in a very soothing musical palette. Among my favorite tracks are Please Mind The Gap, Sensual Overload, and At The End Of The Day. Not far behind are Contemplation, Sunrise, and Bossa Blue. Please Mind The Gap and March Of The Bowler Hats have incredibly dynamic orchestrations, and I've never heard a brushes patch sound so good on a drum machine as it does on Contemplation. Sunrise practically swings, which is tough to do in 3/4 time. Conversely, my least favorite tracks are Blue Bolero and Lost In Angels. There are also a couple of nice acoustic guitar solos mixed into the set, yet another departure of sorts for Standring.
Summary
As if there wasn't enough great music on the CD already, Chris initially offered two additional tracks that didn't make the CD as MP3 downloads from his excellent website. Lucky for anyone reading this review, he has confirmed that these bonus tracks can still be downloaded here.
For those keeping count, this expands the track list to:
15) Hole In My Shoe
16) Junk In The Trunk
Listening tip: burn all 16 songs onto one CD-R for over 70 minutes worth of great music! Look for more great music from Chris Standring in the years to come.
Scorecard
Audio Quality: 5/5
Features: 5/5
Overall: 5/5
Reference Equipment
Yamaha DSP-A1 Natural Sound A/V Amplifier (Stereo Mode)

Pioneer Elite CLD-99 Reference LD Player

Polk Monitor 10B Speakers (x2)
corey posts on February 18, 2013 15:05
SaviorMachine;935138
I very much enjoyed the two tracks available at the link to Chris Standring's site. Thank you for sharing this
What "link to Chris Standring's site"? I did go to chrisstandring.com but couldn't find them. If you signup for a backstage pass you can download a few cuts, but not these.
Stanton posts on December 21, 2012 09:53
SaviorMachine;935138
I very much enjoyed the two tracks available at the link to Chris Standring's site. Thank you for sharing this
You are very welcome! The CD is even better: those were the songs that DIDN'T make the cut
SaviorMachine posts on December 19, 2012 20:51
I very much enjoyed the two tracks available at the link to Chris Standring's site. Thank you for sharing this