RipDigital Ripping Options and Ordering Process
Typically when we've reviewed CD ripping services we hear from a lot of end-users who would rather rip their own CDs to hard drive and can't understand why on earth you'd want to pay someone like RipDigital to do it for you. We get it. You're awesome. Now, if you can step away from the mirror for just one second, we'd like to show you a whole new world... a world of custom installers and people who generally value their time at a higher rate than those who can afford to rip 100s of CDs while they eat Slim Jims and check out reruns of Star Trek ToS (no offense, Gene).
It's the CE professional that truly is targeted by this type of service. If you're doing an AV installation and your client has tons of CDs in his or her collection, there's got to be a better solution than paying one of your guys to sit there and rip each one to disc. In fact, you'd probably lose money doing that. Services like RipDigital provide a very handy way to offload that kind of work reliably, and stick to what you do best - installing whole home audio and video systems.
RipDigital began in 2002 and started providing CD conversion services to DJs, radio stations, hotels, restaurants and other entertainment and hospitality industry customers making the jump to digital music. Essentially, they nailed the market at just the right time. They also serve consumers - and we're not trying to limit their customer base or say that this isn't right for the person looking to finally convert their entire music collection into a digital library - RipDigital wants your business, too.
With that said, let's do some math:
Estimated time to convert an average CD to MP3 192kbps: 4.5 minutes (and that's assuming there are no difficulties getting all the correct meta data)

Average CD collection: 150 discs

So given the above assumptions, you've got 150 x 4.5 minutes = 675 minutes = 11.25 hours
At a salaried rate of $25/hr, that would cost you roughly $281.25 if your time is money (mine is)
Using RipDigital to convert the same 150 discs would run around $148.50 + $39.95 flat shipping
That's just $188.45 to convert your entire music collection. You may have more discs, but that just means more time. As you can see, it's a pretty sweet deal for consumers. For professionals, it's an absolute no-brainer that is billable to the client and offers them an excellent value service to safely and legally prep their music for streaming.
Ripping Options
Before you start the ordering process, you'll want to decide how exactly you want your media converted and what the final delivery mechanism will be. RipDigital can take your CDs and rip them into MP3 format at either 192kbps ($0.99/CD) or 320kbps ($1.29/CD). They can also produce Apple Lossless or FLAC files ($1.49/CD) for those looking to make sure they don't compress their music and are capable of reproducing the original quality of the audio CD. Once you decide on the format, the process is pretty much the same. RipDigital takes the disc and runs it through a process to rip and attach meta data to the file using the GD3 database system. The reason the pricing scales is because RipDigital feels the higher bitrate products represent a higher value to the end-user (we'd have to agree).

For our review we chose 320kbps MP3 files - mostly because we didn't want to deal with shipping a hard drive and because it was just as easy to do the review that way as opposed to giving RipDigital the extra work of pulling off Apple Lossless. Incidentally, when ordering MP3 files, RipDigital will send you back your CDs along with some DVDs containing the ripped music. If you want to order Apple Lossless or FLAC, however, the file sizes require you to ship them a hard drive as well, which they will then fill with music. RipDigital will also ask for a hard drive in the event you plan on submitting more than 400 CDs for ripping. Alternatively, you could also order a drive from them or even an iPod, but the bottom line is that they aren't interested in sending you back 15 DVDs for your 150 CDs... and honestly, that would be a silly counter-intuitive time waster for you to load them into a media server in that manner.
The RipDigital Ordering Process
The ordering process is very straightforward. From the company's home page you can select the type of service you want, which initiates the starting price. You then enter the number of discs (default is 100 and the minimum order amount is $75 due to the required setup time) and how you'd like them delivered. The choices are the complimentary DVD(s), various Iomega drives, and a selection where you can provide your own hard drive to RipDigital. You can also add an iPod (Touch or Classic), which RipDigital will fill with the ripped music.

We didn't have any trouble navigating the online ordering system, and in fact it was very clear and easy to use. Shipping, as we indicated in our math equation, is a flat $39.95 regardless of how big your job is, and includes FedEx Ground insured. You can select other expedited shipping options during checkout for additional fees.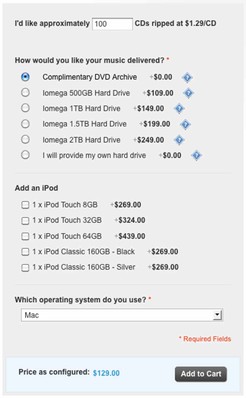 Dan Gravell posts on September 22, 2011 03:20
I totally agree there are some people out there that don't have time to do all that ripping. Some people have 1000s of CDs!

So long as you rip to lossless, such as FLAC, you've protected your investment anyway, because you can always re-organise (by tagging) your collection later. It's only if you ripped to MP3 or some other lossy codec that you might have to send the CDs back and get it done all over...
its phillip posts on April 07, 2011 09:56
Why are you asking here? Ask them.
Bergo posts on April 07, 2011 08:59
So

I have 2600 CDs - all classical

All to be ripped to FLAC

I want the live concerts and opera ripped to a single track with Cue information. On multi disc opera sets thats 2 or three discs to be joined and cue sheets re-numbered.

I want the string quartets to be ripped such that a disc with three quartets is ripped to three single tracks with three cue sheets.

Song recitals and symphonies to be ripped to individual tracks.

I don't want to sort them out - not being a geek that's for them to do.

Can they do it?

How much?
jinjuku posts on March 16, 2011 10:39
kevon27;800559
And I thought ripping disc was illegal?
So how are they getting around percussion from the RIAA or what every organisation that sues people to illegal music.
You are confusing DVD/BR with CD's for starters.
1. It's not illegal to transcode content
2. It's illegal in the US to either create or distribute tools that break encryption schemes on DVD or BR so you CAN transcode content.
The jury is still out on whether using those tools is illegal since a person in the privacy of their own home doing this to their DVD collection that they own has never seen the inside of a court room.
If Sony put out a BR title with ZERO encryption you would be in zero trouble for copying it for your own personal use. It's the breaking of the encryption that is still a grey area for the consumer.
Remember that Fair Use isn't a right. It is simply an affirmative defense in court when the charge of copyright infringement is leveled against you.
its phillip posts on March 16, 2011 07:58
kevon27;800559
And I thought ripping disc was illegal?
So how are they getting around percussion from the RIAA or what every organisation that sues people to illegal music.
lolwut
People are allowed to rip and make copies for their own use. Sharing said rips or copies would be considered copyright infringement if the labels/artists weren't pro-sharing (unfortunately, most aren't).