Nero 6 Ultra Edition Full Review
When I was asked to review Nero 6 Ultra edition, I thought - what a great idea. With all of the media integration happening in today's digital media-drive market, it's a no-brainer that consumers are going to quickly get to the point where they want to do more with their CDs and DVDs beyond simple data storage options presented by the Windows operating system. Reviewing a suite of software tools is not an easy task. For reasons that are obvious, I can only summarize some of the key features and applications contained within Ahead Software's flagship all-in-one CD/DVD media application. The best way to cover this Swiss army knife of software is to go through some of the key applications one by one and try to give a clear picture of just what this compilation of programs can do.
To start, let's organize the applications by primary function and usage:
Audio

Nero Wave Editor 2

NeroMIX

Nero SoundTrax

Video

Nero Vision Express 2

Nero ShowTime 2

Nero Recode 2

Nero Digital

Photo

PhotoShow Express

Nero PhotoSnap

Data/Misc

Nero Burning ROM 6

Nero BackItUp

Nero Express 6

Nero Cover Designer

Nero Toolkit

InCD 4

Nero ImageDrive

Nero StartSmart 2
First Impressions: Nero StartSmart

Nero's StartSmart 2 application is the first place I go when beginning a project. It is an efficient, well-designed jump application that cohesively "glues" together the software suite that makes up Nero 6 Ultra Edition. StartSmart is designed so that users can take a task oriented approach to accomplishing tasks involving CD and DVD-ROM discs. Put plainly, this application is why Nero 6 isn't just a mess of products installed onto your computer.
StartSmart is organized into 6 sections: Favorites, Data, Audio, Photo and Video, Copy and Backup, and Extras. It also allows selection between the destination formats of: Hard Disc, DVD or CD, allowing you to receive context-sensitive shortcuts to tasks you may want to complete using the software.

Audio: Nero SoundTrax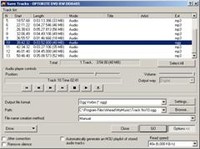 Need to rip some CD tracks? How about being able to rip a track in AIFF, WAV, WMA, Ogg Vorbis, Real Media 9, FLAC, AAC or LAME MP3, including multiple flavors of several of these. Now how about having access to customized compression settings for each of these custom CODECs? By now you should be starting to get the picture. Throw away your shareware, this is the real deal.
Want to edit your tracks into something suitable for laying down under a slideshow or DVD movie? SoundTrax is probably a good bet - and I won't even get into theWave Editor or built-in effects and EQ capabilities which allow you to take multitrack audio and really customize it to your own needs.
Video: NeroVision Express 2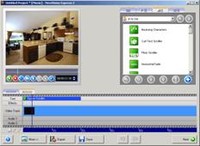 When I started this review I thought I was covering CD burning software, now I realize I was "conned" into opening up application after application only to find the next more useful than the last. NeroVision Express 2 allows you to easily capture or import movies, photos, live TV and video, add transitions and title effects and continue on with your project to burn a DVD, VCD or SVCD. Nero Showtime is a DVD player that will handle playback of not only standard DVD movies, but also just about any other video file format, including AVI, MPEG-4 and Windows Media files.
Need to make a DVD? Simply continue on after making your video and select to create a DVD. This will get you into a very trim, yet useful DVD creation application where you can load up all of your newly created assets. After that you create a basic menu with the picture of your choice and select button styles from the available list. Additional templates are provided online according to the Nero software.
Photo: NeroVision Express 2
Nero provides NeroVision Express 2 once again to handle creating SVCD and VCD sideshows form still photographs. If you want a neat way to archive your digital photo collection, this is about as easy as it gets. Nero does not focus on or provide an image database or detail editing program, instead providing a way to arranged and burn slideshows to disc with background music and fun transitional effects. It does, however provide cropping tools and even red-eye reduction for some basic photo touch-up effects.
Data: Nero Burning ROM and Nero BackItUp
Oh yes, data. Nero is one of the best, most flexible tools for backing up data to CD or DVD media. Wile more utilitarian than "pretty", it covers every format and need that exists, including - to my amazement - Mac/PC custom hybrid discs. You'll need some additional hardware and software to make use of that last function, but to even see it on a piece of Windows-compatible software is a first for me.
Nero Burning ROM even enables you to make Bootable Discs, Audio & Data discs, Mixed Mode CDs and UDF formatted volumes. The bottom of the interface gives you a graphical representation of how much storage your data is taking up on the disc. Be aware that you'll want to select the appropriate format (CD/DVD) before beginning a data archive. It's Windows Explorer-style interface is very efficient at allowing you to select files and assign them to the destination drive/media. There's no real magic to this application - it simply works.
One nice thing included in this package is Nero BackItUp which can automate the process of archiving hard disc content to CD or DVD. I have a system set up to automatically back up my files each week. The system works well and has a Wizard interface to help you get started.
Conclusions and Overall Perceptions
This software suite feels more like $300, not $99 as indicated by its retail price tag. It will handle just about any task, save copying copy-protected DVDs - something that won't happen anytime soon save for offshore freeware and shareware applications. Nero 6 Ultra Edition gives you just about everything you need to handle home digital media projects. The only obvious missing feature is a simple image editor to touch up digital photos before they become part of a DVD or SVCD archive. I found it to be robust, easy to use and a great solution for getting all kinds of media to DVD and CD quickly and efficiently.
Ahead Software
330 N. Brand Blvd., Ste 695
Glendale , CA 91203-2335
sales@nero.com
http:/www.nero.com/us
About Ahead Software
Ahead Software provides reliable CD/DVD software applications to serve digital media markets worldwide. Since its inception in 1995, Ahead's leading application, Nero, has built a loyal customer base of more than 140 million users world-wide.
Ahead's award-winning flagship product Nero 6 provides an all-in-one comprehensive CD/DVD burning suite. Ahead's product line also includes Nero Digital - audio/video technology, SIPPS - VoIP, and across - professional computer aided translation software. Ahead distributes its products globally through world's leading drive manufacturers and PC makers, as well as leading world-wide retailers, online partners, and also directly to consumers at http://www.nero.com . Ahead Software AG is headquartered in Karlsbad, Germany, with its subsidiary Ahead Software Inc. located in Glendale, California USA, and a further subsidiary in Yokohama, Japan.
The Score Card
The scoring below is based on each piece of equipment doing the duty it is designed for. The numbers are weighed heavily with respect to the individual cost of each unit, thus giving a rating roughly equal to:
Performance × Price Factor/Value = Rating
Audioholics.com note: The ratings indicated below are based on subjective listening and objective testing of the product in question. The rating scale is based on performance/value ratio. If you notice better performing products in future reviews that have lower numbers in certain areas, be aware that the value factor is most likely the culprit. Other Audioholics reviewers may rate products solely based on performance, and each reviewer has his/her own system for ratings.
Audioholics Rating Scale
— Excellent
— Very Good
— Good
— Fair
— Poor
| Metric | Rating |
| --- | --- |
| Audio Performance | |
| Video Performance | |
| Ergonomics & Usability | |
| Ease of Setup/Programming/Integration | |
| Features | |
| Performance | |
| Value | |