PowerDVD 6 Full Review
PowerDVD 6 Deluxe is an application that is simple to use and has a well-thought out and flexible interface. There have been some significant upgrades since Version 5, including:
Smart Adaptive Video Deinterlacing. PowerDVD 6 now has the ability to do a better job at reducing jaggies and providing smoother playback of source content.
Dolby Pro Logic IIx Support. A boon for those looking to use a software-driven solution for integrating a H TP C into their living rooms, Dolby Pro Logic IIx allows for a more immersive and flexible audio experience from DVDs as well as 2-channel sources.
CL M EI-2. This proprietary surround format ( Cyberlink M ulti-Channel Environment Impression ) expands 2-channel audio sources into multi-channel audio. In addition, it expands upon Dolby Pro Logic's integrated features by providing for output level attenuation on each channel.
CLHP. The new Cyberlink Headphone technology parallels Dolby Headphone and provides settings and access for creating a virtual surround experience through headphones.
Audio EQ Presets & Pitch Scaling. These features provide some presets for EQ as well as the ability to pitch scale audio.
Additional Format Support. W M V-HD and DivX Pro files are now supported in addition to the ability to handle playback of DVD+-VR files on DVD-R discs. DVD-Audio ( M LP) is now supported as well.
While this isn't a paramount upgrade for those not requiring DVD-Audio support or the newest features, the latest version of PowerDVD does offer some pretty compelling features and some nice updates
The Interface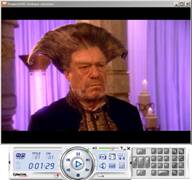 I'm not particularly a fan of detached navigational controls. To me it provides too much clutter, though I recognize that many applications share this feature and it provides a nice option for those who like to "skin" their applications.
The layout of the user interface is ergonomic and makes sense. As with all software players, there is a centrally-located navigation control center flanked by the remaining sub-controls and settings needed to gain access to the detailed functions. In particular, I found the left expansion panel quite useful as it enabled access to audio and video processing presets. To the right of the navigation circle users can quickly find the following:
Screen capture utility
Full screen mode
Audio stream and subtitle toggles (right-click for direct selection)
DVD menu
Player configuration & settings
Surrounding the circular navigation control area is a variable speed slider that enables you to click, or even click-and-drag to select varying forward and reverse speeds.
Settings and Configuration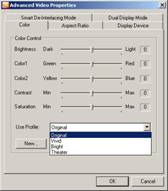 PowerDVD provides ample control over all major settings, including the Player's skin, audio and video options, parental control and default settings for the application.
For video settings, PowerDVD provides color correction options with options for adjusting brightness, tint (two bands), contrast and saturation. Custom picture settings can be saved along with the three presets (Vivid, Bright, and Theater). There is no gamma correction. The aspect ratio can be adjusted and widescreen content can be converted to fill an entire 4:3 display with intelligent scaling using PowerDVD's CLPV (Cyberlink Pano Vision) technology. This produces minimal distortion in the center of the picture while allowing use of your entire display.
Deinterlacing is provided and can be based on bitstream flags or bitstream analysis. There is also a setting to select the de-interlacing algorithm. I tried all of the deinterlacer settings but found them to be sub-par overall and in fact it failed nearly every deinterlacer and cadence test on the HQV test disc. This is a common problem with software deinterlacing solutions and will hopefully get better with time.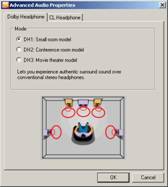 The Audio Configuration panel allowed selection of the speaker environment (Headphone, 2/4/6/7/8 Speaker, S/PDIF output, etc). It also allowed user selection of the Output M ode (Stereo, Dolby Surround downmix, Dolby Pro Logic IIx, Dolby Headphone, etc). Advanced features included refinement to the selected Output M ode. For instance, with Dolby Headphone I was able to select DSP configurations for a small room, conference room, or movie theater model. If you selected a 7.1 configuration then you would be able to select DD EX mode or M usic or M ovie modes for Dolby Pro Logic IIx. It is more than significant to note that software adjustment of individual levels could only be accomplished when using the proprietary CL M EI-2 DSP mode and was not available to Dolby Pro Logic IIx. There also appears to be a fixed crossover frequency of 120Hz.
M iscellaneous settings allowed configuration of the dynamic range output. PowerDVD made these settings very user-friendly by renaming them "Quiet Environment, Normal Environment, and Noisy Environment: and even included some brief descriptions. The LFE option allowed for the LFE channel to be mixed in with the front two channels. This is similar to the Double or Enhanced Bass setting found on many receivers and processors.

Room for Improvement
I would of course, love to see better deinterlacers worked into these software programs - but for now we'll need to go outside of the software to provide better deinterlacing to our displays. PowerDVD also had some difficulty with certain anamorphic titles (our HQV test disc, for example) whereby it would not correctly stretch them back to their proper 16:9 aspect ratio. However, most theatrical DVD releases did not seem to have this problem. I would also like to see the ability for PowerDVD to adjust audio levels, provide delay compensation and have customizable bass management options for Dolby Digital, DTS, and Dolby Pro Logic IIx modes (including variable crossover points).
Conclusion
PowerDVD 6 takes an already well-developed player and provides some much-appreciated updates. Relegating MPEG4/H.264, AAC support and the Mobility Power options to cost-additional plug-in packs surprised me, and may have some users steering towards the competition who includes them at the same price. Overall I was well-pleased with the user interface, capabilities and overall potential of this media player software. Keep your eyes open for specials and promotions on the CyberLink website as I've seen the PowerDVD 6 Deluxe for $49.95 including a remote control. Obviously at this price it significantly raises the value score to a 5.

CyberLink PowerDVD 6 Deluxe
MSRP: $69.95
CyberLink, Corp.
46750 Fremont Blvd
Suite 200
Fremont, CA 94538
510-668-0118
About CyberLink Corp.
Founded in 1995, CyberLink Corp is a world leader and pioneer in bringing advanced digital video and audio software to the market. Producer of the world's leading DVD software player, PowerDVD, CyberLink also delivers complete solutions for the digital home and online learning solutions.
CyberLink's strength lies in its in-depth knowledge of digital video codecs, owning a number of patented digital video and audio technologies. Combined with extensive user-interface research, CyberLink has successfully launched multimedia applications that are robust and powerful, yet friendly enough for the non-professional users.
The Score Card
The scoring below is based on each piece of equipment doing the duty it is designed for. The numbers are weighed heavily with respect to the individual cost of each unit, thus giving a rating roughly equal to:
Performance × Price Factor/Value = Rating
Audioholics.com note: The ratings indicated below are based on subjective listening and objective testing of the product in question. The rating scale is based on performance/value ratio. If you notice better performing products in future reviews that have lower numbers in certain areas, be aware that the value factor is most likely the culprit. Other Audioholics reviewers may rate products solely based on performance, and each reviewer has his/her own system for ratings.
Audioholics Rating Scale
— Excellent
— Very Good
— Good
— Fair
— Poor
| Metric | Rating |
| --- | --- |
| Standard Definition Video Performance | |
| High Definition Audio Performance | |
| Bass Management | |
| Ergonomics & Usability | |
| Ease of Setup | |
| Features | |
| Performance | |
| Value | |