WarpiaTV PC to TV Remote Controller Preview
Summary
Product Name:

WarpiaTV PC to TV Remote Controller

Manufacturer:

Warpia

MSRP: $79.99 (wired) - $199.99 (wireless USB)
First Impression:

Gotta Have It!

Executive Overview
Warpia, whose products we have reviewed and checked out in the past, announced WarpiaTV which is a PC to TV connectivity solution that features a gyroscopic Wireless Motion Controller and icon-based video browsing software. It's also available in multiple formats, so it's compatible with laptops and PCs that feature HDMI as well as those which do not (and uses a USB interface). With Warpia, not only can users stream their favorite sports, news, entertainment and HD content wirelessly from up to 30 ft. away, they can do it while maintaining complete control of their content via the included Wireless Motion Controller. In addition, the icon based browser makes viewing content from the Hard Drive as well as popular Internet video sites quick and easy.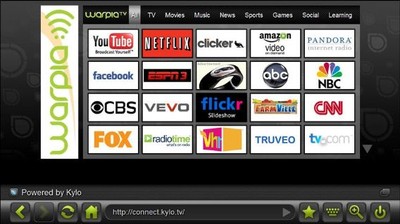 WarpiaTV Wireless Edition lets users with pre-HDMI laptops and PCs stream any content from their notebook or PC wirelessly to an HDTV in 1080p full high definition resolution with stereo audio. This includes anything stored on the hard drive as well as Internet content such YouTube, Facebook, Twitter and Netflix can be shown on your HDTV without the hassle and clutter of wires while you continue to use your laptop screen to surf the web, check email, and more.
The new WarpiaTV Browser powered by Kylo simplifies PC and internet viewing on your television with a customized icon based browsing guide to the most watched internet sites like Pandora, Netflix, Amazon, YouTube and more. The included Wireless Motion Controller provides the ability to control the PC Mouse and seven PC functions including, volume, mute and escape. With Hillcrest Labs Freespace technology, the user doesn't need to point the controller at the screen for basic control functions such as volume, mute and escape, but instead allows the user to hold the Wireless Motion Controller in the position that is the most comfortable for him/her. For web browsing and cursor placement, you simply point the Controller at the TV and the curser moves where you want it. If you've ever used a Gyros product, you'll be familiar with this type of on-screen navigation.
The WarpiaTV Wireless Edition includes the Wireless Motion Controller, WarpiaTV Browser, HDMI cable, wireless USB receiver, wireless USB PC adapter, quick start guide and installation CD and is priced at $199.99. The WarpiaTV is also available in a wired HDMI version for just $79.99 and includes the Wireless Motion Controller and WarpiaTV Browser, along with a 6ft HDMI cable to connect a laptop to the TV. For more information check out www.warpia.com/products.