RX-V659 System Setup & Configuration
Moving the 27lbs Yammie didn't prove to be too much trouble, especially since I am so accustomed to products I review weighing in 2-3 times this. For this price, the product certainly has some heft to it, so don't let your little one plop it up on the shelf for you.
The RX-V659 sports a wealth of connectivity options including composite, s-video and component video connections, 3 Toslink audio In's (1 Out) and 2 COAX audio inputs. What no HDMI? Are you kidding? Not at this price... Yet! I was pleased to see Yamaha offer binding post contacts on all of the speaker connections except the snap thru hole connections for the Presence or Zone 2 channels. This was much preferred over the typically found lame spring clips that don't accept any lower than dental floss gauge cable connectivity.
Auto Setup Via YPAO

Yamaha incorporated their YPAO PEQ and setup system which we've covered in detail in past receivers such as the RX-Z9, RX-V2400, RX-V2500, RX-V2600 and the RX-V4600.
YPAO automatically checks and/or configures:

Distance
Size
Equalizing
Level
We've covered YPAO in detail in past receivers such as the RX-Z9, RX-V2400, RX-V2500, RX-V2600 and the RX-V4600 and won't rehash it in this review. Not much as changed with this technology, nor has our impression of the system. Use it with kid gloves and be careful not to take the end results too seriously as YPAO cannot accurately determine speaker size, or crossover point and does a rather crude attempt at equalizing your speakers at only one listening position. I found YPAO useful for determining channel trims and speaker distances only.
Editorial Note on YPAO
It's important to note that the YPAO system does not perform any corrections to frequencies below 62.5Hz, and does no correction whatsoever to the subwoofer channel meaning that it really cannot correct for many bass peaks caused by room modes. The best methods of dealing with room modes are: speakersubwoofer location, listener location, adjustable PEQ. For more speaker calibration tips, please check out our System Set-Up and Configuration Tips.

Choosing the Speaker Impedance

Yamaha still ships their receivers with the dreaded impedance selector switch. Our advice as always is to use the "Minimum 8-ohms" setting regardless of the impedance of your speakers. See our editorial note below for further elaboration.
Editorial Note about the Impedance Selector Switch

I recommend the "Minimum 8-ohms" setting even for 4-ohm speakers of moderate efficiency ( > 89dB SPL). Yamaha includes a" 6-ohm" setting to satisfy UL heat dissipation requirements when driving 4-ohm loads, as well as easing consumer concerns about driving low impedance loads. These switches step down voltage feed to the power sections which can limit dynamics and overall fidelity. My advice is to keep the switch set to "Minimum 8-ohms" regardless of the impedance of your speakers and ensure proper ventilation of the Receiver. Using the 6 ohm setting will reduce power output to your speakers about 15-20% and thus cause higher frequency of amplifier clipping if driven too hard which can damage your speakers.

Manual Calibration

Auto calibration and YPAO can only get you so far. I opted to do things the old fashioned way for more precise tuning and system calibration. Surpisingly, taking into account the price point of this receiver, channel trim accuracy is an impressive +-0.5dB and the delay settings are in 0.5ft increments. This precision is rare in a product of this price class. To put it in another perspective, most so called high end processors and higher cost esoteric receivers still suffer from this lack of precision and only give you +-1dB trims and 1ft incremental delay settings. The only nuisance I found with setting channel trims was the lack of dB calibration display in favor of a sliding bar graph. This is the first I've seen Yamaha do this and I hope they reconsider to go back to conventional dB readouts on future models.
What I was most surprised to find however was a hot key on the remote control and front panel of the receiver for on the fly channel trim adjustments. This is a feature I've been begging Yamaha to add to their receivers for years! They also stunned me with another goodie - independent channel trims on the EXT multi channel inputs. This is yet another feature lacking on many of their newer receivers, such as the RX-V2600. I hope Yamaha incorporates these two much needed features on all future receiver models. Bravo!

In the great tradition of excellent bass management, Yamaha offers a variable crossover point from 40Hz to 200 Hz and also allows subwoofer output in 2CH mode if the speakers are set to LARGE via the LFE/Bass Out set to "Both". They even give you a +- phase adjustment for the subwoofer so you can determine the best setting without having to go behind your subwoofer to change it.
Multi-Zone / Multi-Source Audio

I was quite taken by the full multi zone / source audio features bestowed upon this receiver. Not only did it have the ability to serve 3 independent zones of audio, but it also had power amp assignability for Zone2 so you could divert the unused back or presence channels to this duty. Best of all, you don't even have to power up the main zone to get music going to Zone 2. I loved the fact that you could power up Zone2 independently and adjust level control and input selection all accessible on the front panel of the receiver via Zone 2 on/off and Zone control buttons.
Video Set-Up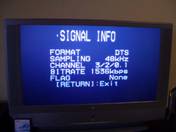 All of the video connections I made to the RX-V659 were component video. The OSD operated flawlessly on component video and I didn't observe any visible picture degradation on my cable box even when receiving 1080i HDMI broadcasting.
It was cool that Yamaha gives the user the ability to display audio signal information via the OSD. This can be useful when troubleshooting why you aren't properly receiving and decoding a 5.1 discrete audio source as I will discuss later in this review in my listening tests section.
iPod Set-Up

I thought I'd never see the day where I would be reviewing an iPod feature set on a home theater receiver. My position on portable compressed audio devices is quite apparent with the article we wrote on the Dumbing Down of Audio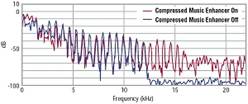 However to clarify, I am not totally down on these devices if they aren't perverted into the only source of audio people are exposed to as a quality reference. Its nice to see manufacturers like Yamaha attempt to improve on the fidelity of these platforms by offering DSP enhancement modes specifically to make them sound less compressed and lifeless. The compressed Music Enhancer feature essentially compensates for the poor low and high frequency response inherent with compressed music formats like MP3, WMA and AAC. It attempts to restore frequency response to give more presence and feel to the music as illustrated in the frequency response graph to the upper right.
Connecting your iPod to the RX-V659 requires the purchase of the Yamaha YDS-10 docking station. Once you connect the YDS-10 to the back of the RX-V659 via the iPod interface cable, you must select V-Aux audio input.
A few words of caution before connecting your iPod:

Make sure the receiver power is "on" before planting your iPod on the dock station
Turn off your iPod or disconnect it from the base station before power cycling the receiver
I learned the hard way that not doing this caused my iPod to freeze up. It took some doing to restore the unit and I would advise avoiding this as I have heard it could wipe out the hard drive in your iPod if you don't properly power it down before power cycling the receiver.
XM Radio

The Yamaha RX-V659 doesn't miss a beat in covering all of the latest audio fads. This is the first receiver we've reviewed that offers iPod and XM connectivity. Connecting the XM antenna is a plug and play accessory much like the iPod doc station. Simply plug it in and it works. Of course with XM Radio, you must subscribe to their service which incurs a monthly service fee of about $13 and opens you up to commercial free programming of 100s of channels, pretty much all music genres, sports talk programs and more. The nice thing about having XM integrated into a receiver is that the OSD gives you a full read out of channel, artist and song info. This is something you just don't get with conventional radio and is certainly a great convenience for those who find a song they love playing on the radio, but never until now know who it's from.

Yamaha is one of the first manufacturers to incorporate XM HD Surround technology into a receiver. This feature allows the end user to hear participating XM radio stations in true discrete 5.1 surround sound much like you hear a DD or DTS DVD. Unfortunately we didn't have an active XM subscription to test this feature.