RX-V4600 HD Radio and Remote Controls
Listening to HD Radio on the RX-V4600
Radio seems to be the lost format in the home theater and music realm these days. Only a decade or so ago, tuner fanatics used to tweak and mod their AM/FM tuners for higher performance (see Yamaha T-80 Vintage Tuner Review ). With tuner performance becoming less of a priority in preamps and receivers these days, this further caused a loss of focus on FM radio being taken seriously as a high quality source. Luckily the digital era we embraced seems to have addressed this. Enter HD Radio from Ibiquity Digital Corporation.
Some of the Key Benefits Touted About HD Radio technology include:
Enhanced sound quality and reception over standard FM radio.

Application services offering new features and information.
Easy upgrade path to convert from analog to digital radio without service disruption using existing radio channels and bandwidth.
Elimination of static noise and fading associated with conventional analog broadcasts due to multipath, noise and interference.
Allowing radio broadcasters to send audio and data content via digital signals on the existing AM/FM bands.
No subscription fee.
The last bullet certainly strikes points with me. At last - a high resolution broadcast format free to the general public. To get started, I advise checking out Ibiquity's website to locate HD Radio-capable channels in your area. I selected Florida, my home state, and got this list:
| | | | |
| --- | --- | --- | --- |
| Station | Band | Frequency | Format |
| WBVM | FM | 90.5 MHz | Christian Contemporary |
| WPOI | FM | 101.1 MHz | 80's Hits |
| WSUN | FM | 97.1 MHz | Alternative |
| WWRM | FM | 94.9 MHz | Soft AC |
| WFLA | AM | 970 kHz | News/Talk/Sport |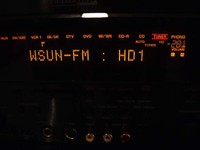 Using nothing more than the dental floss monopole FM antenna wire supplied with the RX-V4600, I began tuning in stations. The strongest station in this list was 97.1MHz which, from my home, could be picked up on a decent tuner without the use of an antenna (or a teenager's braces when they open their mouths.) Within a second or so, the RX-V4600 locked onto the 97.1MHz HD Radio signal. My initial impressions were that I must have been listening to one of the music channels on my satellite receiver, because I was hearing no static or noise associated with AM/FM broadcasts. It wasn't until I heard the DJ and annoying commercials that my brain convinced my ears I was listening to a local radio station, though with CD-like fidelity. The HD Radio signal sounded much clearer and more detailed than standard FM making radio almost bearable. The AM HD Radio station was a bit too weak for me to lock onto which was a shame since I would have loved to listen to my favorite talk radio - the Phil Hendrie Show noise free. I am not a big fan of radio, but if bubble gum pop or two-chord so-called "alternative rock" is your game, than you will certainly dig listening to it using this system. Best of all, it won't cost you anything other than purchasing a good antenna, though the Yamaha supplied ones may do you just fine.
Multi-Zone / Multi-Source Audio
As with most receivers in this price class, the RX-V4600 features Zone2 and Zone3 multi source audio with the option of Zone2 being amplified by the Surround Back / Presence channels. In fact, if you are running a full fledged 7.1 speaker arrangement in the main room, make sure you pick up a 2CH amp and set the Zone2 amp is to "EXT" otherwise the back channels will not function. Zone2 and Zone3 will only allow analogue audio connections, so don't forget to run analogue interconnects for the source components connected to these zones. If you need an additional zone of audio, you can also configure SPK B for "Zone B", turn off SPK A and turn on SPK B. This will automatically disable the sub and surround speakers allowing you to use the Main preamp zone with digital audio inputs for another speaker location.
Video Set-Up
Alas, finally a Yamaha receiver with HDMI I/O connections (a feature lacking even on their flagship RX-Z9 ). The RX-V4600 is compliant to HDMI ver 1.1 which covers video up to 1080i and all audio formats except SACD (with SACD's almost universally-slow adoption rates we're starting to think that's less and less of a big deal.) I opted to use i.LINK for audio and HDMI for video for most of my testing of this receiver.
Editorial Notes about HDMI (especially for computer folks)
You cannot connect display devices (such as presentation displays) that are NOT HDCP compliant. The result if you attempt this will be no picture. The RX-V4600 currently does not support analog video upconversion to HDMI, however it does support component video upconversion so it's a good idea to use this feature when handling composite, s-video and component video connections.

For more information on HDMI, we recommend our articles on HDMI and our Audio & Video Connections Guide.
Yamaha RAV354 Universal Remote & RAV18 Zone Remote
The RAV remote controls are easy to operate, and have powerful feature sets. Now all we have to do is get Yamaha to fully backlight the RAV354 and we can retire the clapper.
Pros
Very easily programmed
Fits nicely in the hand, new thinner design
Dedicated receiver volume
Source switch for controlling inactive components
Powerful Macro Features
Cons
Seafoam button labels unreadable in dark, even with backlight
Backlight barely lights up keypad
Keypad does not adhere to standard layout
The Yamaha RAV354 Universal Remote Control
The RAV354 fits easily in the hand so that most commonly used keys are positioned within easy reach of the thumb. This includes volume, channels, menu, navigational and the enter button. Even DSP functions are within easy reach without having to maneuver the remote control, though when using to the receiver in a dark room you better make sure you have the control selector set to "amp" otherwise you will wind up changing the channel rather than the DSP mode. The fact that all keys are now backlit (activated via a button on the left side of the remote) would be cause for small celebration except that the remote stopped just short of the first down and opted to include "sea foam" colored labels on many of the primary buttons - rendering them nearly invisible in the dark, even when backlit. One other thing to note is that the numeric keys (which are not arranged in the familiar 4 rows of 3 format) are also poorly and unevenly backlit. I suppose I am spoiled with my Universal MX800 remote, but I feel that all of the buttons should light up when you engage the backlighting even at the expense of battery life, which today is less of an issue with rechargeables being commonplace.
Programming the remote is about as easy as it gets, short of using mental telepathy. The only difficulty I had, which was remedied with a paper clip, was accessing the programming buttons. This is understandable since you don't necessarily want these buttons to be easily accessible to the spouse or kids. I also liked the feel of the buttons themselves. The no-slip texture is easy on the hands and helps ensure you select the right buttons. Users of previous Yamaha remotes will need to get used to flipping the new AMP/SOURCE/TV switch which is a nice development that instantly directs remote control commands between the receiver, currently selected source, or television (as programmed into the DTV source.)
Separate power buttons for the receiver, source and television help ensure that you'll never mistakenly turn off the wrong device. I also appreciate the "Audio Select" button, which was incidentally backlit and allows the user to toggle between formats of a particular source (i.e. Auto, PCM, Analog). The numeral 7 "Select" button allows the user to toggle between different surround modes (i.e. PLIIx Music, Movie, DTS Neo:6, CSII, etc), a feature I most commonly utilized, really begged to be backlight. I am hopeful Yamaha reconsiders this for future iterations of this fine remote. Until then, my clapper remains plugged into the lamp in my listening room.
The RAV18 Zone Remote Control
The sole purpose of this remote is to operate the Zone2 and Zone3 sections of the RX-V4600. I really liked having a separate remote for these features as it helped eliminate an inexperienced user messing up your system's primary settings while trying to make the outdoor speakers louder at a pool party. This is the remote (if any) you let your guests use. It isn't backlit, but considering people using the Zone2 and Zone3 features likely never do so in the dark, I don't see this as being an issue.