RX-V2700 Video and Network Setup
Video Set-Up
Yamaha made some significant upgrades on the video side of the equation with this receiver. For one, the HDMI inputs now accommodate up to 1080p resolution. The RX-V2700 also does scaling and upconverting of analog signals (up to 1080i) powered by the Anchor Bay Technologies ABT1010 scalar engine.
I ran into a couple of operational hiccups with HDMI on the RX-V2700. The first sample Yamaha sent me had an issue with image drop out after 20-30 minutes of operation which Yamaha attributed to a faulty part on the HDMI circuit board. The second unit didn't suffer this fate, but did have issues keeping a stable image on my RSQ NEO-E500 DVD Karaoke player anytime text lyrics displayed on the screen. Yamaha claims it could be in issue with the frame rate of the text. My initial workaround was to route s-video directly to my display on an unused input, bypassing the RX-V2700 altogether. I also had some operational anomalies when upscaling VHS to HDMI. The picture would either be stable for hours, or toggle on/off persistently during a viewing session. My workaround here was to run component video cables from the RX-V2700 to another input on my display. I later decided to route all analog video into the RX-V2700 and out via component video to my display. I strongly suggest users do the same as a backup in case they run into these issues with HDMI.
I experienced a puzzling HDMI setup issue on both RX-V2700 samples that magically resolved itself after a few minutes of operation. Initially when I connected the receiver to my Samsung HL-S5688W 1080p display and Scientific Atlanta 8300HD box, I experienced a loud popping sound from my TV any time I toggled inputs on the RX-V2700. After a few trials of randomly powering down all three devices and reconnecting all of the HDMI cables, the problem went away never to show its ugly self again. I can't fully explain this, but can only guesstimate a sync issue between this HDMI ver 1.2a receiver and the rest of my gear that is only HDMI 1.0.
Audioholics/HQV Bench Testing Summary of Test Results
Perfect Score is 130
Yamaha RX-V2700 Benchmark Score: 68 (average compared to many displays and source components. In comparison, my Realta REON VX-50 HQV-enabled Denon DVD-2930CI scored a 120.)

| | | | |
| --- | --- | --- | --- |
| Test | Max Points | RX-V2700 | Pass/Fail |
| Color Bar | 10 | 10 | Pass |
| Jaggies #1 | 5 | 5 | Pass |
| Jaggies #2 | 5 | 3 | Pass |
| Flag | 10 | 10 | Pass |
| Detail | 10 | 10 | Pass |
| Noise | 10 | 5 | Pass |
| Motion adaptive Noise Reduction | 10 | 5 | Pass |
| Film Detail | 10 | 0 | Fail |
| Cadence 2:2 Video | 5 | 0 | Fail |
| Cadence 2:2:2:4 DV Cam | 5 | 0 | Fail |
| Cadence 2:3:3:2 DV Cam | 5 | 0 | Fail |
| Cadence 3:2:3:2:2 Vari-speed | 5 | 0 | Fail |
| Cadence 5:5 Animation | 5 | 5 | Pass |
| Cadence 6:4 Animation | 5 | 0 | Fail |
| Cadence 8:7 animation | 5 | 5 | Pass |
| Cadence 3:2 24fps film | 5 | 0 | Fail |
| Scrolling Horizontal | 10 | 0 | Fail |
| Scrolling Rolling | 10 | 10 | Pass |
| Total Points | 130 | 68 | |
Source component was the Denon DVD-2930CI DVD Player (480i - component video) upscaled to 1080i via the RX-V2700 and fed to the Samsung HL-S5688W Display.
Yamaha scored average on these tests, but misses some key ones that we pay close attention too. The fact that Yamaha's receiver doesn't appear to pass the Film Detail and 3:2 Cadence tests tells me that something is still amiss in this 2nd generation HDMI upconverting receiver when trying to handle unflagged content. A good $150 DVD player can pass these tests.
Users may want to continue to pair this unit with a good progressive source component. Overall I found the scaling features of the RX-V2700 to be a cut above what's found in most A/V receivers these days, with the exception being its inability to handle unflagged film content. Unless you have a really good DVD player, you may still opt to use the internal Yamaha scalar for better results.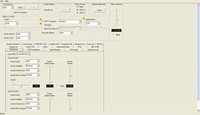 Receiver Editor
A custom installer's delight, Yamaha has been offering this feature since the introduction of their flagship the RX-V2400 over four years ago. Using Yamaha's proprietary software and an RS-232 connection between your computer and the interface on the back of the RX-V2700, you can plug away at configuring the entire receiver without having to use the GUI or your display. Best of all, if you or your customer happens to mess up some of the settings on the receiver after it's calibrated; you can recall the settings in an instant and restore the receiver to its proper calibration. Of course, I highly recommend engaging the "Memory Guard" feature of this receiver after you complete the setup and calibration to avoid such an occurrence.
Network Set-Up & Functionality
We are entering an era where bleeding edge receivers such as the RX-V2700 are starting to take on a more active roll of the typical HTPC and Media Center. This makes perfect sense since the receiver serves as the central hub for the home theater system and Media Center PCs have been traditionally hampered by spurious HD cable support. Why not have it control all sources, including music streaming and distribution.
The RX-V2700 is unlike any other receiver previously launched by Yamaha or any other manufacturer in this regard. Within a matter of minutes after I connected my Ethernet cable from my network to the RX-V2700 and the MusicCAST MCX-2000, I was able to accomplish all of the following:
stream (Inter)Net radio

stream music from a MusicCAST MCX-2000 server as a remote client

stream music from a connected USB flash drive

stream music from a networked PC

receive XM radio (not tested, not subscribed to services)
(Inter)Net Radio
By selecting the input labeled Net/USB, setting the remote control to "Net" then sliding the side function mode selector switch to "source" you enter the Network world of the Yamaha RX-V2700. I found literally hundreds of Net radio stations categorized by Genre, Location, Popular Stations, and Podcasts. While this was a super cool feature, especially since it's free and opens the doors to an almost limitless avenue of new music, the poor sound quality on most stations made this service unpalatable even when engaging Yamaha's Music Enhancer feature. The Music Enhancer feature did manage to extend the high and low frequency response, but it was unable to combat the excessive amount of compression and phase issues that made most of the channels sound about as good as AM radio without the static. Am I being too picky? Perhaps, but I am not the type to fall for the Dumbing Down of Audio that seems to be the status quo in an era of streaming music and compressed portable audio services.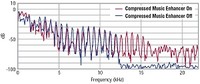 Oddly when I selected the "Holiday Music" genre, I got Nirvana and Stone Temple Pilots on the North Pole station. I guess Santa must be in a Rockin' mood once the holiday season is over.
One saving grace to Net Radio is I did manage to find a selection of Jazz stations that didn't sound half bad, especially when I engaged Yamaha's Music Enhancer 2CH and 7CH modes. The bottom line is that when you find a higher quality station, make sure you program it in memory for future access.
MusicCAST MCX-2000
Networking the RX-V2700 to my MusicCAST MCX-2000 was easy as pie. All I had to do was go into the setup of my MCX-2000 and hit Auto Configure. It found the RX-V2700 and treated it as a remote client. I then selected the PC/MusicCAST option on the OSD (use "display" button on the remote when engaged in Net mode).
Editorial Note on Streaming Music from MusicCAST
When streaming music from MusicCAST MCX-2000 to the RX-V2700, it's important to note that MusicCAST defaults PCM to MP3 conversion of remote clients. MusicCAST does provision for sending one remote client PCM data. If you are already sending PCM data to another remote client,, I would suggest using this feature for zone2/3 audio and using the primary MusicCAST system for the main zone to allow true PCM data to be faithfully produced for the greatest fidelity.
Having the network feature for MusicCAST is very useful in this receiver. It provides the ability to stream independent musical sources for all 3 zones (Main, Zone 2, Zone 3) by just having only one additional remote client for the MusicCAST system. In my setup, I used the MCX-2000 base unit for the main zone and streamed different music to Zone 2 from RX-V2700 remote client while watching TV in Zone 3 all off one receiver!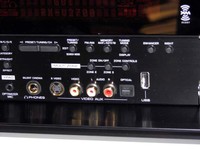 Editorial Note:
You can also have the main MusicCAST server in Standby mode while accessing it from a remote client. Very cool.
Streaming Music off PC and USB Flash Drive
Once again, The RX-V2700 showed off its Network muscles by allowing users to stream music directly off a PC connected in the network. Files such as WAV (PCM format only), MP3 and WMA are supported. I was right at home with this feature as I have a ton of older progressive rock music on my PC hard drive that I'd love to hear on my stereo system. As an added bonus, you could even store some music files on a USB flash drive or portable hard drive and connect it right to the front panel USB connector for instant access to your music.
XM Radio
Just like the RX-V659 receiver we've previously reviewed, the RX-V2700 leaves no stone unturned by providing XM radio. Connecting the XM antenna is plug and play much like an iPod docking station. Simply plug it in and it works. Of course with XM Radio, you must subscribe to their service which incurs a monthly service fee of about $13 and opens you up to commercial free programming of 100s of channels, pretty much all music genres, sports talk programs and more. The nice thing about having XM integrated into a receiver is that the OSD gives you a full readout of channel, artist and song info. This is something you just don't get with conventional radio and is certainly a great convenience for those who find a song they love playing on the radio, but never until now know who it's from.
Yamaha is one of the first manufacturers to incorporate XM HD Surround technology into a receiver. This feature allows the end user to hear participating XM radio stations in true discrete 5.1 surround sound much like you hear a DD or DTS DVD. Unfortunately we didn't have an active XM subscription to test this feature.
iPod Connectivity
The iPod port on the back of the RX-V2700 just like it was on the RX-V659. I didn't have a chance to test iPod on the RX-V2700 but did do a full report on this in my RX-V659 review.