RX-V2600 System Setup and Test Results
The Yamaha has an Advanced Setup menu system that can be engaged by placing the unit into Standby mode and holding the "Straight (Effect)" button while powering the unit up. At this point the Program selector knob will allow access to several very useful parameters which can be modified to help custom installers and home users with unique needs.
Speaker Impedance
This is the place where you can set the RX-V2600's output impedance to either 6- or 8-ohms. We recommend leaving this in the 8-ohm setting regardless of your loudspeakers, unless you are truly looking to overdrive the Yamaha amplifiers on low impedance speakers.
User Preset
This resets the parameters of the receiver to factory default with the exception of the System Memory and Auto Setup settings.
Remote Sensor
A great feature for custom installers, this disables the front panel IR sensor and can allow the unit to function only via hardwired IR inputs or RS-232C controls.
Wake on RS-232C Access
This self-explanatory function will allow the RX-V2600 to take in RS-232C commands while in the Standby mode.
Remote Control AMP/Tuner/XM ID
For use with multiple systems, this allows you to set the various IDs to ID1 or ID2 when using a remote control.
Fan Operation Mode
You can tweak the Yamaha to operate in AUTO mode (default) whereby the fan comes on automatically based on the temperature of the unit, or CONT (continuous) to engage the fan permanently (for use in smaller equipment closets, etc). Note: After running the RX-V2600 for a while I noticed that it runs quite hot, so give it plenty of ventilation and consider using the continuous fan mode if you plan on shutting it up in any sort of entertainment center or enclosed space.
Bi-AMP
This mode allows the Surround Back terminals to be utilized for passively bi-amping the main speakers. This is new for Yamaha and now makes at least three major manufacturers who provide this function to utilize unused amplifiers to passively bi-amp main channel speakers.
Video Reset
There are conditions whereby you can select to DIM the front panel and make a subsequent video adjustment that renders the display muted. In this scenario you can use the Video Reset function to return the display to a visible mode and continue adjustments.
TV Format
This alternates the Yamaha RX-V2600's video system from NTSC to PAL and vice versa.
GUI Language
You have the option here of setting the GUI language to Japanese, French, German, Spanish or back to English.
Yamaha RAV358 Universal Remote and RAV21 Zone 2/3 Remote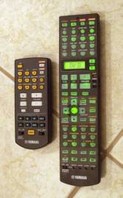 The Yamaha RAV358 remote control improves upon the RAV352, eliminating nearly all of the aforementioned "cons" we listed previously:
Pros
All keys now backlit
Very easily programmed
Fits nicely in the hand, new thinner design
Dedicated receiver volume control
LCD allows control over components other than input source
Cons
Keypad on main remote does not adhere to standard layout
You cannot turn off receiver power by hitting stand by after you programmed the remote to operate other devices (you must first select all in the LCD screen for the remote to function power toggle on the receiver)
Note: IR repeater/blaster system required for Zone 2/3 remote use
Gone are the seafoam colors which made some of the backlit buttons of the RX-V2500's remote nearly impossible to read. The new and improved RAV358 buttons are all uniformly easy to read and the provided backlighting is now much more effective. Having a separate Zone 2/3 remote included is a handy new trend that is making its way into many more affordably-priced multi-zone receivers these days. In order to maximize its use you'll need to install IR repeaters and blasters which connect back to the RX-V2600. A custom installer will know how to do this in a way that allows you to control your system's discrete Zone 2/3 functions from other rooms in the house.
For more information on RAV358 functions, please see the Yamaha RX-V2500 review .
Audioholics/HQV Bench Testing Summary of Test Results
Perfect Score is 130
Yamaha RX-V2600 Benchmark Score: 28 (send this receiver progressive source material when possible and enjoy the benefits of convenience for composite and s-video sources)
Test
Max
Points
Results
Pass/Fail
Color Bar
10
0
Fail
Jaggies #1
5
3
Pass
Jaggies #2
5
0
Fail
Flag
10
0
Fail
Detail
10
10
Pass
Noise
10
0
Fail
Motion adaptive Noise Reduction
10
0
Fail
Film Detail
10
0
Fail
Cadence 2:2 Video
5
0
Fail
Cadence 2:2:2:4 DV Cam
5
0
Fail
Cadence 2:3:3:2 DV Cam
5
0
Fail
Cadence 3:2:3:2:2 Vari-speed
5
0
Fail
Cadence 5:5 Animation
5
0
Fail
Cadence 6:4 Animation
5
0
Fail
Cadence 8:7 Animation
5
0
Fail
Cadence 3:2 24fps film
5
0
Fail
Scrolling Horizontal
10
5
Pass
Scrolling Rolling
10
10
Pass
Total Points
130
28



Comments on HQV Testing

We were a little surprised by the results of the HQV Benchmark scores, but not terribly so. Yamaha is not utilizing a reference quality scaler or deinterlacing chip in the RX-V2600, so it's meager score of 28 shows what happens if you can't have your cake and eat it too (provide upconversion and simultaneous switching, etc). While it's easy to chastise this performance, I do not believe that Yamaha could have done much better and continued to provide their current level of features (upconversion, scaling and deinterlacing with simultaneous outputs) without significantly increasing the cost of this product.
What you'll want to do with the Yamaha RX-V2600 is feed it progressive scan input, or better yet HDMI from a good upconverting DVD player, and allow it to deinterlace and upconvert/scale 480i inputs from sources like VHS players and legacy gaming systems.