RX-V2400 Features
It wasn't too long ago that I got my start in home theater with a Yamaha mid line receiver known as the RXV-992. Compared to the new RX-V2400, the RXV-992 offered less power, only five channels of amplification, no DTS, no PLII, no component video switching, and no room correction or auto set-up features, yet both carried the same retail price of $999. At the time, the RXV-992 receiver was an excellent value as few, if any, in its price class packed all of its features and performance. That was then and this is now. The ever growing technological marketplace and continually increasing consumer expectations places more and more demands on manufacturers to push the envelope in development, performance, and value; at least as far as midfi goes. The high end audio industry is sometimes another story however, which we shall not expand upon in this review.
THX on a Yamaha Receiver?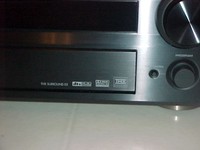 That's right! The RX-V2400 is THX Select certified. Many of the newer Yamaha receivers forthcoming will be carrying the THX brand certification.
However, fear not, Yamaha still offers the option to defeat THX post processing in favor of its own infamous DSP processing modes.
Another first for Yamaha is adjustable bass management. Hurray at last!
The RX-V2400 is one feature packed receiver for its asking price. In fact, probably the most feature oriented receiver in its class currently offered.
All speaker terminal posts sport binding posts except the "presence" channels. 
Two component video inputs and one output featuring video up conversion with OSD. 
Detachable power cord and two switched outlets. 
EXT 6CH Analog Inputs, Three digital coaxial and five toslink inputs and two toslink outputs ensure all formats are covered.
The Yamaha RX-V2400 comes with all the fixings that until a couple of years ago, weren't even commonplace on any flagship offerings let alone a sub $1000 receiver. Some of these benchmark features include:
120 watts RMS to each of the seven channels.
Component Video Up Conversion with OSD.
Nine Adjustable bass management settings (40Hz to 200Hz, 10Hz step sizes from 80-120Hz).
0.5dB channel trim adjustments.
Subwoofer group delay adjustments.
Independent channel trim settings for external inputs.
Auto set up and YPAO 10-band (7 user) parametric equalizer for all channels.
To the RX-V2400's testament, there are still dedicated, so called high end processors selling for more than three times its price that don't offer five out of six of the features listed in the above bullets.
Back by popular demand the classic keypad with LCD window indicator Yamaha Universal remote debuted in the day when RX-V1 held the Flagship title. I really liked this remote because of its ease of use and flexibility and was happy to see Yamaha integrate it with their premier sub $1000 receiver.