neoHD YMC-700 Setup and Use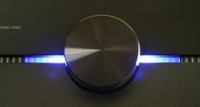 The first thing you're going to want to do is to start plugging things in - resist that urge. Instead, there is a large piece of paper on the top of the unit when you open the box that says "READ ME FIRST." Generally, I'd say you can skip such nonsense, but in this case you should not. The YMC-700 may be designed to be very user friendly, it is NOT setup friendly. On that large piece of paper there is a setup grid where you list the device name, brand, model number, and connection configuration. This grid will then let you know what number is assigned to that device. Intuitive? Not really. If you are an engineer or mathematician it makes perfect sense but to the rest of us, it's a little silly and an extra step that we could have avoided. But, once you have it filled out, you won't ever have to do it again.

Next, you'll need to make sure you have the wireless antenna, the terrestrial antenna, and the IR flashers connected. The IR flashers are connected to the back of the unit with the emitters stuck to the IR receivers on each piece of gear that will be controlled. Each flasher cable has 2 ends on it so you can connect up to 6 devices to the 3 IR outputs. There is also an IR input that can be used to integrate the YMC-700 into an existing universal remote system but that seems like you are testing the AV gods who might punish you by opening up a black hole in your home theater or transforming all your subwoofers into bass modules. To find where to place the IR flashers on your equipment, take a flashlight and shine it onto the fact of the device. You should be able to see past the frosted glass to view the IR receiver inside. You can usually remove and replace the flashers a few times before they lose their stickiness but try to get it right the first time.

Once you get everything hooked up and turned on, turn on the YMC-700. You'll be taken through the initial setup immediately. You'll notice that the menu system is really quite Spartan and utilitarian at this stage - certainly doesn't have the "wow" factor you may have been expecting. Hold on kids, that's coming. First you'll be asked if you'd like to have the Yamaha YMC-700 set up your speakers. For this you'll need to plug in the mic to the side of the unit and put it near ear height of the prime listening position. This we set up in a bedroom so I placed the mic on a small stand right about where I'd be sitting in my bed while watching a movie. The YPAO is really only calibrating the speakers and sub, so don't expect any real room correction during this process. If you've experienced an auto calibration system before, it's full of chirps and strange sounds. Rest assured, the YPAO is sufficiently sophisticated so that it will adequately level match and set the crossover of your speakers (though double checking is never a bad idea – especially the distance/delay settings). With the review set of Boston SoundWare XS speakers, the auto settings were spot on.
Next, you'll need to configure the YMC-700 to control/identify all your other devices. Basically, you want the YMC-700 to control everything it can. To do this, it needs to be connected by the IR flashers. If it isn't, all you can do is let the YMC-700 know what it is (type) and what it can do (play music, movies, both, etc). First, though, you'll be configuring the TV. If you let the YMC-700 control the TV, it will turn the set on and off. What I was not able to do was get into the menu system of the TV to calibrate it with the YMC-700 remote. While this may, in the long run, be a good thing as it doesn't allow access to your calibration settings to users, it requires you to grab the remote for the display to make any fine tuning adjustments.
For the rest of your gear you'll need to follow the grid in order to tell the YMC-700 what everything is and where it is plugged in. Each time it will ask you if you want the YMC-700 to control it. If you have the IR flasher attached, you'll want to say yes. Each time you indicate you want the YMC-700 to control a device (source or display), you'll be asked what type of device it is (for sources) and to identify the make. I had an Oppo DV-970HD Universal player and a Westinghouse LVM-42w2 LCD display. In both cases, the Yamaha YMC-700 would give me different IR options labeled Oppo1 or Westinghouse 2. There was no way of knowing what was right. Then, for the display, the YMC-700 would attempt to turn the TV off and then on again (which took forever for some reason) or for the DVD player it would let me try to use the menu to control the player. It would then ask me if it had the right control configuration or not.
While I wished it had more information on the setup screen as far as which remote configuration went with which model numbers, the fact is that once you have completed the setup, you are in for a real treat. Now, you can pretty much put away all your old remotes and use only the YMC-700s. Again, I wish it wasn't as easy to lose or was backlit but that's already been discussed. Once you've played with it for a bit, it becomes really intuitive. There are a grand total of 20 buttons on the remote - Power, TV Power, four directional buttons, Guide, Menu, Prev., Exit, Control, Back, Channel up and down, Volume up and down, Page up and down, Mute, and Enter. These buttons all take on different contexts depending on what screen you are on. The fact is that the volume buttons, the directional buttons, Enter, Control, and Back will probably be the most used.
Use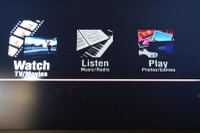 Pressing Control gets you into the specific controls of each device. So if you are watching a movie on a DVD player, Control will pop up a menu that will give you access to Play, Stop, Pause, etc. Basically, anything that isn't already on the remote. Buttons on the remote switch function to fit the source so Channel up and down becomes Skip forward and back, Menu becomes the setup menu for the player while Guide sends you to the main menu of the DVD. All this is easily grasped and remembered because of the low number of buttons on the remote. Use it once or twice and it all starts to make sense.

This is really the heart and the soul of the Yamaha YMC-700 Media Controller. Once you get past the setup, it all becomes intuitive. With the wireless (or wired) connection, you can access the Internet for Internet radio and podcasts, if you have a PC with Windows Media Player 11 you can access your content, and if you have a Rhapsody account, you can access that as well. The whole thing becomes very intuitive with very little you can do wrong to "mess it up." Heck, getting to the setup menu is probably one of the harder things to do (it's on the topmost menu in small print on the bottom right. You practically have to know it is there).

I really enjoyed using the YMC-700 once it was set up. The wireless streaming was spot on and you could even check your signal strength from the menu. Analogue performance was adequate for what it was (don't try powering 4-ohm speakers with this unit). The menu system was easy to use and understand even for the neophyte. One of my favorite things was that if you hit the Control or Back button and ended up on one of the main menus, the movie/music didn't stop playing. You needed to select something different in order to change it. This is nice when you're looking for a different station but in the off chance that you are on an annoying station, it can be a bit grating. But overall, I think it is a plus. The remote is simply a joy to use and the interface is really intuitive. I don't think you'll have much of a problem getting anyone, no matter how technologically phobic they are, up to speed on the YMC-700. And isn't that the whole point?
corey posts on December 21, 2009 04:02
gene;662910
I bought my parents a nice Denon receiver and blu-ray player and get virtually everytime they turn on their system to watch a movie
Gene, I think you missed a word, between 'get' and 'virtually'. Is it 'called'? If so, I totally get your point. I once gave my in-laws some stuff after an upgrade, and got calls all the time. Not getting called = priceless, and priceless = great value.
I didn't get the feeling from the article that this system was a generation up on a Harmony remote and regular gear. If it is, then it could be just what some people need, my in-laws included.
MapleSyrup posts on December 20, 2009 23:44
gene;

Can I be your father? At least for Christmas?
gene posts on December 19, 2009 22:36
I'm not getting the 5 out of 5 value rating. For $800 I can get an Xbox 360, a universal remote, and a pretty nice receiver. If I cut back on the receiver a bit, I can throw in a Blu-Ray player with Pandora, etc. And, I won't have to strip off the banana plugs on my speakers, not loose my rear surround speakers.
True but can you grandma or even your mother operate the XBOX 360 and receiver? This product is designed for non tech savvy people that want decent sound with the most possible operational ease.
I bought my parents a nice Denon receiver and blu-ray player and get virtually everytime they turn on their system to watch a movie despite i programmed macros on their Harmony remote. I wish this system was out before i got them the Denon stuff as it would save me a lot grief.
droht posts on December 19, 2009 18:48
Sounds like a case of "close but no cigar" if the universal remote functionality is one of the weaker links. If this is for the casual user who doesn't want to integrate a URC and AVR and iPod then the remote better be one of the high points.

The Harmony remotes couldn't be much simpler to set up. I think a lot more people would buy them if they were exposed to them.
Seth=L posts on December 18, 2009 21:55
I'd really like to see a full line of audio/video receivers come out with a host of features like this.

Feature # 1 - a clear motivation toward recogizing HDMI as the primary connection with other connectivity coming in very secondary. There should be a mini-din adaptor or RS-232 port that will allow custom installers to add an analog audio/video switching device controlled by the receiver. it would perhaps be all to easy to have the peripheral to use HDMI as an output with a 1/8" control adaptor to sync the devices. The inside of the receiver should have a powerful processor allowing these expansions to take place without interfering with the speed of the system in terms of switching and detecting signals.

Feature # 2 - The secondary unit discussed above may also have a decent video scaler in it, especially if we are talking about a HDMI based output device. Since most HDMI sources themselves are not in need of being upscaled it would be senseless to have one on the receiver itself, just the accessory.

Feature # 3 - The receiver should use Class D ICE power or similar yet effective technology but on a stripped down level for lower output that can be fit into a small devices such as these newHD receivers. This would give the installer the option to use many different types of in wall speakers and possible full size home speakers if they so wish.

Feature # 4 - The network and wireless capabilities should be part of a third unit. The third unit should have it's own display. I'd like to see the display technology that was used on the DSP-A1000, but I could accept Yamaha's current amber displays. (by the way, the same should follow for the receiver in terms of display type, the analog video switcher doesn't need a display).

Feature # 5 - The units should be stackable. I also believe that the design of the receiver, network device, and analog video unit should be trapazoidal allowing one to flip the analog video device upside down (since it has no display, top and bottom should be bare of anything that would indicate which side is up) to line the units along side one another to leave no void between each component should the installer or user choose to arrange them this way if they have all 3 units.

Feature # 6 - The receiver should contain the connection to the iPod accessory powered by USB. The USB port should allow use with other devices, such as mass storage to allow you to use the receiver as a media server.

Feature # 7 - A wireless zone two amplifier that connects wirelessly to the receiver. The wireless zone two amplifier should also have a display and it's own remote control.

The use of a toroidal transformer inside the receiver is a must, to increase efficiency and save space maximizing the potential power output. Perhaps a wide range of products could be spurred with a similar design philosophy, such as Blu-ray players, double size receivers with bigger amplifiers and more inputs, separates with different amplifier options ranging from a single small box solution to several mono block amplifiers of the same physical size as a single multichannel amplifier.