neoHD YMC-700 Challenges and Conclusion
All that being said, there are some problem areas with the YMC-700. Something to consider is that every command you press on the remote is transmitted to every device via the IR flashers. While mostly this won't matter, if you have one of those rare devices where an IR code overlaps, you're going to have a problem. The second issue I had was with learned commands. While the YMC-700 is firmware upgradable via USB or over WiFi, there is always the possibility that you'll come across a device that has a button that is not mapped or not working correctly. Of course, you can have the YMC-700 learn that code which can be mapped to one of the physical buttons or a virtual one on the popup menu. Now here is where we run into some confusion. The virtual buttons are only labeled L1, L2, etc. and can't be renamed. Since the physical buttons are very limited in number, I imagine that many times you'd like to use the virtual ones. But without a renaming facility, it really makes it hard for anyone other than the person who programmed it to use the learned function. Other than renaming, I'd love to see a way of reordering the virtual menu as well. While the ordering isn't terrible, I'm betting that users would really appreciate being able to tailor it to their specific usage profiles.
There were, as you'd expect, a number of DSP modes that were specific to each type of source. Unfortunately there really wasn't any way to defeat some of the modes. For example, if I put a CD in my DVD player and selected "Watch Movie" I got surround sound no matter what. Back out to the main menu and select "Listen to CD" (which pulls from the same DVD player) and I get stereo. Not sure what DSP they are using on the Movie mode but there is no way to get non-surround in that mode.
While I can certainly understand why Yamaha included the docking port on the YMC-700, it seems that they have become very attached to the iPod dock being sold separately. With a product that is designed to be a Media Controller, the extra purchase of an iPod dock seems counterintuitive. Instead, either Yamaha should have gave the YMC-700 the ability to access iPod information through the USB port (which really should be on the side or front) or include the dock with the YMC series receivers.
Lastly I want to address the inevitable "why don't I just buy a cheap receiver and a universal remote and use my iPod." Yeah, why don't you? But the target audience of this device isn't going to. They aren't going to try to figure out the universal remote. They want something a little cooler than an iPod on a tether - they want wireless and they aren't going to try to integrate a streaming device like the Squeezebox Duet. While the onscreen virtual control menu may be very retro-80's LCD chic and a bit clunky, it is way cooler than your bargain basement universal remotes. Frankly, for all that the YMC-700 does (wireless streaming, universal remote, receiver) you really are getting a lot of bang for your buck. The higher-end user wants more amp power and more control over their system, but they are also willing to pay for it. While you can surely put together a system that does everything the YMC-700 can do for the same price (or perhaps less), I doubt it would be as user-friendly and elegant as the YMC-700.
Conclusion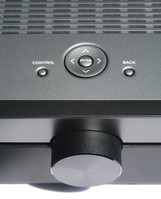 Let's be honest, the Yamaha YMC-700 Wireless Media Controller is probably the coolest new receiver-like device to hit the market in years. While this may not be the receiver you've been waiting for, it is probably the one that you'd love to get your parents for Christmas. What I'd really like to see is an improvement on the universal remote functions including refining the virtual menu and having these functions trickle up to the higher-end Yamaha offerings. Should companies like Harmony and Universal Remote start sweating? Not yet. But if Yamaha does start to integrate media controller functions into their other offerings, companies like Denon and Pioneer won't be far behind. And then, they should start sweating.


Yamaha neoHD YMC-700 Wireless Media Controller
$799.95
Yamaha Electronics Corporation, USA
6660 Orangethorpe Avenue
Buena Park, CA 90620
(714) 522-9105
www.yamaha.com
About Yamaha
Yamaha Electronics Corporation (YEC), USA, based in Buena Park, California, is a wholly owned subsidiary of Yamaha Corporation of America. YEC offers industry-leading home theater components and systems, featuring A/V receivers, amplifiers, DVD/CD players, speakers, mini-systems, home-theater-in-a-box (HTiB) pre-matched systems and the company's exclusive Digital Sound Projectors (single component surround sound solutions), as well as A/V & IT convergence products.
The Score Card
The scoring below is based on each piece of equipment doing the duty it is designed for. The numbers are weighed heavily with respect to the individual cost of each unit, thus giving a rating roughly equal to:
Performance × Price Factor/Value = Rating
Audioholics.com note: The ratings indicated below are based on subjective listening and objective testing of the product in question. The rating scale is based on performance/value ratio. If you notice better performing products in future reviews that have lower numbers in certain areas, be aware that the value factor is most likely the culprit. Other Audioholics reviewers may rate products solely based on performance, and each reviewer has his/her own system for ratings.
Audioholics Rating Scale
— Excellent
— Very Good
— Good
— Fair
— Poor
| Metric | Rating |
| --- | --- |
| Multi-channel Audio Performance | |
| Network Features | |
| Build Quality | |
| Fit and Finish | |
| Ergonomics & Usability | |
| Ease of Setup | |
| Features | |
| Remote Control | |
| Performance | |
| Value | |

corey posts on December 21, 2009 04:02
gene;662910
I bought my parents a nice Denon receiver and blu-ray player and get virtually everytime they turn on their system to watch a movie
Gene, I think you missed a word, between 'get' and 'virtually'. Is it 'called'? If so, I totally get your point. I once gave my in-laws some stuff after an upgrade, and got calls all the time. Not getting called = priceless, and priceless = great value.
I didn't get the feeling from the article that this system was a generation up on a Harmony remote and regular gear. If it is, then it could be just what some people need, my in-laws included.
MapleSyrup posts on December 20, 2009 23:44
gene;

Can I be your father? At least for Christmas?
gene posts on December 19, 2009 22:36
I'm not getting the 5 out of 5 value rating. For $800 I can get an Xbox 360, a universal remote, and a pretty nice receiver. If I cut back on the receiver a bit, I can throw in a Blu-Ray player with Pandora, etc. And, I won't have to strip off the banana plugs on my speakers, not loose my rear surround speakers.
True but can you grandma or even your mother operate the XBOX 360 and receiver? This product is designed for non tech savvy people that want decent sound with the most possible operational ease.
I bought my parents a nice Denon receiver and blu-ray player and get virtually everytime they turn on their system to watch a movie despite i programmed macros on their Harmony remote. I wish this system was out before i got them the Denon stuff as it would save me a lot grief.
droht posts on December 19, 2009 18:48
Sounds like a case of "close but no cigar" if the universal remote functionality is one of the weaker links. If this is for the casual user who doesn't want to integrate a URC and AVR and iPod then the remote better be one of the high points.

The Harmony remotes couldn't be much simpler to set up. I think a lot more people would buy them if they were exposed to them.
Seth=L posts on December 18, 2009 21:55
I'd really like to see a full line of audio/video receivers come out with a host of features like this.

Feature # 1 - a clear motivation toward recogizing HDMI as the primary connection with other connectivity coming in very secondary. There should be a mini-din adaptor or RS-232 port that will allow custom installers to add an analog audio/video switching device controlled by the receiver. it would perhaps be all to easy to have the peripheral to use HDMI as an output with a 1/8" control adaptor to sync the devices. The inside of the receiver should have a powerful processor allowing these expansions to take place without interfering with the speed of the system in terms of switching and detecting signals.

Feature # 2 - The secondary unit discussed above may also have a decent video scaler in it, especially if we are talking about a HDMI based output device. Since most HDMI sources themselves are not in need of being upscaled it would be senseless to have one on the receiver itself, just the accessory.

Feature # 3 - The receiver should use Class D ICE power or similar yet effective technology but on a stripped down level for lower output that can be fit into a small devices such as these newHD receivers. This would give the installer the option to use many different types of in wall speakers and possible full size home speakers if they so wish.

Feature # 4 - The network and wireless capabilities should be part of a third unit. The third unit should have it's own display. I'd like to see the display technology that was used on the DSP-A1000, but I could accept Yamaha's current amber displays. (by the way, the same should follow for the receiver in terms of display type, the analog video switcher doesn't need a display).

Feature # 5 - The units should be stackable. I also believe that the design of the receiver, network device, and analog video unit should be trapazoidal allowing one to flip the analog video device upside down (since it has no display, top and bottom should be bare of anything that would indicate which side is up) to line the units along side one another to leave no void between each component should the installer or user choose to arrange them this way if they have all 3 units.

Feature # 6 - The receiver should contain the connection to the iPod accessory powered by USB. The USB port should allow use with other devices, such as mass storage to allow you to use the receiver as a media server.

Feature # 7 - A wireless zone two amplifier that connects wirelessly to the receiver. The wireless zone two amplifier should also have a display and it's own remote control.

The use of a toroidal transformer inside the receiver is a must, to increase efficiency and save space maximizing the potential power output. Perhaps a wide range of products could be spurred with a similar design philosophy, such as Blu-ray players, double size receivers with bigger amplifiers and more inputs, separates with different amplifier options ranging from a single small box solution to several mono block amplifiers of the same physical size as a single multichannel amplifier.