Setting Up and Configuration
The RX-Z9 was an unusual receiver to configure due to the presence of Auto Set-up and YPAO integrated tools. While the Auto Set-up feature sounds like a cool idea, and possibly a neophyte's dream feature in a receiver, there are no free lunches. I have discovered during my review of the Yamaha RX-V2400 that great care must be taken in interpreting the results in any auto set-up feature for any consumer electronics device, and the RX-Z9 was certainly no exception.
Manual Set-Up
For those of you who are like me, and don't trust a computer, or machine for that matter, to function automatically, Yamaha still entertains the old fashion way of doing things. This is where I began my configuration process of the RX-Z9. I wanted to see how well I could get this receiver tweaked on my own and compare its sonics to that of the RX-Z9's Auto Set-up.
It was love at first sight for me with Yamaha's Graphical User Interface (GUI). I thought to myself how cool it would be if every manufacturer employed these in their next-generation receivers and processors.
Yamaha really earned some brownie points with me by offering dual subwoofer outputs with your choice of mono, stereo, or front & rear. What was even more impressive was that each subwoofer output had independent channel trim, delay and phase settings. One thing I learned well from my HAA training was how critical it is to compensate for path differences between multiple subwoofer systems and the primary listening area.
More often the case than not, physically constraints force the installer to place the sub(s) within certain room locations. If they choose locations where the path differences between the two subs are ½ the wavelength of a particular frequency band within the pass band of the subwoofers, then those frequencies will cancel at the listener which can be measured by a dramatic dip in audible response within that range.
Fear not, for the RX-Z9 does allow for path difference compensation, at least laterally, helping minimize this problem in multi-subwoofer system installations. It is also important that independent level control compensation for each sub is built into the RX-Z9's bass management. Speaking of the RX-Z9's bass management, I was pleased to find a variable crossover, a Yamaha first to be incorporated into their flagship receivers.
RX-Z9 Variable Crossover Settings
40Hz to 80Hz with 20Hz stepsizes
90Hz to 120Hz with 10Hz stepsizes
160Hz to 200Hz with 40Hz stepsizes
For years I have been bugging Yamaha to offer variable crossover settings on their receivers (at least on their flagships). Ironically when they finally started doing this, I upgraded to a speaker system that works best with a high crossover setting.
The internal 1/6th octave bass test tone from 35Hz to 250Hz included in former Yamaha flagships such as the DSPA1, RX-V1, and RX-Z1 were absent this time around. It was a shame because this great feature, rarely found on most costly dedicated processors, let alone receivers, helped me to identify bass phasing problems in my early days when I lacked the test gear to measure it or was too lazy to root it out listening to music. In any event, the variable crossover setting, independent group delay and level control for the subs, and subwoofer pairing assignability more than makes up for this minor feature loss.
Manually setting the channel trims on the RX-Z9 proved to be a bit more challenging than my former experiences with other Yamaha receivers. Simply pressing the "Test Tones" button unveiled an assortment of speaker options where the pink noise would temporarily engage on each speaker before toggling to its associated grouping. You can also select for the pink noise to toggle through all of the speakers in the set-up. The problem I had initially was that the test tones only played on each particular speaker for about three seconds, thus not giving my SPL meter enough time to settle for an accurate measured response. I was later pleased to find that holding down the "enter" key for a few seconds locked the particular channel on which the pink noise was being played so you could have time to adjust with more precision.
I was a bit disappointed that the RX-Z9 had only one provisioned global channel trim setting. This was especially alarming since even the RX-V2400 and former flagship RX-Z1 incorporated independent channel trim settings for the EXT analog inputs. This is particularly important when playing high resolution formats such as DVD-A/SACD for compensating for subwoofer level output differences. However, after a bit of experimenting with the RX-Z9, I found that the EXT subwoofer analog inputs of the RX-Z9 were internally compensated (this was not documented in the user manual), but apparently only if you engage the "pure direct" mode (which one should do anyways to eliminate an extra processor conversion stage and preserve signal resolution.) I was able to balance the system reasonably well by also tweaking the channel trims in my Denon DVD-5900 Universal DVD player .
When I initially engaged the "Multi CH" input to play a DVD-A disc, I noticed my Display went blank. I was a bit perplexed by this, and assumed that the RX-Z9 did not provision video pass thru via the Multi CH input. I later found via the Input Selector of the GUI interface a "BGV" which I interpreted as "Back Ground Video" was set in the "off" position. You can choose "Off," - "Last" or actually select your choice input. I set it for "DVD" and presto, my Display was showing the menu for my DVD-A disc and I could now happily configure it before listening
i.Link / IEEE 1394 Firewire Digital Interface
In defense of the RX-Z9, not having multiple channel trim settings quickly became somewhat of a moot point since it did have i.Link (IEEE 1394) for digital transmission of DVD-A/SACD from i.Link compatible players. This is a tremendous feature and critical for those serious about high resolution multi-channel audio. The advantage here is you now divert the decoding, bass management and level controls to the receiver/processor where everything is processed in the digital domain, and theoretically already configured during the set up for DD /DTS (with exception to the subwoofer level balancing to compensate for format differences). There has been a lot of discussion on many internet chat groups about the capabilities of Firewire as a defacto digital standard for passing high resolution DVD-A/SACD formats. Most of this discussion seems to reside around the issue of jitter and how it affects the fidelity of these formats.

Some Notes About i.Link / IEEE-1394 Firewire
1) Firstly, FireWire is a balanced interface. The modern "low voltage differential serial" interfaces are *all* based on the original work done to develop Firewire back in the early '90's. The low level interface is a pair ofLVDS signals (2 pair) in addition to very aggressive grounding for those systems that are not galvanically isolated (the "b" form of 1394 supports both copper and optical connections, and the copper connections can be transformer coupled if necessary).

2) The amount of jitter for audio applications is arbitrarily small. The IEC 61883-6 transport method used for 1394 allows each audio source to provide its own sample clock, and the sync can follow that clock with arbitrary accuracy and stability. It's totally up to the system cost budget how stable the PLL must be. For more information on this, suggestive reading material on this topic can be found at:

http://www.1394ta.org/Press/2003Press/january/White_paper.pdf

3) The AES (audio engineering society) has been working with 1394 specs for some time, and the experts there have no problem with the quality of 1394-based transports. There are a few AES specs based on 1394 networks.

Note: IEEE-1394 / Firewire / i.Link / Lynx are all names describing various manufacturers depiction for cables belonging to the IEEE-1394 standard. IEEE-1394 is the new, extremely fast external serial bus standard that supports data transfer rates of up to 400 Mbps (400 million bits per second). It is used primarily for multimedia devices such as camcorders, computers, video cassette recorders (VCR's), digital audio recording workstations and, in this case, a digital transport for high resolution audio.
After doing some research on this topic and more importantly, listening tests, I have little reservations about the validity of this interface to carry all current audio formats for consumer audio. The benefits of having a single digital connection between the Universal DVD player and Receiver, as well as having all of the processing done at a single demarcation point, the receiver (where it should be) is invaluable. Other manufacturers' proprietary solutions such as Denon's DLink are no less valid.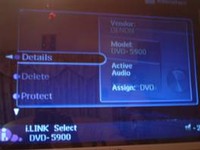 However, they do restrict you to sticking with one brand of equipment should you choose to take advantage of their proprietary digital interface.
It was a cool sight seeing the Denon DVD-5900 insignia pop up on the Yamaha RX-Z9 OSD. Hooking these two devices through i.Link was as easy as pie. In the RX-Z9 OSD, I assigned i.Link to the DVD input so that I could have all of my audio sources from my Universal DVD player on the same input as my video.
The neat thing about i.Link is you can daisy chain up to 17 compliant components or up to 63 components in a branched configuration when 3 or more i.Link connectors are available.
Impedance Selector Switch
As with all Yamaha A/V receivers, the RX-Z9 has that dreaded impedance selector switch. However, they seem to get more and more clever with each generation receiver of hiding it from the consumer. With the RX-Z9, you have to hold down the "Speakers A" button while pressing the "On" button and then select either "Speaker A" or "Speaker B" to select the impedance.
Impedance Selector Switch
I recommend the "Minimum 8-ohms" setting even for 4-ohm speakers of moderate efficiency ( > 87dB SPL). Yamaha includes a "6-ohm" setting to satisfy UL as well as easing consumer concerns about driving low impedance loads. These switches typically step down voltage feed to the power sections which can limit dynamics and overall fidelity. My advice is to keep the switch set to "Minimum 8-ohms", regardless of the impedance of your speakers and ensure proper ventilation of the Receiver.
Biamping the RX-Z9
Unfortunately, the RX-Z9 cannot be bi-amped using the unused internal amplifiers on the unit. The RX-Z9 reserves the 50wpc amps for either "Presence" speakers or "Zone2". You don't want to bi-amp using the 50watt amp as you would lose headroom doing so. Since the RX-Z9 lacks power amp inputs for the surround back channels, you cannot reroute front channel signals to those amplifiers. Perhaps in the future, Yamaha would consider offering this option as a strappable feature to customers wishing to explore a 7.1 system (conventional 5.1 + Presence Speakers) with the front channels bi-amped in favor of using surround back channels.
Yamaha Receiver Editor Software Feature
Another selling point and unique identifying feature of the RX-Z9 is its bi-directional RS-232 interface and receiver editor feature allowing the user, or more commonly, the custom installer to set-up, configure, and retain programmable settings on a computer in the event of memory failure or accidental user erasure/modification of settings. This feature is intended to be used by the custom installer, or a highly experienced user who desires to save all of the major configuration settings of the RX-Z9 (except YPAO settings) after the receiver has been fully set-up. The installer can also preconfigure the RX-Z9 with common settings prior to ever actually operating the unit, or customize bass management and level settings for different operational modes (IE. DVD-A, DD /DTS, 2CH,etc).