TEAC Distinction AI-3000 Stereo Integrated Amp Preview
Summary
Product Name:

AI-3000

Manufacturer:

TEAC

Review Date:

March 12, 2012 17:55

MSRP: $2999
First Impression:

Pretty Cool

Specifications

| Model | Description | MSRP |
| --- | --- | --- |
| AI-1000 | 85 W/Channel at 8 ohms Stereo Amplifier | $999 |
| AI-2000 | 125 W/Channel at 8 ohms Stereo Amplifier | $1,499 |
| AI-3000 | 200 W/Channel at 8 ohms Stereo Amplifier | $2,999 |
Executive Overview
Did you know that TEAC still made home theater gear? Well, apparently, they do. The last thing we bought from the company was either a VHS or CD-R product. But, back in the day, they were one of the big names. In 1987, TEAC launched the high-end audio brand, Esoteric, and look to have borrowed a page out of their book with their new Distinction line of products. While the Esoteric brand seems to be in love with their silver components, the Distinction line will be distinct from them (but not everyone else) by offering black. Understand, however, that these are not just rebadges from the higher-end line. These seem to be completely unique products.
The Distinction line from TEAC has two different types of products - transports and integrated amps. We'll be focused on the later with this preview.
The Distinction series of integrated amps is headed by the massive AI-3000. This receiver-sized integrated amp is over 20" tall (17.1" x 9.1" x 20.5") and 69 pounds. Like all of the amps in the line, the AI-3000 has discrete analogue circuits and multiple analog inputs plus a pre-out for adding a sub or additional amplifiers. The front of the amp is constructed out of sculpted aluminum and features a headphone output.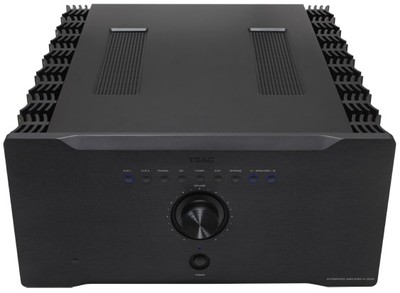 The AI-3000 from TEAC is the only integrated amp in the line to feature two XLR inputs. It also has dual 5-way binding posts for each channel (speakers A/B or bi-wiring since there are only two amps in the AI-3000). According to the press release, the AI-3000 will pump 360 watts per channel into 4 ohms (signal to noise ratio of 102 dB) and 200 watts into 8 ohms. We aren't sure if the 102 dB SNR rating is at full power, 8 ohms or at 1 watt. Most amplifier companies rate SNR at full power unless they state otherwise so if you scale that number back to one watt its roughly 79dB which is a decent rating, especially if its an un-weighted measurement.
Although the press release claims a power output of 360 watts into 4 ohms, the actual product spec sheet lists 300 watts into 4 ohms. Perhaps the 360 watt 4 ohm rating is with one channel driven while the 300 watt / channel rating is with two channels driven.
The rear of the unit features, in addition to the dual XLR inputs, four RCA inputs plus a phono input with a ground. There is a bypass inputs for...we don't know. Why would you want to bypass the internal amps of your integrated amp? Unless they are used to bypass the internal electronics and run the AI-3000 as a straight amp. That would make more sense. Since the AI-3000 and the other Distinction series components are not listed on the TEAC website yet (even though they started shipping last month), we'll have to wait to see. One pair of RCA outs can be used to add another amp or, perhaps to a second AI-3000 though the bypass (if that is how it works).
Glancing at the front, you'll find the traditionally spartan controls of a gear targeted at the high-end crowd. There is a knob for volume (sadly it doesn't appear to be backlit), a button for power, and a button for each input plus for selecting speakers A, B, or both. Your chosen input/speaker configuration will be illuminated. No word on a remote. Glancing inside,you can see a rather large E-core power transformer towards the front of the unit with six power supply capacitors spanning two columns. We suspect these caps are wired in parallel to reduce ESR over using two larger value caps. This is typically done in high end audio to reduce power supply ripple and increase performance. Both sides of the unit are flanked with heatsinks reminding us of some of those mega amps from Sim Audio and Krell. Teac claims this is an analog Class A/B design and from what we see, it looks like a lot of thought and good materials went into this bad boy.
There are two additional amplifiers in the Distinction series - the AI-2000 and the AI-1000. As you might expect, each is a little less powerful than the higher number and smaller. The AI-2000 sports 180 watts into 4 ohms and 125 watts into 8 ohms. The AI-2000 clocks in at half the MSRP of the AI-3000 commanding only $1499. The AI-2000 is 17.1" x 6.1" x 15.9" and weighs in at just under 31 pounds.
The front of the AI-2000 has nearly all of the same controls as the AI-3000 except that the speaker selection is combined into a single button (which, presumably, toggles between the three possible options). There is a large volume knob centrally located with the input selection buttons on the right side. On the back you'll find a single set of XLR inputs but the same dual 5-way binding posts for each speaker. In fact, all of the RCA-style inputs and outputs (including the phone input and bypass/pre-out) are the same as the AI-3000.
The AI-1000 is the smallest of the group and will push 120 watts into 4 ohms and 85 watts into 8 ohms. With an asking price of $999, it is a third the price of the AI-3000. The AI-1000 is 17.1" x 4.6" x 15.9" and just over 22 pounds.
The front of the AI-1000 looks just like the AI-2000 sans the speaker select button. On the back, there are a few more differences. The phono input has been replaced with a SACD one (without the ground) giving a total of five RCA inputs. The bypass and pre-outs are still present. There is a single pair of 5-way binding posts and no XLR inputs at all.
Conclusion
Although these new TEAC Distinction Line of Integrated amplifiers are a bit spartan to look at, they appear to offer a lot of good performance under the hood. Regardless of the stereotypical black color scheme, the brushed aluminum front plate looks to be very attractive and, dare we say it, distinctive in a sea of gloss black components. The no-frills operation hints toward high fidelity and ease of use. Teac is obviously going after performance over features to appeal to the "purist" and "audiophiles". They put in a nice meaty power supply and amp section, and plenty of heat sink area to ensure these amps can deliver plenty of stable power into 4 ohm loads.
The largest in the series, the AI-3000 is a bit pricey but for audiophiles demanding the best in performance it likely won't deter them from pursuing sonic nirvana. Consider the $1000 AI-1000 which looks like a nice solution for a budding audiophile's first two channel system. But without the full features and specs released, and without our bench tests, we'll have to reserve final judgement for now. Still, a hopeful line from TEAC and one that we'll be keeping an eye on.
For more information, please visit www.teac.com.