Yamaha RX-A3000 Aventage Introduction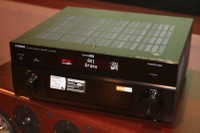 AV receivers are constantly changing, constantly leap-frogging one another in features and capabilities. This year Yamaha announced its Aventage (RX-A) line and, in the process, jumped over a lot of the competition. And not a little jump, more like an Olympic gold medal long jump. Much of that jump is simply in the way of value - I mean the Aventage line in general has build quality and features that seem like it should cost a lot more than it does. The RX-A3000 takes that to the nth degree.
Yamaha RX-A3000 Aventage AV Receiver Video Review from Audioholics.
There are five receivers in the Aventage lineup and the RX-A3000 is the flagship. The line is a simplified high-end run at the AV receiver concept. As such, there is a very defined delineation between models, but a few specific break points define some key places where some users will seek to spend a little more and up the ante on the return for their investment. Let's take a quick look:
| | | | | | |
| --- | --- | --- | --- | --- | --- |
| | RX-A3000 | RX-A2000 | RX-A1000 | RX-A800 | RX-A700 |
| Price | $1800 | $1400 | $1000 | $750 | $600 |
| Power (RMS) | 140Wx7 | 130Wx7 | 105Wx7 | 95Wx7 | 90Wx7 |
| HDMI 1.4a (in/out) | 8/2 | 8/2 | 8/2 | 6/2 | 6/1 |
| USB audio | Yes | Yes | Yes | No | No |
| Network receiver | Yes | Yes | Yes | No | No |
| HD Radio | Yes | Yes | Yes | Yes | No |
| Sirius Internet | Yes | Yes | Yes | No | No |
| Video Processing | HQV Vida | HQV Vida | Proprietary | Proprietary | None |
| Analog to HDMI | Yes | Yes | Yes | Yes | No |
| H-shape cross member frame | Yes | Yes | No | No | No |
| Symmetrical power amp layout | Yes | Yes | Yes | No | No |
| Learning remote | Yes | Yes | No | No | No |
| HDMI standby-through | Yes | Yes | Yes | Yes | Yes |
| GUI | Yes (w/Zone) | Yes (w/Zone) | Yes | Yes | Yes |
| IPhone App Control / Web browser control | Yes | Yes | Yes | No | No |
| 12V Trigger output | 2 | 2 | 2 | 1 | 1 |
| Channel expandability | 11.2 | 9.2 | None | None | None |
| Zone 2/3 video | Yes | Yes | No | No | No |
| Zone 4 output | Optical | No | No | No | No |
| Zone remote | Yes | Yes | No | No | No |
As we see it, there is a definite line in the sand drawn after the RX-A1000 which adds a significant amount of power, HQV Vida processing and Zone 2/3 video capabilities. If you want the high-end of what Yamaha is now offering, you're going to want to get into the RX-A2000 or RX-A3000. Take a look down the line, however, and it's remarkable what the first three of the line manage to cram in at much lower price points. Economy of scale has done much to bring down the price for features you would simply not have dreamed of just a few years ago. HDMI Standby-through mode in a $600 receiver with a motion GUI interface and 12V trigger outputs? 2011 is going to be a good year for upgraders.
Now for a trip back through memory lane. Back in 2008 Yamaha released its top of the line RX-Z7 AV receiver. It had 7 channels of amplification with 140 watts each. All manner of video upscaling (analogue and digital) was included and it had a whopping 5 HDMI inputs and even two paralleled outputs. For room correction, Yamaha pulled out the stops and debuted a new proprietary YPAO-based multi point room calibration system. For multi-room applications there was support for 4 Zones of audio (including a dedicated digital audio output for Zone 4) and networking features to stream online music and even allow the receiver to be controlled by an iPod Touch or iPhone. It weighed just over 40 pounds and cost $2700. It was pretty impressive to say the least.
Then, two years later, Yamaha released the RX-A3000 Aventage receiver. It too has 7 channels of 140Watts each, the same analogue and digital upconversion. But it has 8 HDMI inputs and 2 outputs, all 3D compatible and supporting the latest features like Audio Return Channel. It also has even more impressive features, like the ability to bypass HDMI while in standby, so you can use your TV without having to turn on the receiver. It has close to the same advanced multi-zone YPAO room correction system and network features and the 4 Zones of audio. It adds another component video input, bringing the total to 4 - which is more than enough in our opinion, especially given the decline and phase-out of analogue outputs in favor of HDMI. It does remove one digital audio input and output. It also removed the two switched outlets on the back. But here's the kicker. It's nearly as hefty as the RX-Z7 and costs just $1700.
Now we're not going to say that the amplifier section is exactly the same as the RX-Z7, but given the feature set, weight and $800 cost savings, Yamaha's RX-A3000 just became the most modern "big man on campus" and it's going to take quite a bit to topple this goliath.
Here is the comparison of the RX-Z7 vs. the RX-A3000 side-by-side, check it out for yourself:
| | |
| --- | --- |
| RX-Z7 | RX-A3000 |
| 5 HDMI 1.3a Inputs, 2 Outputs | 8 HDMI 1.4a Inputs, 2 Outputs |
| 3 component video inputs, 1 output | 4 component video inputs, 1 output |
| Multi-point YPAO | Multi-point YPAO |
| 7 x 140 watts per channel | 7 x 140 watts per channel |
| 4 Zones | 4 Zones |
| 7 digital audio inputs, 2 outputs | 6 digital audio inputs, 1 output |
| 2 switched outlets | No switched outlets |
| No HDMI pass-through in Standby | HDMI pass-through in Standby |
| Dual sub outs (mono only) | Dual sub outs (stereo, mono, front/back) |
| Compatible with MusicCast Gen 1 | Not compatible with MusicCast Gen 1 |
| MSRP: $2699.95 | MSRP: $1799.95 |
Build Quality and Features
We ran a full suite of amplifier tests on this receiver below, but for now let's talk some more about features - cause there's a LOT of them. The receiver is packed with inputs and outputs. If you haven't yet gotten your head wrapped around just what this behemoth offers, we'll help you through that here. Take a look at the back of the RX-A3000 receiver:


Of particular note, check out the number of HDMI inputs. With 1 on the front, that makes 8 inputs and 2 outputs. Since the RX-A3000 features HDMI-to-HDMI and analogue to HDMI upconversion, you're going to be able to grab any legacy devices you have lying around (like the antiquated 480i Wii sitting on your AV shelf over there) and run it up to 1080p output over HDMI. This is an AV receiver that's going to be able to walk with whatever you've got and put it up in the screen. But keep looking, there's more. If you're into whole house audio, the Yamaha RX-A3000 has four Zones for you to utilize. With 2 Zones that support an on-screen GUI (composite or Component) and a fourth Zone that can send optical TOSlink audio to a secondary AV receiver or integrated amplifier, the Yamaha RX-A3000 has enough juice to cover all but the most extravagant homes with plenty of audio. And, unlike most AV receivers, the Yamaha can finally utilize external amplifiers to deliver up to 11.2 channels of audio, even if you're crazy enough to utilize both front and back Presence channels in your home theater. Check out how they laid out the 11 pairs of speaker binding posts:

You can hit up the system to drive 7 to 11 channels in one room, or automatically wire it up to switch to 5.1 and power a second or even third Zone with the push of a button. But wait until we get to the menu system and you see all of the configuration options Yamaha has in store.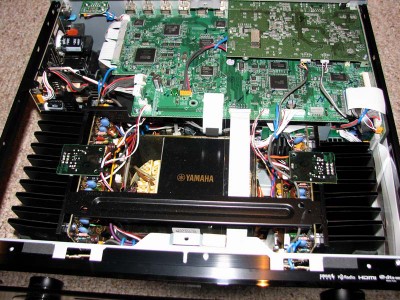 Yamaha truly lives up to their mantra of better build quality with their Aventage lineup of receivers. Pulling the top cover off the RX-A3000 revealed no wasted space and meticulous attention to detail for reducing mechanical vibrations in the product such as felt taped heatsinks, padding for every contact point to the top cover, and their alleged 5th foot mounted directly under the centralized E-Core power transformer. At first this appeared to be a marketing gimmick, but there is method to their madness as it's not a lofty design goal to eliminate mechanical vibrations in a product, especially a transformer that likes to hum. Unlike the RX-Z7's single heatsink for its power devices, the RX-A3000 splits this duty off to smaller dual heatsinks mounted on each side of the power transformer in what Yamaha calls dual symmetric power amplifier layout. At first glance, these heatsinks appear small but more careful observation reveals extra thick metal plating at the base of the heatsink mounted to a very thick bottom cover to help dissipate heat and increase chassis rigidity. Yamaha also employed brand new thermal control regulated power transistors in this baby to better manage heat. It was clear to us that Yamaha proved their masterful craftsmanship with the execution of this compact, well engineered A/V receiver.
HDMI Features
There are a lot of HDMI functions that I want to espouse on behalf of the RX-A3000. First off, the receiver can take in anything and output it via HDMI - we already went into that. What we didn't talk about was the new HDMI Standby feature. Ever want to watch something on TV without turning on your system? Me neither... but your wife or spouse probably has. HDMI Standby means that you can pass HDMI (audio and video) through the receiver without turning it on. So now you can watch TV with the audio coming through the TV's integrated speakers, without turning on the receiver and powering up your whole AV system. But there's something more - you can switch HDMI inputs... while in Standby mode. This is very cool (and pretty necessary when you think about it, lest you only be able to use a preselected input like the RX-Z7). Another important feature upgrade the RX-A3000 has over the RX-Z7 is in power management. Unlike the RX-Z7, the RX-A3000 employs a hybrid power supply which turns off all of the analog circuits when the receiver is powered down and engaged in HDMI Standby. This offers tremendous savings on power and heat dissipation compared to the RX-Z7. Welcome to the new AV receiver standard. Aside from these great features, the Yamaha RX-A3000 also supports Audio Return Channel (ARC) and the latest audio format support. It also can apply video processing to HDMI signals as well as standard definition sources. We're talking HQV Vida processing with a myriad of different Noise Reduction options, Contrast/Brightness/Saturation controls, and Detail and Edge Enhancement options (which we recommend leaving off for best picture). Auto lip sync and Deep color, as well as 24Hz processing modes are also available.
gene posts on December 09, 2011 22:55
ichigo;847078
Actually it was pretty easy to see the capacitors, I took a look inside. 2 x 12,000uf, 2x 6,800uf, so 37,600uf total.

12,000uf caps seem pretty popular these days; I saw them in some Denons. I think pretty much everyone is just getting their stuff sourced from the same places these days.
The 6,800uF caps are not part of the power supply for the amp section. The 2 x 12,000uF caps are for the amp section.
ichigo posts on December 09, 2011 22:18
Actually it was pretty easy to see the capacitors, I took a look inside. 2 x 12,000uf, 2x 6,800uf, so 37,600uf total.

12,000uf caps seem pretty popular these days; I saw them in some Denons. I think pretty much everyone is just getting their stuff sourced from the same places these days.
amppeters posts on December 09, 2011 04:24
I believed the Yamaha 3000 last night. And I just have to say WOW, to bad I cannot modify the dimension the people, because these are BIG WOW.Ok, they have only been performed for about 20 a long time, so I think there would be added WOW to get from them.I am getting them from audio solutions as many threads suggested them.
3db posts on November 14, 2011 17:16
ichigo;841288
Large capacitors are when a large discharge of power is needed for an immediate transient. That's different than running an RMS test with no speakers and measuring the output at the end of the circuit with a wattmeter.
Large discharges you are refferring too are musical transients that are very short in duration.
gene posts on November 14, 2011 15:43
Why is the actual size of the capacitor caps not noted? I notice for all the other flagship receiver reviews, the size in microfarads is noted...Conspicuously absent in this review.

Perhaps it's significantly smaller than expected and thus worth not mentioning...
Or perhaps the caps were not easily readable b/c they were tightly packed into the receiver so we didn't comment. I would make an educated guess based on performance than this receiver has a very similar power structure to the RX-Z7 I reviewed which had 2 x 18,000uF 71V caps.