VSX-94TXH Setting Up the Receiver
Whenever I review a new receiver I try to get it up and running quickly without using the user manual or doing anything other than pushing my way through a typical setup as I'd expect the system to function. A good starting point is to get into the on-screen menu and select the Manual SP(eaker) setup. Configure your system accordingly and set the crossover point. You can then go back and run Auto MCACC (this could be done before the speaker setup as well if you want the system to configure your speakers for you.) After your system is set correctly for speaker type and distances move on to the Input Setup menu and make sure all of your source components are routed correctly for audio and video. This is where I encountered my first problem.
The Pioneer only threw up one particular difficulty for me which had me stuck for a few minutes until I discovered the solution. In setting up my CableTV box, the video was being fed by a DVI-D output (through a DVI to HDMI cable) and audio was delivered via digital coax. I indicated as much when I set up the inputs, however I could not get audio from the CableTV set-top box. I searched the entire menu system looking for a way to configure the TV input to take its audio from coax (it was obvious that it was either defaulting to the nonexistent HDMI audio or looking somewhere else). Realizing that the audio selection had to be located somewhere other than the OSD, I searched the remote and front panel, finally locating the Signal Sel function. This flips between HDMI, PCM, Auto (which did NOT pick up my coax), Analogue, and Digital. Once I flipped to Digital, the audio came alive and everything fell into place. This audio setting is remembered for the input so you don't need to set it each time you switch to the TV input.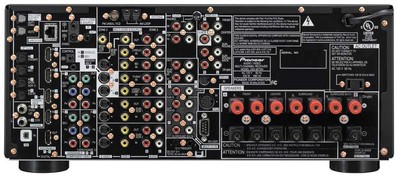 Back Panel of the Pioneer VSX-94TXH 7.1 Home Theater Receiver
I know I began with the software, but you'll also need to make sure your rear-panel connections are made correctly as well. I tend to start in no particular order, however if you're strapped for space you may want to work from the bottom up, or from one side to the other. The layout of the rear panel is about 80% organized with some odd hang-outs here and there like the Zone 2 and Monitor outputs. It would certainly look a lot better if Pioneer dumped about half of the S-video and composite inputs - which should go completely unused in 99.9% of homes. Four HDMI inputs should be plenty for all but the most techno-savvy users, though a second HDMI output would have put this receiver over the top.
The biggest drawback of the VSX-94TXH is the lack of dedicated Zone 2 speaker connections. While the amplifiers of the receiver are assignable for use as B-speakers, Bi-amping the main speakers, Surround Back or Zone 2, you'll actually need to pick one use and stick to it. To switch between Zone 2 and Surround Back, for example, would entail switching cables. We've seen other manufacturers handle this better with additional dedicated 5-way binding posts.
Audio connections seem plentiful, with lots of digital audio connections and, of course, the four HDMI 1.3a inputs which can each handle uncompressed PCM audio and bitstreamed HD audio formats. The VSX-94TXH supports both 7.1 preamplifier outputs as well as 7.1 multi-channel inputs, so it is virtually future-proof - at least until 10.2 becomes the defacto standard!
Setting Up the Receiver – Multi-Room Use
For multi-zone use, we'd only recommend the Pioneer VSX-94THX if you intend to either use an external amplifier, the digital Zone 3 output, or you have a 5.1 primary theater room. Because there are no dedicated Zone2/3 speaker connections, running a powered Zone 2 alongside a 7.1 system simply isn't practical. Zone 2 can be either powered (using the Surround Back speaker connections), line level (using the Zone 2 stereo analogue audio connections) and can support video output via a composite monitor output. Another drawback to Pioneer's multi-zone implementation is that Zone 2 audio will be interrupted any time the main zone audio is changed to a new source.
As we mentioned, Zone 3 on the Pioneer consists of the ability to send a digital TOSlink connection to another room (no video). This means that you can fire over any digital source to another AV receiver located in your Zone 3 area. We tested this and found that Zone 3 works with Dolby Digital 5.1 surround sources as well as stereo PCM. Remember, however, that since the Pioneer only has a single XM and AM/FM tuner you won't be able to use these sources independently in more than one zone. Tune to a new FM station in the Main zone and your Zone 2 will change as well if it shares that source. A quick explanation of the possible modes for the 2 amplifiers that are defaulted to the Surround Back speakers:
Surround Back System (Normal/Default)
This assigns the two Surround Back amplifiers normally for a 7.1 system.

Surround Back System (Speaker B)
This utilizes the two Surround Back speakers for a second set of Main speakers which can be placed in another room. If headphones are utilized, the Speaker B can remain active. When this mode is selected, the Surround Back preamp terminals output the same source as the Main Speakers.
Surround Back System (Front Bi-Amp)
If you'd like to split the high and low frequency drivers and amplify them separately, then engage the Front Bi-Amp mode and let the Pioneer receiver auto-level match. Before doing this, be sure to check if your speakers are capable of being bi-amped and remember to remove the jumpers between the high and low drivers.
Surround Back System (Zone 2)
Here is where you can use the Surround Back amplifiers to power a set of remote speakers in a second Zone. This is very different from the Speaker B mode in that Zone 2 can receive its own discrete source and has the ability to use a composite video monitor output.
The Pioneer is definitely flexible and has many of the multi-zone features you want in a modern AV receiver, however we would really like to see it kicked up a notch - especially considering that this is currently the best Pioneer has to offer. A set of relays routing signal to a separate set of dedicated Zone 2 speaker outputs would work wonders in terms of enhancing the flexibility of this system - and this is available on several competitor's models in this price class.
See also:
TheFactor posts on May 08, 2008 01:56
Wow thats a bummer, I think my surge protector has a in and out for cable and figured I didnt need it and was afraid it might effect the picture but after what you said I might be looking a little closer at that. I think the warranty might be a good idea after all.
Thunder18 posts on May 07, 2008 22:40
No problem. Great feedback on the receiver by the way.
In my experience i've always bought the warranty and the only time I used it is when my receiver was electrocuted. The warranty covered that replacement and several other warranties covered my TV, PS2 and powered subwoofer that all received the power surge from the receiver. (Surge came over the cable line, traveled to my receiver via the s-video cable which subsequently sent it to all my other equipment) The only item that didn't have a powered subwoofer and Circuit city fixed it for a nominal charge. This is all because I didn't have a surge protector that protected the 2 coax inputs going to my cable box.
TheFactor posts on May 07, 2008 21:45
Thanks again Thunder18 For posting that link review for me on my original thread and your input had a lot to do with my Decision and I couldnt be happier. Thanks again
TheFactor posts on May 07, 2008 21:37
Now I just have to decide if I want to spend another 149 dollars for a four year if they cant fix it they'll replace it warranty. Im a little gun shy sorta speak from previous receivers so I might get it just for a peice of mind .
TheFactor posts on May 07, 2008 21:31
Thunder18;410217
Congrats. Did the audioholics review sway you any? I really like that receiver, but I just can't seem to stand the remote ;-p
Ah well, from the looks of the other post, it looks like you're happy with it. Good luck with this one. I've had 4 Pioneer receivers and none of them have ever had a lick of trouble save the one that was electrocuted.
Thanks and actually the review made me lean towards it more, I like the power it has and how cool it runs. I put it and my paradigms threw some tests for sure by that I mean listening to it louder than I normally would, im in a house so I can crank it up when im in the mood and probably dont tick off to many of my neighbors lol im pretty considerate though after 10 but anyway my point is after a 2 hour movie with the volume loud enough to were I was reaching for the remote so I wouldnt go deaf and the 94 was just warm. All my other receivers were pretty hot by then especially above the receiver on the audio rack was toasty hot with others but not the 94 it was just warm. Im very impressed with the sound quality and picture to. I think what sold me on the review was the statement at the end " if you want a powerhouse look no further " I think with out going seperates this reciever should should keep me happy for a long time and it makes me even happier to know your pioneers have been good to ya actually im getting use to the remote its not that bad and im learning were all the important buttons are on it like for quick access for speaker level ect, thx, adv surround and so on can easliy be navigated in the dark movie mode now : ).