Pioneer VSX-516 Receiver Review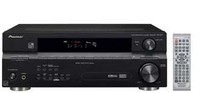 Summary
Product Name: VSX-516 Receiver
Manufacturer: Pioneer
Performance Rating:
Value Rating:
Review Date: May 03, 2006 20:00
MSRP: $ 199
Specifications

Power

Power Amplifier Design - Pioneer Hybrid Amplifier Design
Surround Power - 100W per channel (8 ohms, 1kHz, 1.0% THD) (front); 100W (8 ohms, 1kHz, 1.0% THD) (center); 100W per channel (8 ohms, 1kHz, 1.0% THD) (surround);100W per channel (8 ohms, 1kHz, 1.0% THD) (surround back)
Stereo Power - Continuous average power output of 100 watts at 8 ohms, from 20Hz to 20kHz with no more than 0.7% total harmonic distortion

Digital Decoding & Processing

Digital Engine - New Freescale 180MIPS Processing DSP
DSPs - Dolby(R) Digital 5.1, Dolby Digital EX, DTS(R) 5.1, DTS-ES Discrete 6.1, DTS 96/24, DTS Neo:6, Pro-Logic II, WMA9 Pro, 9 Advanced Surround Modes, 7 Channel Stereo, Virtual Surround Back, Mid-night Listening, Dialogue Enhancement, Loudness
Calibration - Speaker Configuration, Speaker Size, Speaker Level, Speaker Distance, Acoustic Equalization                                         
Analog to Digital Conversion - 96kHz / 24-Bit
Digital Analog Conversion (DAC) - 192kHz / 24-Bit

Connectivity

Audio (Tuner Included) / Video Input - 3 Audio / 3 Audio Video
Audio/Video Output - 1 Audio / 1 Audio Video / 1 Video
Digital Inputs - 3 (2 Coaxical, 1 Optical)
Optical In - 1
Coaxial In - 2
Multi-Channel Input - Yes
Audio Preamp Output - Yes
Composite Video Input - Yes
Composite Video Output - Yes
Component Video Input - 2
Component Video Output - 1
Headphone Output - 1

Conveniences

FL Dimmer - 4 Steps
On-Screen Display - Yes
Remote Type - Easy-to-use SR Remote Capable of Operating Pioneer's DVD Players and Recorders

Dimensions

Dimensions (inches) - 16-9/16x6-1/4x13-7/8 inches (WxHxD)
Weight - 19lbs. 13oz.
Pros
Component Switching
Bi-ampable/wireable
Plenty of power
5.1 inputs
Cons
Near useless automatic setup
Can't see volume display from a distance
Introduction
Budget receivers… I remember a time not so long ago that budget was synonymous with serious deficiencies. When I bought my first receiver, budget meant the difference between analogue and digital. I was broke so I had to go analogue which meant my receiver was hopelessly outdated almost immediately. Now, budget is the difference between multiple zones and number and type of connections. Sure, amp quality and power handling is a factor as well, but for most of us, there isn't a receiver out there that can't push our 8-ohm speakers to ear bleeding levels. You may have to do with out the automatic room calibration but the majority of reports that I've read indicate that such technology isn't quite as refined as the manufacturers would have you believe. What does this boil down to? For many of us, it is possible to run around your home theater and count the number and types of connections and find a receiver that matches. Paying for additional zones and connection types (DVI, HDMI), scaling, upconverting, and other functionality may prevent premature obsolescence, but I know that for many, home theater equipment doesn't change for a very long time following a purchase.