Pioneer Elite SC-57 9.1 THX Reciever Preview
Summary
Product Name:

SC-57

Manufacturer:

Pioneer Elite

Review Date:

August 08, 2011 00:05

MSRP: $2100
First Impression:

Pretty Cool

Specifications

Class D3 AMPLIFICATION

140 W x 9 (1 kHz, THD 0.08% @ 8 ohms FTC)
Multi Channel Simultaneous Drive Capability Total 810 W (8ohms, 1Hz,THD, 1%)
8 & 6 Ohm Impedance Select

BUILD

3D Space Frame Construction
Aluminum Front Panel
Advanced Direct Construction
Trans. Stabilizer
Gold Pin Plug
Selected Skeleton Speaker Terminals

AUDIO FEATURES

AIR Studios Monitor Certification
THX® Ultra 2 Plus
Dolby® TrueHD / Dolby Pro Logic® IIz / Dolby Pro Logic IIx / Dolby Digital EX / Dolby Digital Plus
DTS-HD® Master Audio / DTS Neo:X - 9.1 Channel Surround / DTS Neural Surround / DTS-ES
Dual TI "Aureus" 32-Bit Digital Core Engine
192 kHz / 32-bit Digital to Analog Converter
192 kHz / 24-bit Analog to Digital Converter
Pioneer Advanced MCACC Room Calibration

o Precision Distance

o 3D Time Axis Measurement

o Polarity Check

o Reverb Before and After Calibration Results (OSD and iPad)

o Standing Wave Control

Pioneer Sound Enhancements

o Front, Center, Surround, B-Speaker Bi-Amp

o 32-Bit High Bit

o Full Band Phase Control (Symmetry/Front Align)

o Phase Control Plus

o Virtual Depth, Height and Surround Back

o Optimum Surround - Auto Bass, Dialog, and Surround Balancing

o Jitter Reduction

o PQLS Bit-stream

o Auto Sound Retriever (Multi)

o Sound Retriever AIR / Sound Retriever Link

o Front Wide Surround Movie & Music

o Auto Level Control (Multi)

o Advanced Surround (15 Mode DSP)

o Front Stage Surround

o Headphone Surround

VIDEO FEATURES

Marvell QdeoTM 1080p/24fps Video Scaler
Advanced Video Adjust
Stream Smoother / Stream Smoother Link
Triple HD Noise Reduction
Video Conversion to HDMI
HDMI® Features

o 3D Ready (Blu-ray Disc®, Broadcast and Game)

o Audio Return Channel

o Deep Color and x.v.ColorTM

HOME NETWORK FEATURES

AirPlay
DLNA Certified® (1.5)
Internet Radio with vTuner
PANDORA internet radio
Rhapsody® Music Service1
Sirius® Internet Radio1
Windows® 7 Certified
Home Media Gallery
FLAC 192 kHz / 24-bit Audio File Playback via Network
WAV 192 kHz / 24-bit Audio File Playback via Network

CONNECTIVITY

Made for iPod®, iPhone®, iPad®

o Charges iPhone, iPad, iPod

o Combination USB / Composite Video Cable Supplied

o iPhone, iPad, iPod Stored and Streaming Audio & Video with Album Art

Memory Audio Playback (MP3/WMA/WAV)
Pioneer Air Jam App

o Connects via Bluetooth® to Share Music and Create Playlists (With iPod touch, iPhone, iPad)

o Free via the App StoreSM (Optional AS-BT200 Bluetooth Adapter Required)

HDMI Inputs (7 In (6 Back, 1 Front) / 2 Out)
Front USB Input
Ethernet Terminal
Wireless LAN Ready (Optional AS-WL300 Wireless LAN Converter Required)
Phono Input
Sirius XM Radio Ready2
7.1 Channel Multi-Channel Input Terminals
Adapter Port (Optional AS-BT100 or AS-BT200 Bluetooth Adapter Required)
Component Video Inputs (3 In / 1 Out)
Digital Inputs (2 Coaxial, 3 Optical)
Analog A/V Inputs (4 A/V, 1 Audio)
11.2 Assignable Pre-Outs for up to 9.1 Channel Playback
10 Mode Speaker Assignment
Large Speaker Terminals (9 Channels Assignable)

CUSTOM

o A/V Receiver and Blu-ray Disc player Control From iPod touch, iPhone, iPad Free via the App StoreSM

o IP Control with Full 2-Way Feedback

AVNavigator System Set-Up (CD-ROM Included for PC)
Full Color Graphic User Interface (GUI)
Zone 2 AV with HD Component Video Output
Zone 3 AV
RS-232C
12v Trigger (2 Out)
SR In/Out
IR (2In / 1 Out)
HDMI Standby Through for Low Power Consumption
Detachable Power Cord
Auto Power Down
Illuminated Learning Remote Control

PRODUCT SPECIFICATIONS

W x H x D: 17.13 x 7.28 x 17.36 (inches)
Weight 39.02 lbs
Executive Overview
Pioneer has been one of the few major manufactures that have truly embraced the Class D amplifier typology. Typically, manufacturers and users are more comfortable and familiar with the tried and true Class A/B amps. The problem with Class A/B has, historically, been weight and waste. A Class A/B amp will put out up to half of its power as heat. They are also heavy and bulky. Class D amps will utilize up to 90% of their power (with only around 10% put off as heat). This means they don't need the heat sinks that other types of amps demand. They are also much more energy efficient which is attractive to a society that is becoming increasingly green.
Pioneer's last flagship receiver, the SC-07, had the Bang & Olufsen designed ICE amps. While they are popular and certainly have their following, we found that, in the SC-07, they had issues on our test bench driving 4 ohm loads as can be seen from our review:
Driving 4-ohm loads was an entirely different story. The SC-07 simply fell apart when running full bandwidth (20Hz to 20kHz) continuous power measurements. As I tested at frequencies above 5kHz with only 1 channel driven, the internal cooling fan would instantly come on right before the receiver would go into gross distortion and shut down at levels above 100 watts. With two-channels driven, I was able to squeeze out a clean 150wpc at less than 0.5% THD. Anything higher would again run the amps into gross distortion and shut off the receiver.
We also heard from several loudspeaker manufacturers that they had to make modifications to the crossover designs of some of their speakers that exhibited low impedance at high frequencies as a result of many of their customers using ICE powered Pioneer receivers.
Apparently, Pioneer has heard these, and other, complaints because their new flagship receiver, the SC-57, has dropped the ICE amps for a newer, in-house design designated the D3. It is said their new amplifiers in this receiver are capable of continuous high power output into low impedance loads.
Pioneer claims 140 W x 9 (1 kHz, THD 0.08% @ 8 ohms FTC) or 810 Watts Multi Channel Simultaneous Drive Capability (8ohms, 1Hz,THD, 1%). The 1kHz measurement isn't the most rigorous and we usually see that in lower-end receivers that use it to pad their numbers to impress customers. We're definitely interested to see what this new amplifier design can do on our test bench. While THX Ultra2+ certification didn't help the SC-07 on our tests, we're betting the SC-57 does a lot better.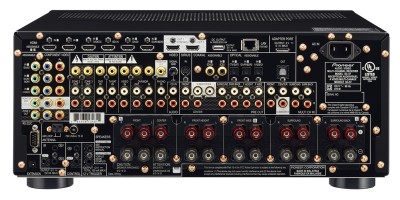 Of course, a flagship receiver is more than just amps. The SC-57 has 7 (one on the front) in and 2 out HDMI 1.4a connections with 3D and ARC (Audio Return Channel) support. It has three component and four composite inputs, and a output for each. Of course, you won't need it with your HDMI equipped display as the SC-57 upconverts all inputs to HDMI and can scale them up to 1080p/24Hz with its Marvell Qdeo chipset. Each input can be calibrated as well for videoholics and you can set your display type for Plasma, LCD, and Front Projection TV to further tune your video experience.
As always, there are a slew of analogue audio inputs as well as 7.1 pre-ins and 11.2 pre-outs (the dual subwoofer outputs must be dual-mono or they'd list the SC-57 as a 9.2 receiver rather than 9.1). There are two coaxial and three optical digital audio inputs. The SC-57 supports up to three zones of audio, all of which can be powered. There are 11 speaker terminals on the back for easy switching between configurations. There are pre-outs for zones two and three paired with composite video outputs, a nice feature. Zone 2 can also get component video. There is a front mounted USB port which supports MP3, WMA, and WAV.
Pioneer has long used their proprietary MCACC room correction system and the SC-57 is no different (it does get the "advanced" version with 9 EQ bands and 6 memory slots). One thing new, and not unexpected, is the inclusion of DTS Neo:X, DTS's solution for adding additional channels. According to the owners manual, DTS Neo:X supports a maximum of 9 channels rather than the total 11 possible with the DSP. Along with Dolby ProLogic IIz, DTS Neo:X will allow the addition of front height or front wide speakers for a larger front soundstage.
Pioneer has been all about Networking and Apple for quite some time. The SC-57 is made for iPod/iPhone/iPad certified and has apps supporting all of these devices for control. Their AirJam app is also supported which allows you to create a group playlist with other iDevice users in the room. The SC-57 is AirPlay, Windows 7, and DLNA 1.5 certified and can stream Pandora, Internet Radio, Rhapsody, and SiriusXM Radio as well as MP3, WMA, AAC and high-resolution FLAC and WAV files from your networked devices.
As you might expect in a short preview article, it is impossible to cover everything the new Pioneer SC-57 can do. Poking around the manual revealed that HDMI Standby Pass-through is supported. There is a GUI with album art and an AV Navigator guide for easy setup. Custom installers will be happy that Pioneer has partnered with just about everyone in the industry and even supports features like IP Control. One thing that was a bit perplexing was that all the press material suggested that the MSRP of the SC-57 would be $2000 but the Pioneer website lists it at $2100 (which is what we listed above).
Conclusion
We went back and took a look at our $2000 receiver comparison article to see how the Pioneer SC-57 would have stacked up. Really, it would have done pretty well. It would have been the only receiver to support DTS Neo:X, it has comparable power (though the measurement was less rigorous), similar inputs, and similar numbers of Zones. It supports video to all three zones (none of the others did), has top notch networking, and it even outweighs the Denon which is impressive given that the Class D amps are supposed to shave weight. The Pioneer SC-57 seems to be a worthy contender for your $2000. We will, of course, have to get one on our test bench before we pass a definitive judgement.
For more information, please visit www.pioneerelectronics.com.
Brent87st posts on September 26, 2011 02:14
哪一个接收器支持LPCM,8通道96/24


sawzalot posts on September 25, 2011 05:36
I believe your statement about this being a step up in sound quality is somewhat misleading, one could say it is a matter of preference as the two units may sound different but just fine in their own right to some, I know many love the ICE amp section on the SC-37 while others will enjoy the new Amp section in the 55/57.
FilmMixer posts on September 24, 2011 22:36
6311;824749
Sorry about the quality of my English not my first language

a/ How is to hear DTS X with 7.1 speakers ?

b/ Why you not invest in" Network Audio Formats" ? on sc- 57

Neo:X is for 9.1 (or greater) systems.. it isn't a format, but an upmixing technology.
I know these aren't cheap.. however, I want an AVR company to focus on sound and video quality..
While I appreciate the inclusion of basic networking and streaming functionality, I think it is unrealistic to expect the AVR to be all things to all people..
There are so many reasonably priced products out there that allow consumers to pick the device that will best serve their needs and existing libraries, I think to expect such functionality from any AVR is fruitless.
That being said, I am an SC-57 owner...
It is a step up from the older models (I've owned the SC27 and SC37) in terms of sound quality, functionality and power..
Very satisfied.. love AirPlay, the iControl AV2 app, and most of all what comes out of my speakers...
dingtonucretia posts on September 22, 2011 02:10
I know, but I miss the reflective finish on the front panel.




Ziontrain posts on September 20, 2011 14:49
6311;824749
Sorry about the quality of my English not my first language

a/ How is to hear DTS X with 7.1 speakers ?

b/ Why you not invest in" Network Audio Formats" ? on sc- 57

Your formats out of date Examples:



LPCM

- Maximum 48 khz 2 ch 20 bit (in your sc- 57 )


When there are newer Format to "lpcm " 96 khz 8 ch and 24 bit


How can I pay a FOR receiver $ 2,100 with old technology?
Can you fix it with " firmware" ?


AAC – Maximum 48 khz 2 ch 16 bit (in your sc- 57 )
When there are newer Format to " AAC AND HE-AAC " Why not you give us new formats ?
AAC supports up to 96 kHz
aacPlus - Bitrate of 448kbps for 5 channel surround
Can you fix it with " firmware" ?


WAM 9 - Maximum 48 khz 2 ch 16 bit (in your sc- 57 )
When there are newer Format " Windows Media Audio Professional"OR
Windows Media Audio Lossless
support audio resolutions of up to 96 kHz and up to eight discrete channels (7.1 channel surround).

Why should I pay $ 2,100 on a new receiver with older formats
Which receivers support LPCM 8 channel 96/24? Thanks.