First Impressions and Build Quality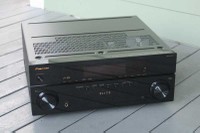 When last we looked into the Pioneer looking glass, we reviewed their top of the line model, the VSX-94TXH. This newest product under review from Pioneer isn't their top of the line, but it does have some significant improvements over even last year's top of the line VSX model. Chiefly of interest are the increased number of HDMI inputs, including a front input suitable for the newest camcorders and digital cameras, and the Anchor Bay VRS video processing. The VSX-23TXH also comes certified as one of the first THX Select2 Plus A/V receivers and supports the newest high resolution audio formats. Don't get us wrong – there's not a whole lot of new innovation in this product, but given the value and the relatively low price-to-performance ratio, this A/V receiver certainly has our rapt attention.
How does it rate to other models?
I like to compare products in an attempt to give a quick overview of the market and show areas of advancement or similarities. In the case of the VSX-23TXH, it holds up quite well in the marketplace, but of course there is some give and take:
| | | | | | |
| --- | --- | --- | --- | --- | --- |
| Manufacturer | Pioneer | Marantz | Denon | Yamaha | Onkyo |
| Model | VSX-23TXH | SR5004 | AVR-2310CI | RX-V1065 | TX-NR807 |
| MSRP | $1,000 | $849 | $849 | $999 | $1,099 |
| Power | 110Wx7 | 90Wx7 | 105Wx7 | 105Wx7 | 135Wx7 |
| HDMI (in/out) | 4/2 | 3/1 | 5/1 | 4/1 | 6/1 |
| THX Certified | Select2 Plus | No | No | No | Select2 Plus |
| Room EQ | MCACC | MultEQ | MultEQ | YPAO | MultEQ |
| Video Process. | ABT VRS | Unspec. | ABT 2010 | ABT 1012 | DCDi |
| Networking | No | No | No | No | Yes |
| iPod | Yes | Optional | Optional | Optional | Optional |
| MultiZone | Z2/Z3 (w/pre) | Z2 (w/pre) | Z2 (w/pre) | Z2 (w/pre) | Z2/Z3 (w/pre) |
| Weight (lbs) | 37.5 | 28 | 24.9 | 24.5 | 39.7 |
Pioneer seems to have the edge in video processing and is near the top in terms of its power (beaten only by the Onkyo in specs). It is also the only A/V receiver in this price class to sport dual HDMI outputs, though they are simply wired in parallel and don't offer any discrete functionality (which is fine by us at this price). The VSX-23TXH also comes equipped with an iPod connector cable that handles audio and video from an iPod or iPhone – very unusual at any price point and much appreciated since it saves the cost of a $100+ accessory. For many AV receivers, we'd almost rather they include the iPod dock and forgo the setup calibration microphone, though we'd expect a lot of contention on that point. Let's face it – out of the 10 categories we selected to compare this product against its competition, Pioneer took or matched in half of them. That's not bad since most of the competition clearly won in only one or two areas, with the exception of Onkyo.
The primary features we appreciated about the Pioneer VSX-23TXH included:
THX Select2 Plus Certification

ABT VRS video processing

Dual (2) HDMI outputs

4 HDMI inputs (#4 duplicated on front panel)

Included iPod/iPhone USB cable adapter

1080p Upconversion of SD signals via HDMI

XM and SIRIUS Satellite Radio ready

RS-232C control, two 12VDC triggers

2nd Zone Audio/Video output; Zone 3 Audio out
First Impressions & Build Quality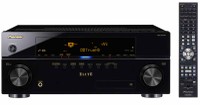 Pioneer makes a very beautiful A/V receiver. The front sports a piano gloss black finish and there are blue accent lights below the display panel and which indicate powered-on status. Thankfully, and unlike most of their competition, Pioneer also places the dozen annoying requisite technology logos on the top of the receiver instead of decorating the front like a tattooed prison inmate. Controls are pretty standard on the front with the input selection knob is on the left and the rugged-feeling volume control on the right. Unlike the last Pioneer receiver I reviewed, the Master Volume increases in 0.5dB increments, suitable for even the most discerning users.
As with prior models, the front has a small panel that opens to allow access to some front inputs. This time, Pioneer includes an HDMI 4 input (for modern digital video cameras), iPod (via mini connector and USB control), and the MCACC setup microphone input. This front HDMI input is a duplicate of the #4 HDMI on the rear of the receiver, not a true fifth input. When you plug into the front input, the rear HDMI input is defeated. The remaining real estate on the front is devoted to radio tuning controls, surround modes, speaker selection, multi-zone controls and status indicators. The orange front display is jam-packed with information, showing the input audio format (analog/digital/HDMI/PCM) and channel info, volume levels, tuner info, source, and even the precise audio decoding format.
In the course of examining the top logos, we noticed a new icon that corresponded to a rebranded feature called Phase Control (formerly called "Full Band Phase Control"). Phase Control is a feature that, best as we can tell, uses phase correction (group delay) to help ensure that both high and low frequency information is properly aligned at the point of transmission. What we don't understand, however, is how this feature deals with the obvious group delay and phase-affecting conditions that plague most listening rooms, such as the position of the speakers, location of the subwoofer and room acoustics. All of these effects occur in the analogue domain, well after the AV receiver does anything to the signal. Pioneer strongly recommends this feature be left on (which is the default) and we couldn't hear any deleterious effects when it was engaged, so we won't buck their system.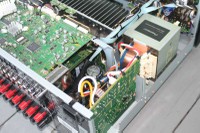 We popped open the VSX-23TXH and noted the large EI Core transformer and dual 15,000 uF capacitors. The power supply is ample enough to take it to its rated specs and power all but the most inefficient of speakers to near-perfection. Pioneer continues to use the flimsy, but sufficient thin aluminum heatsinks that are positioned across the central area of the receiver. The manufacturer did an excellent job of packing everything into a relatively tight space, and we could see that the front display panel and video features were well separated and shielded from the power supply.
Parrot_HD posts on February 15, 2010 10:27
Does the VSX-23TXH do any redigitizing of the 2-channel analog signal input?

I'm using an Oppo 83se as my cd player using the 2-channel analog outputs into the receiver and wanted to make sure the analog signal it receives doesn't go through any redigitizing process when set to the analog input signal.

I'm thinking about replacing my Anthem AVM30 with this unit.
JackT posts on December 31, 2009 12:17
The VSX-23TXH has the ABT1015 processor. The ABT2010 found in the Denons is a higher-end product.
Adam posts on December 24, 2009 09:02
bandphan;664519
Huh? Im I missing something?
Apparently the best crop of shrums in a decade.
mabuhay55;664814
this is the first time i've heard of using separate receiver for the sub. i would like to try, how do you connect your old to the new receiver?
bandphan;664817
I have no clue what the benefit is when using a powered sub, and would see very little benefit even with a passive sub :o
Okay, for a powered sub, there would be zero benefit - how could there be? There are a number of possible negatives, though, such as having the second receiver attenuate or change the signal.
For a passive sub, an external amp (which could be an older receiver) would be necessary unless we're talking about someone buying a HTIB receiver that has powered outputs for a sub. So, it would be necessary for the VSX-23. I did that with a receiver and some old speakers for fun a couple of years ago (thread
here
[forums.audioholics.com]).
bandphan posts on December 24, 2009 08:08
mabuhay55;664814
this is the first time i've heard of using separate receiver for the sub. i would like to try, how do you connect your old to the new receiver?
I have no clue what the benefit is when using a powered sub, and would see very little benefit even with a passive sub :o
mabuhay55 posts on December 24, 2009 08:05
this is the first time i've heard of using separate receiver for the sub. i would like to try, how do you connect your old to the new receiver?