NAD T 787 & T 777 Modular AV Reciever Preview
Summary
Product Name: T 787
Manufacturer: NAD
Review Date: April 25, 2012 10:40
MSRP: $4000/T 787; $3000/T 777 or T 187
First Impression:

Pretty Cool

Specifications

NAD T 787

Amplifier Section

FTC power: 200 watts per channel
Full Disclosure Power (all channels driven simultaneously): 7 x 120W (20.8dBW)
IHF Dynamic Power: 8 ohms, 230 watts; 4 ohms, 320 watts
Total Harmonic Distortion at rated power (THD + N): <0.08%
IM distortion at rated power: <0.08%
Damping Factor, 8 ohms:>60
Input Sensitivity and Impedance: 1.3V (ref. 8 ohms, VOL at 0dB)
Frequency Response: ±0.8dB (ref. 1kHz, 20Hz-20kHz)
Signal/Noise Ratio: >93dB (ref. rated power at 8 ohms, A-WTD); >83dB (ref. 1W/8ohms, A-WTD)

Preamplifier Section

Frequency Response: ±0.5dB (ref. 20Hz-20kHz)
Signal/Noise Ratio: >-100dB (ref. 1W/8 ohms, A-WTD)
Total Harmonic Distortion + Noise (THD + N): <0.01%
Input Sensitivity: 330mV (ref. 2V)
Maximum Output Level: >4V

Tuner Section, AM

Tuning Range: 530kHz - 1710kHz (10kHz steps)
Usable Sensitivity: 55dBuV
Signal/Noise Ratio: 38dB
Total Harmonic Distortion: <3%
Loop Sensitivity 20dB S/N: 66dBuV

Tuner Section, FM

Tuning range: 87.50MHz - 108.50MHz
Usable Sensitivity: Mono <9dBuV
Signal/Noise Ratio: Mono 60dB, Stereo 55dB
Total Harmonic Distortion: Mono 0.7%, Stereo 1.0%
Channel Separation: 30dBuV
RDS Decode Sensitivity: 28dBuV

General

Standby power: <0.5W
Dimensions (includes feet, knobs and terminals): 7-1/8" wide, 7-13/16" high, 17-1/4" deep
Weight: 55.6 lbs.

NAD T 777

7-channel amplifier
140 watts per channel into 8 ohms (20-20,000 Hz) at 0.08% THD, with 2 channels driven
Dolby® TrueHD, DTS-HD™ Master Audio, Pro Logic® IIx, and DTS Neo:6 decoding
analog-to-HDMI video conversion (to 480p)
Audyssey MultEQ® XT auto speaker calibration for precise surround sound and easier system setup (microphone included)
iPod®/iPhone® integration (requires optional NAD IPD 2 dock)
XM Satellite Radio Ready (requires XM subscription and optional XM tuner kit)
powered dual-room/dual-source output
surround back amplifier channels can be assigned to power speakers in Zone 2

only analog sources can be played in additional listening rooms
toroidal transformer delivers clean, consistent power to all channels
NAD PowerDrive circuitry delivers extra punch to music and movies by steering power to the channels that need it
back surround speaker channels re-assignable for biamping front left and right speakers for better sound
gold-plated A/V inputs/output connectors
detachable power cord
inputs are assignable for hookup flexibility
1080p-compatible HDMI digital video switching (7 in, 2 out)
HDMI version 1.4 with support for 3D video, Audio Return Channel, Deep Color, x.v.Color, auto lip-sync, and HDMI-CEC
5 audio/video inputs, including:
1 front-panel input with composite and S-video
4 rear-panel inputs with composite and S-video
4 analog stereo RCA inputs, including 1 front-panel
No phono input — to connect a turntable you'll need to add a phono preamp
digital audio inputs: 4 optical , 3 coaxial
digital audio outputs: 1 optical, 1 coaxial
7.1-channel analog audio preamp input
7.1-channel preamp output for connecting optional external amplifiers
component video switching (3 in, 1 out)
S-video input
RS-232 and Ethernet port for automated control systems
1 switched AC outlet
1 pair of main speaker outputs
on-screen display for easy setup and operation
40 AM/FM presets
A/V remote
basic remote for second listening room (requires remote control extender system, not included)
17-1/8"W x 7-13/16"H x 17-7/8"D
weight: 45.2 lbs.

NAD T 187

Preamp Section

Input sensitivity and impedance: 350 mV/50 KΩ
Frequency response: ±0.5 dB (ref. 20 Hz – 20 kHz)
Signal-to-noise ratio: >88 dB (ref. 2V, A-WTD)
THD: <0.08 %
Input sensitivity: 330 mV (ref. 2V)
Signal-to-noise ratio: >83 dB (ref.500 mV, A-WTD); >93 dB (ref. 2V, A-WTD)
Output impedance: <150 ohms
Maximum output level: >3.5V

Tuner Section: AM

Usable sensitivity: 55 dBu
Signal-to-noise ratio: 38 dB
THD: <3 %
Loop sensitivity 20dB S/N: 66 dBu

Tuner Section: FM

Usable sensitivity, Mono: <9 dBu
Signal-to-noise ratio, Mono: 60 dB
Signal-to-noise ratio, Stereo: 55 dB
THD, Mono: 0.7%
THD, Stereo: 1.0%
Channel separation: 30 dBu
RDS decode sensitivity: 33 dBu

Dimensions and Weight

Net Dimensions: 17-1/8" wide, 5-1/4" high, 13-7/8" deep
Gross Dimensions (including feet, volume knob and extended rear panel terminals): 17-1/8" wide, 5-3/4" high, 14-5/8" deep
Weight: 17.6 lbs.
Executive Overview
The last time we've written a preview article about a NAD modular receiver, we didn't have a lot of information available to ascertain exactly what features and upgrades would be offered. With the release of the company flagship T 787 A/V receiver, NAD has been more forthcoming in their press releases.
From the recent press release:
MDC [Modular Design Construction] is an exclusive NAD feature that offers the owner an easy upgrade path to future technologies, protecting their investment from technology obsolescence and ensuring long-term satisfaction. Now in its seventh year, with three generations of MDC Upgrade Modules, Modular Design Construction is a proven, award-winning program. MDC Upgrade Modules are replaceable circuit modules that update the digital technology of the AV receiver or preamp processor to new standards and features. So instead of buying a completely new unit for the next version of HDMI or new surround modes, owners of an NAD T 787, T 777 or T 187, can simply purchase the required module, if and when needed, for a fraction of the cost of a new model.
NAD's two new upper echelon receivers, the T 787 and the T 777 are built with serious audio quality in mind. This means that they not only carefully evaluate the components that create the sound and choose the ones that work best together, but also are concerned with they feature set and include only those that will enhance the audio and video performance.
T 777 Front T 777 Rear
To this end, the new offerings sport 24-bit/192kHz Burr Brown DACs and are fully compatible with all the newest HD audio codecs. In addition, they have included their proprietary EARS (Enhanced Ambiance Retrieval System) DSP which is a non-logic matrix surround mode. The amplifiers (200 watts per channel for the T 787, 140 watts per channel for the T 777, seven channels for each) and are stable into 4 ohms. With all channels driven over the full frequency bandwidth the T 787 will put out 120 watts per channel and the T 777 will provide 80 watts. With this rating, NAD differentiates themselves from many manufacturers which use less rigorous methods so that they can claim more power. In addition, the T 787 features dual power supplies - one for the front channels and the other for the center and surround channels. Lastly, there are two zones of audio (second zone can be output via RCA or powered) with nine pairs of speaker outputs for easy configuration switching. Tipping the scales at 55lbs (T 787) and 45lbs (T 777) it's easy to see that their heft is what makes them so powerful.
The NAD T 787 and T 777 aren't all about audio, though. They have seven HDMI 1.4 inputs and dual outputs that support full HD and 3D video at resolutions up to 1080p with frame rates of 24, 50, and 60 FPS. NAD has decided to leave the video processing up to the source (or, likely, an external scaler) or perhaps to the display. While we would have preferred to see some sort of on-board scaling, this has never been NAD's focus so we're not surprised to see it left off of these new offerings. These receivers do support On Screen Display for all video output formats making it easy to setup and configure the receiver no matter what video formats you are using.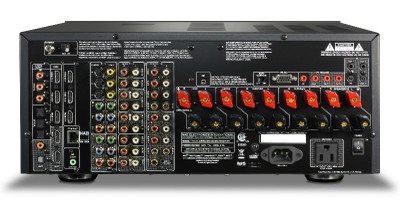 T 787 A/V Receiver Rear
Taking a look at the back, we see quite a bit of crowding. The HDMI inputs are stacked which, while technically not a problem, may make hooking up new components a pain. There are three each optical and coaxial digital audio inputs. There are 7.1 channel analogue inputs and 7.2 channel outputs. NAD is one of the few companies still supporting s-video inputs as well as composite video. Three component video inputs and one output tare included and the the T 787 will upconvert your analogue video sources to HDMI. The Ethernet port is not used for streaming content (NAD would prefer you buy their C 446 for that) but, instead, is used for IP control for custom installs. There are no USB ports, no phono input (odd omission considering the non-web-connected crowd likely to be interested in this receiver), no HD radio tuner, support for any of the height/width channels. Both the T 787 and T 777 sport Audyssey's MultEQ which should make setting up and calibrating your speakers much easier.
For those looking to get into separates, NAD has also announced their T 187 pre-pro and matching T 975 Amplifier.
Conclusion
For those looking for solid audio performance over the latest features, NAD appears to deliver with their new generation of A/V receivers and separates. NAD has done a lot to make sure that their amplifiers and components will give you all the power you need without any distortion. For video...well, the receivers will pass the signal unmodified. The seven HDMI inputs and two outputs are a great improvement for the company as is the inclusion of 3D and Audyessy MultEQ XT room correction. For $4,000 for the T 787 and $3,000 for either the T 777 or T 187 A/V pre-pro, these products don't come cheap. However, the fact that NAD made these products upgradable via their "Modular Design" approach will likely ease audiophiles concerns about future obsolescence. The question is whether the rest of the public will value their sound quality as much as the hard-core audiophiles. NAD knows their fan base well and NAD owners rarely seem displeased with product performance or feature sets.
For more information, please visit www.nadelectronics.com.
DS-21 posts on May 04, 2012 13:28
3db;882777
So buying speakers for their sound quality rather than their speaker load is irrational?
What speakers are you talking about?
Very few speakers today are really that hard to drive.
And at any rate, "NAD watts" are no different or better than Onkyo watts, or Yamaha watts, or Pioneer watts, etc.
3db posts on May 04, 2012 06:35
DS-21;882705
I am only able to speak for reasonable, rational people who make reasonable choices. If you fail to live up to that standard, then I do not speak for you.
So buying speakers for their sound quality rather than their speaker load is irrational? The only standard I have to live up to is whether or not I enjoy the sound of the equipment within my budget. I thinks that's more than reasonable.
DS-21 posts on May 03, 2012 15:57
3db;882596
Who's the audiophool now?
There's a difference between foolishness and having a basic understanding of the limits (and abilities) of human hearing.
I repeat, if one can't hear a 1dB difference over a sufficiently wide bandwidth,
one should not be wasting money on expensive audio kit.
3db;882596
Clipping and distortion due to weak power supplies cannot be cleaned up and many of us have power hungry speakers. I'm glad you are able to speak for the majority.
I am only able to speak for reasonable, rational people who make reasonable choices. If you fail to live up to that standard, then I do not speak for you.
3db posts on May 03, 2012 06:38
DS-21;882477
Given that 1dB differences are well within JND's at an awful lot of the frequency spectrum (depending on how wide the differences are, too), I would say that anyone who doesn't think her/his ears can resolve such differences shouldn't bother with expensive audio kit...
Who's the audiophool now?
DS-21;882477
Based on the accumulated weight of listening tests, the old school view is simply incorrect.



While that's true, the fact of the matter is even cheap AVR's these days have a solid 50W+ per channel. Yes, some people with very hard-to-drive speakers may need more power, or a stiffer PS. But most will not.
Clipping and distortion due to weak power supplies cannot be cleaned up and many of us have power hungry speakers. I'm glad you are able to speak for the majority.
Sugarbear posts on May 02, 2012 13:03
3db;882460
Actually, if you are to swap out a pre-amp, with a new one, you'll have the old pre-amp sitting doing nothing unless you puchase another amp to use that pre-amp.
I could be wrong but I think the point he's making is that once you have two, you can sell the one you don't want.
So, the price for a module should be compared not only to the price of a fully upgraded unit, but the difference between the cost of an upgraded unit and the amount you can sell the old unit for.
Since NAD's modules were (are?) so expensive, there's no economic benefit to their kind of modularity (and no other kind of benefit that he can think of).
Made sense to me.
EDIT: Sorry - I wasn't quick enough on the draw.