SR7002 Advanced Setup and Menu System
Advanced setup begins with the Audyssey MultEQ system. Since we've gone over this system in excruciating detail a number of times before, I'll simply detail my settings and observations here. The results of the distances derived by the auto setup were nearly dead on with my manual measurements for main speakers (performed using the Speaker Setup menu), but the subwoofer was off as expected. You can see here that the system also pushed my speakers to a higher level all around, which we felt was odd given the ability to simply reset the master volume with the volume control during SPL measurements. Typically you would see this only if the subwoofer had exceeded its maximum adjustable levels. In this case, we have no idea why Audyssey wanted to see higher Setup levels:
Manual Setup

Auto Setup

Speaker

Size

dB SPL

Distance

Speaker

Size

dB SPL

Distance

Front Left

Large

0

9 ft

Front Left

Large

+5.0

9.0 ft

Front Right

-0.5

9 ft

Front Right

+4.0

8.8 ft

Center

Small

+0.5

8.5 ft

Center

Small

+4.5

6.4 ft

Surround Left

Small

+1

8.5 ft

Surround Left

Small

+4.5

8.6 ft

Surround Right

+0.5

8.5 ft

Surround Right

+4.5

8.5 ft

Subwoofer

Yes

-8.0

11.5 ft

Subwoofer

Yes

-9.0

16.2 ft
The Crossover Setting was placed at 80 Hz since this was a THX-based system (when in Rome…). Manual setup was done with a Radio Shack SPL meter (C-weighted) and the receiver's internal test tones calibrated to 80 dB SPL. Distances were measured to my seated position in the same location as the eventual microphone placement (at ear level). Regarding MultEQ, we recommend it and have noted that those with better rooms will see diminishing returns.
If you have an advanced configuration, you'll likely need to get into the Setup menus and alter the default audio and video inputs and settings. We'll take you through some of the key menus to make sure you know where to go to get things tweaked to fit your needs.
Input Setup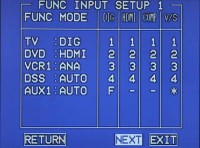 Here you'll be able to adjust how audio will be received for the 8 primary inputs. You can select from HDMI, digital (DIG), analogue (ANA), or AUTO. AUTO will sense the active digital connection. If no digital input is detected for that input, the analogue input will be used. Once you set the type, you can assign the number of the input using the grid shown. This is a perfectly easy way to navigate the input assignments and the OSD automatically prevents you from assigning any input to more than one source.
The 7.1 multi-channel input gives you the ability to adjust the level of each channel from -12dB to +12dB. The video assigned to this input can be assigned by the OSD or set to LAST which maintains the last used video input before the 7.1 inputs were selected.
The last thing you can do with the Input menu is rename each of the inputs as you see fit. This is a handy feature, but remember that you cannot rename the buttons on the remote control - so choose wisely. The names can be upper or lowercase and all of the primary symbols are available for use as well.
Speaker Setup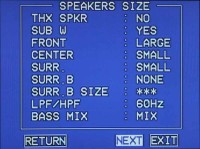 Since we addressed the Speaker Setup above, we'll merely mention that this section allows you to specify levels and the presence of a THX-certified speaker. If you are using Large front speakers, you'll want to set the Bass Mix to indicate whether your Large speakers will exclusively receive crossover frequencies (MIX), or if the subwoofer will also receiver this material (BOTH). Anyone using a 5.1 system should take note that you'll want to ensure the Surround Back (SURR. B) is set to NONE. This also frees you up to use the additional 2 amplifier channels with a second Zone.
The THX Audio Setup will let you choose whether your ASA (Advanced Speaker Array) speakers are positioned TOGETHER (recommended), CLOSE, or APART. ASA is the recommended way to place Surround Back speakers per THX and allows their proprietary DSP to switch between Music, Movie and Gaming modes for more accurate surround listening.
Surround Setup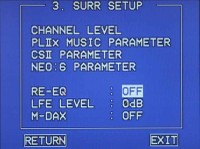 When you want to truly customize all of the surround modes - for example the subwoofer level difference between Dolby PLII Game and Movie modes - this is the place to go. You'll be able to add up to 12dB of gain or reduce the volume by -18dB. You can adjust Pro Logic IIx Music parameters including Panorama, Dimension, or Center Width. DTS Neo:6 allows Center Gain to be adjusted from 0.0 - 1.0 in 0.1 increments. SRS doesn't leave you hanging either, providing for a little tweakability to its Circle Surround II (CSII) DSP in the form of TruBass and SRS Dialogue adjustments (both 0-6). In the main Surround Setup screen you can lastly adjust Re-EQ and M-DAX (On/Off) as well as the Master LFE Level (0dB, Off or -10dB).
Video Setup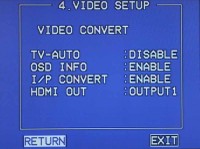 This menu does several things for you. First and foremost it allows you to "protect" any digital or analogue channels that you don't want to mix by using the analogue-to-HDMI upconversion features. That's right, rather than enabling and disabling this globally, the Marantz SR7002 allows you to do it on an input-by-input basis. This is more than cool - it again shows Marantz' commitment to maintaining clean video. The way this system works is that each input source can select either analogue only (ANA ONLY), analogue-to-HDMI upconversion (ANA&HDMI) or no conversion (OFF). If you select OFF, then you'll need to connect an output to your display which matches the input type (component in to component out, S-video in to S-video out, etc)
Technical Note: We could not get the receiver to pass 1080p sources input via component video to the HDMI outputs. Currently the only boxes that do this are gaming systems like the Xbox 360 and some set top units, but it's something to note when configuring your receiver and video sources.
The TV-AUTO function is very cool in that it lets you control the Power On/Off to the receiver simply by monitoring the signal present on the TV (composite) input. In theory, you could connect the composite video output of your television to the TV-in and have it turn on the system when powered up. Upon turning off the TV, after 5 minutes of inactivity, the receiver will then shut down automatically into standby mode. While the turn-on will work regardless of the last input used, this feature will only bring the receiver to standby if the SR7002 is set to the TV input during the 5 minutes of inactivity. In addition to this, I was unable to get the 'Off' part of this feature to work on the SR7002, possibly due to having an HDMI component connected to the TV input as well.
OSD Info allows you to see volume and input selection on-screen as they are adjusted. This won't output via component or HDMI, however, unless the Video Convert settings for the current input is set to ANA&HDMI. I/P Convert takes any 480i signals input via the analogue inputs and outputs it as 480p via component and HDMI. Marantz' take on progressive conversion to 480p-only is that your display will do the better job of scaling the signal to its native resolution - and they're probably correct. Many AV receivers that provide upconversion do so at up to 720p/1080p and we've found that it's actually quite redundant since the display almost always has a solid scaler built in to handle those functions. Deinterlacing is another matter entirely - and we ran some quick HQV tests to see exactly how well the Marantz performed its duties. What we (quickly) found was that the SR7002's video processor simply didn't handle unflagged content such as that used by the Silicon Optix DVD. To see how this translated to real-word results, I popped in my DVD copy of The Fifth Element and dialed in the pyramid scene. After several visual scrolls overtop of hieroglyphics, exterior pans past angled tents, and interior shots of the chest, priestly robes and hoods, I was convinced. The deinterlacing was occurring and seemed to be happening with reliable accuracy. Should you come across some unflagged broadcast content, however, it's likely that the SR7002 will plow through it as best it can (which is to say not very well).
The last thing we found on the SR7002's Video Setup menu was the HDMI Out option. To say that this menu selection surprised us was an understatement. It downright angered me. The Marantz receiver has two HDMI outputs but, in the infinite wisdom of the engineers who designed it, it can only use one at a time. Yes, that is correct. You can select, via the OSD, which HDMI output you would like the current signal to be output from but you cannot route one or more sources to both at the same time. To me, this was like giving a child a lollipop with a permanently-affixed wrapper. It makes the 4x2 feature more of a less-than-helpful 4x1-or-2 feature. There's no reasonable excuse for this and we have no idea why Marantz would choose to have this ridiculous functionality other than to deliberately cripple it. Someone at parent company D&M Holdings must have wanted to drive more sales to Denon.
Preference Menu
The last two menus are mainly for custom install use and tweakers. The Preference menu is a place where you can set up your Multi Room (discussed earlier) as well as establish the way the 12VDC trigger outputs will be utilized. A perplexing (at first) Bilingual mode allows you to select from the Main or Sub channels of a bilingual AAC (MPEG2) HDTV broadcast when recognized by the receiver. The most important aspect of this menu is the HDMI audio function. Enabled by default, this is what tells the SR7002 to pull audio from any HDMI cables fed into it. HDMI Lip Sync is also available in the form of a fixed EDID-based video processing compensation delay. We've found that lip sync is such a varying problem that even if the source, receiver and display all have this function with HDMI 1.3a, it's likely you'll still need to use the delay functionality in the receiver to tweak the audio from time to time. Here's the problem - Marantz has no manual audio delay, so if you run into sync issues and have no HDMI 1.3a equipment with this system you may be out of luck.
mouettus posts on May 02, 2008 15:17
mpedris;408262
How might the SR-7002 drive a 4 ohm or 6 ohm load continuously?

A friend is considering buying this receiver to drive the Mirage OMD-5 (rated at 6 ohms) or Sonus Faber Concertino (rated at 4 ohms).

Might a Denon AVR-3808 do a better job at driving the said speakers?

Thanks in advance for any help.
IMO, I wouldn't even consider driving 4ohm speakers continuously on a receiver point.
6ohm might be ok... check the manual/call for tech support.
mpedris posts on May 02, 2008 09:59
How might the SR-7002 drive a 4 ohm or 6 ohm load continuously?

A friend is considering buying this receiver to drive the Mirage OMD-5 (rated at 6 ohms) or Sonus Faber Concertino (rated at 4 ohms).

Might a Denon AVR-3808 do a better job at driving the said speakers?

Thanks in advance for any help.
Gary Pavlovich posts on April 28, 2008 19:14
To "intheindustry,"

What is your experience with the latest Harman Kardon AVR 247 product?

I am putting together my HT setup and purchased this unit, still new in the box, and haven't installed it yet but reading all the current "problems" should I switch to the Onkyo 605 or 606 for better quality and sound?

Being new to HT, is there an appreciable sound/video quality difference with 1.3 vs. my Harman AVR 247's 1.1 (1.2?) setup?

I would like the best sound and picture in this price range.

Thank you for any help!

Gary
geraldan posts on April 28, 2008 03:50
Setting up HT system, considering this AV receiver. A couple of questions: My centre channel is 4 ohm, 88 db, max power 100w, fronts will be 8 ohm 87db max power 80w, rears 8 ohm 85 db max power 100w - will this receiver do the job?
Regarding its video capabilities, if I get a Blu Ray player such as the Panasonic BDP HDK 50 (or 30) and play a regular DVD (not Blu Ray), will the Blu Ray player upscale to 1080p, and so are the "limitations" of the Marantz video upscaling irrelevant (it only upconverts 480i/p via HDMI)?
Thanks, geraldan (a newbie to all of this technical stuff!)
Seth=L posts on April 12, 2008 10:45
Lower impedance speakers are harder to drive because they require more power. Most receivers run out of gas so to speak when trying to drive a constant 4 ohm load at reference levels. Speakers don't ask for power, they take it, and sometimes they try to take more than the power source can handle dishing out, but the power source tries to give the speakers all the power they want even if it's not meant to do so. One of two things will occur if the speakers are taking too much power, it will shut down (protection mode) or it will eventually break down the power source from massive heat build up.