Marantz SR6004 System Setup & Configuration
I installed this system to the Audioholics Showcase Home Bedroom where we are running all RBH in-wall speakers and subs consisting of 2 x MC-6's (fronts), 1 x MC-414 (center), 2 x MC-615 (rears), and 2 x SI-10 (subs). The transports were the Denon DVD-A1UDCI Universal Blu-ray player and the Yamaha MCX-2000 music server with the Panasonic TC-P42G25 42" Plasma display. All HDMI and Toslink cables were Sonicwave furnished by Impact Acoustics and the speaker wire and interconnects were 10AWG and 1694A, respectively, by Blue Jeans Cable.
Although the SR6004 is fully equipped with Audyssey MultEQ , I did not test this feature since we've tested it numerous times in the past on other products. I also didn't use the auto setup and decided to manually configure and calibrate all of the channels myself. For Audyssey lovers, it's worth mentioning that the SR6004 will NOT engage Audyssey for high resolution sources such as Dolby TrueHD and DTS HD.
It's also important to note that the SR6004 is equipped with only seven internal power amplifiers. Thus, during speaker setup if you enable "Front Presence" and "Surround Back" speakers, the SR6004 will send signal to only one of those respective speaker groups depending on the post processing being selected (ei.e. PLIIz will enable the front height speakers, while PLIIx or Dolby EX will enable the surround back speakers).
Bass Management
The Marantz SR6004 has very good bass management facilities. By very good, I mean it has the following provisions we've come to expect quality components to exhibit:
0.1ft speaker size adjustment resolution
0.5dB channel trim adjustments
variable crossover (40-180Hz in 20Hz step sizes)
12 dB/Oct HPF for all speakers set to "small" and 24dB/oct LPF for the sub out
ability to simultaneously produce main channel bass from main speakers + sub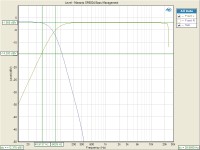 About the only option missing was independent crossover settings per speaker groups but we've usually founded that option to be a mixed bag if not properly configured by the end user. The "Bass Mix" option was a bit confusing. In order to get simultaneous bass via the main channels (when set large) and the subwoofer, you have to select "both". The "Mix" setting only sends main channel bass to the main channels. Personally I would have preferred this option to be called "mains" as to me "mix" implies bass output to the main channels and sub.
Using our Audio Precision APx585 HDMI audio analyzer, we measured the bass management circuitry to confirm the crossovers worked as expected for a THX Ultra2 certified receiver as indicated by the 12dB/oct High Pass Filter (HPF) slopes on speakers set small and 24dB/oct Low Pass Filter (LPF) slopes on the subwoofer output.
Video Set-Up & Test Results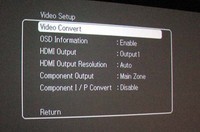 The Marantz SR6004 offers analog i/p and component to HDMI upconversion but no ability to adjust picture settings or noise reduction as some of its more expensive competitors. While it's nice to have a full set of calibration options built into the A/V receiver/processor for each of its inputs to simplify the display hookup and switching to a single HDMI input, the workaround utilizing a few more inputs and macros on your remote to do the video switching isn't all that bad either.
I tested the i/p conversion via component video which returned nearly a perfect score on our HQV tests (no noise reduction) but the analog to HDMI upconversion was a different story. All of the cadences and jaggies #2 failed. If you're dealing with a high quality analog source you're likely better off bypassing the upconvert features of the SR6004, or running it directly to your display.
For more information about proper display calibration, read our article on HDMI Enhanced Black Levels.

I disabled video convert for all of my sources and found the SR6004 passed native HDMI resolution just fine. I was also running 720p component video from my BD player to my bedroom system with over 50ft of coax and had no performance issues at all.
Multi-Zone / Multi-Source Audio & Power Amp Assignability
The SR6004 is equipped with 3 zones of audio. The main zone provisions for 5.1 or 7.1 which can be assigned for front height or surround back channels, zone A for secondary analog audio and A/V switching (no HDMI) and Zone B for digital audio output only. There is a single DC trigger output that is assignment to turn on for each input.
The surround back channel amplifiers are assignable as shown below:
Zone A
Flip switch on back of receiver, enable SPK C to allow for biamping

Honestly, this whole Zone A/B/SPK C nomenclature is very confusing to us. It would have been more intuitive if Marantz stuck with Main/Zone2/Zone3 and used "Biamp" word on back of the receiver instead of SPK C.
Another issue of confusion to us was the "Z.spk" button on the remote. Even if the user enables Zone A audio, they will NOT get sound to their speakers if using the internal SR6004 amplifiers unless they engage the "Z.spk" button on the remote. We think it's cool that Marantz is giving the user independent level control of the Zone A preamp out and the speaker level for that zone but we suspect this won't be very intuitive for most users.
RX101 Bluetooth Wireless Receiver

Plugging in the RX101 was a bit trickier than I initially figured. I carelessly attempted to plug in the 9-pin connector in the back panel without precisely lining up the arrows causing 3 of the pins to bend. After using a paper clip to straighten them, I proceeded more carefully and made the connection. The RX101 LED illuminated red and I was ready to pair it with my 32Gig Apple iTouch G2.
Here is how you pair the RX101 to an iTouch / iPad device:

Select M-Xport input on the SR6004.
Simply hold down the "mode" button on the back of the RX101 for about 5 seconds then depress it. At this point the RX101 should flash blue / red in 0.5 second intervals.
Now go into the "General" setting of your iTouch, select "Bluetooth".
Enter the code "0000" into your iTouch to pair it with the RX101.
After the connection is established, select the RX101 output option on your iTouch. This should enable audio transmission to the SR6004.
I've never been a fan of Bluetooth audio quality but I found the audio quality in this case was acceptable for casual listening. The problem I found however was that audio dropouts were far too frequent to not draw attention to themselves. I tried experimenting with positioning of the RX101 with respect to my iTouch but I found no resolve to this issue. Mileage may vary from user to user but after this experience I shelved the RX101 and decided to connect my iTouch via analog instead.
Remote Control
The RC007SR remote control is fully backlit by simply pressing pressing the right side button. Ergonomics are good as the remote can be controlled an operated using a single hand. There is a central circle pad of buttons allowing for easy navigation through the menus of the OSD. The source buttons are actually used to select function of the remote instead of switching inputs on the SR6004. Personally I can't stand when manufacturers do this. It took me a few minutes to realize I had to hit the "amp" button just so the remote would operate the receiver. If you want to switch inputs, your going to have to use the up/down input keys on the remote or use the front panel dial on the receiver. Personally I feel Marantz could take a lesson from Yamaha on how to do a push button remote the right way as I've found the remote from their RX-Z7 to be one of the most user friendly and intuitive fully push button remotes found on an A/V receiver.
chadfs posts on June 16, 2010 20:41
The Blue tooth didn't work well with my i touch either. However it works great with my Samsung phone so I blame Apple not Marantz.
Lee Bailey posts on June 15, 2010 23:26
Even though the unit will not enable Audyssey when playing any of the HD bitstreams, you can send LPCM from the source unit instead, and Audyssey processing will be available to you.
Seth=L posts on June 13, 2010 21:06
gene;725348
Heat sinks are pretty generic parts. The same heatsink is likely used on many different brands and model#s of A/V receivers. Marantz and Sherwood receivers are not shared platforms as far as I can see.
You may be right. However, it is known that Sherwood builds Denon's lower end receivers to Denon's specification. Being that both companies fall under the same umbrella it's not outside the realm of possibility that Marantz receivers could be made in part or whole by Sherwood completely to Marantz's specifications. This says nothing about the quality of the end product as Sherwood has made a name for itself in the production of quality OEMs and spec'd builds. IMO, if the Marantz receivers are made by Sherwood it's a cost effective route to take.
bellevegasj posts on June 13, 2010 20:07
I wish these shared the same video upscaling as the upper Denon line. I would jump on this for sure if they did. I use this feature.
gene posts on June 13, 2010 11:33
Marantz seems to have made some modifications to the heatsink, although it mostly looks like a typical Sherwood heatsink. If this receiver is made by Sherwood, it was definitely made to Marantz's exact specifications. That is a bold beautiful machine.
Heat sinks are pretty generic parts. The same heatsink is likely used on many different brands and model#s of A/V receivers. Marantz and Sherwood receivers are not shared platforms as far as I can see.