Marantz Bluetooth Receivers First Look
Summary
Product Name: SR6004, SR5004
Manufacturer: Marantz
Review Date: August 26, 2009 07:40
MSRP: $1,249, $849
First Impression:

Pretty Cool

Specifications

SR6004
SR5004

RX101 Bluetooth/IR Receiver included
Front USB audio input for iPod/iPhone digital connection or USB Memory
Dolby TrueHD/Pro Logic IIz, dts-HD Master Audio Decoder
Audyssey Dynamic EQ, Dynamic Volume and MultEQ Auto Calibration
Sophisticated aluminum/reinforced resin front panel with Front door design for Clean Panel
HDMI (v1.3) Repeating: Four Inputs, Two Outputs
Graphical User Interface
10% Improved 110 watts (into 8 ohms) x 7 ch Amps
Analog, Digital Independent PWBs design to minimize mutual interference
Component Video output for 2nd Zone
Marantz Custom High Quality Block Capacitor
Full 10 bit Video Processing
M-DAX(Marantz Dynamic Audio eXpander)
2nd Zone Analog audio output (Individual source) w/discrete command
3rd Zone Digital audio output (for Digital input source)
SIRIUS & XM Ready with discrete IR commands
Bi-Amp Drive Capability
RS-232C, DC Trigger out, Flasher In and Marantz D-BUS (RC-5) In/Out
LCD Learning Backlight system remote
Available Option Rack Mount Kit RMK6504SR

MX-Port for Option RX101 Bluetooth/IR Receiver
Dolby TrueHD/Pro Logic IIz, dts-HD Master Audio Decoder
Audyssey Dynamic EQ, Dynamic Volume and MultEQ Auto Calibration
Sophisticated aluminum/reinforced resin front panel
HDMI (v1.3) Repeating: 3-In/1-Out
Graphical User Interface
90 watts (into 8 ohms) x 7 ch Amps
Analog, Digital Independent PWBs design to minimize mutual interference
Component Video output for 2nd Zone
Full 10 bit Video Processing
M-DAX(Marantz Dynamic Audio eXpander)
2nd Zone Analog audio output (Individual source) w/discrete command
3rd Zone Digital audio output (for Digital input source)
SIRIUS & XM Ready with discrete IR commands
Bi-Amp Drive Capability
RS-232C, DC Trigger out, Flasher In and Marantz D-BUS (RC-5) In/Out
Learning Backlight system remote
Available Option Rack Mount Kit RMK6504SR
Executive Overview
In a market that is constantly changing, differentiating yourself is a must. Nowhere in the Home Theater market (outside of displays) is that more apparent than with receivers. Companies are known for putting out new models as often as every 9 months. Most manufacturers can't do that however and have to live with their products for a bit longer. That means they must have something that will make them attractive even when the competition comes out with a new model. Marantz has a very good name and good reputation. While they may not be the lowest price, they are usually a solid performer with a very good feature set. This year, they are adding two new receivers, this time with Bluetooth support.
The new receivers are the SR6004 and SR5004. They retail for $1,299 and $849 respectively. The feature sets of the two new offerings is very similar with full HD audio decoding including Dobly ProLogic IIz with the height channels, HDMI 1.3 inputs (4 for the SR6004, 3 for the SR5004), and Audyssey MultEQ. The receivers are fronted by a graphical user interface, have component video output for Zone 2, and digital audio output for zone 3. Sirius and XM support is included as is RS-232 control for home automation integration. Both receivers have plenty of power with the SR5004 sporting 90 watts for each of the 7 channels and 110 watts for the SR6004. One thing that Marantz has had going for it the last few years has been their looks and the SR6004 and SR5004 are no different. While the competition seem to be stuck in the black rectangle rut, Marantz receivers sport a swept back aluminum faceplate that really sets it apart in the showroom. Of course, on a rack or integrated into your system you may never notice it, but you will when you are making purchasing decisions.
SR6004 SR5004

The differences between the two receivers are fairly important and will probably entice a number of buyers to take a hard look at the SR6004. While they both sport 7.1 analogue inputs and pre-outs, the SR6004 has an additional HDMI input and output. The Bluetooth module is included with the SR6004 while it must be purchased separately for the SR5004 (about $130). The SR6004 also has a front USB port for iPod/iPhone with on screen information and control via the receiver's remote for compatible iPods. MP3, AAC, WAV, and WMA are all supported as are USB drives. The SR6004 has a custom block capacitor and an LCD remote that the SR5004 doesn't.
What is disappointing with these new Marantz offerings is the lack of multiple subwoofer outputs. While this is not a new feature, it still isn't widely adopted. While Dolby ProLogic IIz is the sexier (so to speak) feature because it is brand new, many more people (especially at this price point and the type that are attracted to a Marantz product) would be likely to integrate multiple subs. If they had offered dual stereo subs instead of mono (which is what you mostly see), we think these receivers might have had a bit more staying power.
Conclusion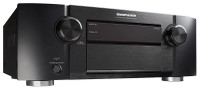 We're fairly impressed overall with the new Marantz receiver offerings. While streaming content from your Bluetooth devices sounds pretty cool, we're not sure it's worth $130. The SR6004 definitely gives you a lot for your money and the component video output for zone 2 for both receivers is definitely a plus. One thing that Marantz always seems to have going for them is looks, and on that alone, we'd like to spend some more time with their receivers.
Check out more info on the Marantz SR6004.
Check out more info on the Marantz SR5004.
scott911 posts on August 28, 2009 07:25
this article mentions desire for dual stereo sub outputs.

Should I read that to mean that with units offering a pair of outputs for subs, they can actually be right and left, with different low frequency channel information being sent to each?

I'd always thought the presence of two sub outputs was just for ease of connection, and the same signal being sent to both.