Integra DTR-50.3 THX Select2+ Networked Receiver Preview
Summary
Product Name: DTR-50.3 AV Receiver
Manufacturer: Integra
Review Date: June 16, 2011 05:00
MSRP: $1,400
First Impression:

Pretty Cool

Specifications

Power Output (8 Ω, 20 Hz-20 kHz, FTC): 135W /Channel (8-ohms)

8in/2out HDMI 1.4a connections
3D and Audio Return Channel support
Audyssey MultEQ XT, DSX, Dynamic EQ, Dynamic Volume
THX Select2+ Certification
Certified for Windows 7 and DLNA
Mediafly, Pandora, Slacker, Napster, Rhapsody, vTuner, SIRIUS XM Internet Radio, and Last.fm
Front and back USB ports
7.1 channel analogue inputs and 7.2 channel outputs
Made for iPhone
Wide Range Amplifier Technology (WRAT)
Three-stage inverted Darlington circuitry
High Current Power Supplies with massive transformers
TI Burr-Brown 192 kHz/24-bit DACs are used on each channel
Custom Installer features included bi-directional Ethernet and RS232 ports for control, 2 IR inputs and 1 out, 3 programmable 12-V triggers, non-volatile and lockable dealer settings
Dimensions (W X H X D): 17 1/8" x 7 13/16" x 14 13/16" (435 × 198.5 × 427.5 mm)
Weight: 39.5 lbs (17.9 kg)
Executive Overview
Integra, the custom installation/home integrator arm of Onkyo, is known for putting out receivers, processors, and amps in parallel with their lower cost brethren with additional features that installers find useful. Since Onkyo just put out a group of receivers, we knew that Integra wouldn't be far behind. The new like of DTR receivers range from $600 to $1400. We'll be focusing on the top of the line DTR-50.3 with a MSRP of $1400.
One of the features that Onkyo and now Integra has been most touting is the inclusion of Marvell's QDEO 4K processing. This upconverts a normal or HD video signal into the higher end 4k range (3840 x 2160 pixels). While, with Onkyo, we've been saying it is a feature that you can't really use, with clients of custom installers, that might not be the case. There are very few examples on the market currently (most units we've seen have been prototypes), however if anyone is going to be an early adopter of this new display technology, it will be clients of custom installers. That said, when these displays will become widely available is anybody's guess.
In the column of features we can actually use, the DTR-50.3 has the IDT HQV Vida VHD1900 chipset for high-performance video processing (all video sources to 1080p) and ISF calibration capabilities. This allows the custom installer (or knowledgeable consumer) calibrate each video input separately. While some people think that a display just needs to be calibrated, the fact is that each source needs to be calibrated as well. So the installer will calibrate the display, and then use the IDT HQV Vida ISF calibration settings to tweak each of the source inputs.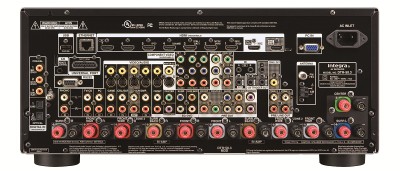 But a receiver is more than its video processing capabilities. The Integra DTR-50.3 has seven channels of amplification at 135 watts per channel (8 Ω, 20 Hz-20 kHz, FTC). Integra uses discrete Wide Range Amplifier Technology (WRAT), three-stage inverted Darlington circuitry, and High Current Power Supplies (HCPS), with massive transformers. TI Burr-Brown 192 kHz/24-bit DACs are used on each channel. The DTR-50.3 is THX Select2+ certified which means it has been tested for use in medium sized rooms. The amplifier section has been certified for as low as 4ohm speakers and sports two independent power supplies.
While the Integra DTR-50.3 sports seven channels of amplification, it has eleven speaker terminals to allow multiple configurations without switching speaker wires. This allows you to take advantage for the height channels for Dolby ProLogic IIz or the height/width channels for Audyssey's DSX or just power one of the two additional zones of audio. You can also use the surround back channels to bi-amp the main speakers if you wish.
There are ample inputs on the DTR-50.3 including 8/2 HDMI 1.4a connection (one front mounted) that support 3D and Audio Return Channel. There are three component video inputs and two outputs, one for a second zone of video. There are both composite and s-video inputs for all your VCR and Wii needs. Two optical and three coaxial digital audio inputs are also included. If you have legacy gear, the DTR-50.3 includes 7.1 channel analogue inputs and 7.2 channel outputs for adding external amplification and up to two subwoofers. The receiver also includes a phono input for those of you who are, or have clients that are, still spinning vinyl.
It wouldn't be a new generation receiver without some sort of networking and the Integra DTR-50.3 doesn't lack these features. The receiver is certified for Windows 7 and DLNA and can stream internet radio and streaming music services, with preformatted service packages for Mediafly, Pandora, Slacker, Napster, Rhapsody, vTuner, SIRIUS XM Internet Radio, and Last.fm. The DTR-50.3 has both front and rear panel USB ports for streaming MP3, WMA, WMA Lossless, FLAC, WAV, Ogg Vorbis, and AAC audio files. The front USB connection is Made for iPod/iPhone certified.
It is practically impossible to think of Integra without Audyssey these days. Audyssey's MultEQ XT automatic speaker level setup and room calibration is on board with Dynamic EQ and Volume. Since Integra products are designed for custom installers and systems integrators, they all include bi-directional Ethernet and RS232 ports for control, 2 IR inputs and 1 out, 3 programmable 12-V triggers, non-volatile and lockable dealer settings, firmware updates via Ethernet and USB, Overlaid Graphical On-Screen Display (OSD), and GUI Navigation via HDMI. The DTR-50.3 also includes a bidirectional, preprogrammed, and customizable remote controls with on-screen set-up, mode-key LEDs, and Macro presets for four activities.
Conclusion
Is the Integra DTR-50.3 a great receiver? From the specs, absolutely. So, what is there to get excited about with this new Integra DTR-50.3? Honestly, not a lot if you aren't a custom installer. It isn't that it doesn't have a great feature set (it does) or many of the latest and greatest bells and whistles, it is just that most, if not all, of them can be found in other offerings for similar prices or less.
For more information, please visit www.integrahometheater.com.
M Code posts on June 16, 2011 14:55
A couple of followup points..
1. USB port for iPod/iPhone
This provides higher quality digital audio digital streams bypassing the internal DAC of the iPod/iPhone
2. DTS Neo.X
Integra should have included this DSP algorithm
3. Audyssey Dynamic Volume
Though somewhat effective, @ this higher SRP, Dolby Volume should have been included

Just my $0.02...
FirstReflection posts on June 16, 2011 13:59
HDMI does tend to give almost every manufacturer at least a few headaches. Some manufacturers are better than others when it comes to fast releases of firmware updates to fix those issues. Onkyo/Integra seem to not be the best, but also not the worst. They release firmware updates, but you'll often have to live with a few errors for a while, and sometimes certain issues are never fixed.

In the receiver world, when it comes to the newest features and inputs, Onkyo/Integra tends to be first on the scene - and they'll often come in with the lowest price as well. But that speed-to-market and the cost-cutting measures needed to hit those price points seem to lead to there often being a few errors and issues.

Denon will usually come along a number of months later - sometimes even a full 9-12 month cycle behind. So you won't get all the newest features and inputs at the same time as Onkyo/Integra, and the price tag on the Denon will often be a little bit higher, but Denon's receivers tend to have fewer errors and problems as a reward for your patience and extra dollars

I still like Onkyo a lot. If you want to be the first person with the newest features, you sort of have to expect that you'll run into a few hiccups being that "early adopter" type. And you can't complain about Onkyo's asking prices either. But if it is more important to you to have every feature working with very few hiccups along the way, then it would probably be a better choice to wait a few months, pay a bit more, and get the Denon
surveyor posts on June 16, 2011 07:05
Integra still has some quirks within HDMI 1.4a to smooth out. Their HDMI through when the unit is off is about as smooth as a brown derby beer. I would guess that the other brands have some issues with HDMI as well?