Denon E-Series Receivers Preview
Summary
Product Name:

AVR E400, E300, E200

Manufacturer:

Denon

Review Date:

March 07, 2013 08:05

MSRP: $249.99-$599.99
First Impression:

Pretty Cool

Specifications

AVR-E200

Number Of Channels
5
Stereo RMS Power (watts)
75
THD in Stereo
0.08 %
Frequency Bandwidth (stereo)
20-20k Hz
FM Sensitivity
12.8 dBf
HD Radio Tuner
No
On-Screen Display
Thru HDMI
Multiple Zones
No
HDMI Standby Pass-through
Yes
Composite Video Conversion
No
S-Video Conversion
No
Component Video Conversion
No
Internet-ready
No
Apple AirPlay
No
DLNA Certified
No
Multibrand Remote Control
No
Learning Remote
No
LCD Remote
No
Width (inches)
17-1/16
Height (inches)
5-5/16
Depth (inches)
12-9/16
Weight (pounds)
17.4
Parts Warranty
2 Years
Labor Warranty
2 Years
Surround Processing
Dolby Digital
DD, EX, TrueHD, DD+
DTS
DTS, ES, HD, HDMA, Neo6,96/24
Inputs & Outputs
Phono Input
No
Audio-Video Inputs
4
Audio-only Inputs
1
S-Video Inputs
None
S-Video Outputs
None
S-Video Monitor Outputs
None
Component Video Inputs
None
Component Video Monitor Outputs
None
Optical Digital Inputs
1
Coaxial Digital Inputs
1
Optical Digital Outputs
None
Coaxial Digital Outputs
None
HDMI Inputs
4
HDMI Monitor Outputs
1
Subwoofer Outputs
1
Preamp Outputs
1
Main Speaker Output Pairs
1
Main Speaker Terminals
Clips
Ethernet Port
None
USB Connections
None

AVR E300

Number Of Channels
5
Stereo RMS Power (watts)
75
THD in Stereo
0.08 %
Frequency Bandwidth (stereo)
20-20k Hz
FM Sensitivity
12.8 dBf
HD Radio Tuner
No
On-Screen Display
Thru HDMI
Multiple Zones
No
HDMI Standby Pass-through
Yes
Composite Video Conversion
No
S-Video Conversion
No
Component Video Conversion
No
Internet-ready
Yes
Apple AirPlay
Built in
DLNA Certified
Audio

Multibrand Remote Control
No
Learning Remote
No
LCD Remote
No
Width (inches)
17-1/8
Height (inches)
5-15/16
Depth (inches)
13-3/16
Weight (pounds)
18.1
Parts Warranty
2 Year
Labor Warranty
2 Year
Surround Processing
Dolby Digital
DD, TrueHD, DD+
DTS
DTS, HD, HDMA
Inputs & Outputs
Phono Input
No
Audio-Video Inputs
2
Audio-only Inputs
2
S-Video Inputs
None
S-Video Outputs
None
S-Video Monitor Outputs
None
Component Video Inputs
None
Component Video Monitor Outputs
None
Optical Digital Inputs
1
Coaxial Digital Inputs
1
Optical Digital Outputs
None
Coaxial Digital Outputs
None
HDMI Inputs
5
HDMI Monitor Outputs
1
Subwoofer Outputs
1
Preamp Outputs
1
Main Speaker Output Pairs
1
Main Speaker Terminals
Posts
Ethernet Port
1
USB Connections
1 Front

AVR E400

Number Of Channels
7
Stereo RMS Power (watts)
90
THD in Stereo
0.08 %
Frequency Bandwidth (stereo)
20-20k Hz
FM Sensitivity
12.8 dBf
HD Radio Tuner
No
On-Screen Display
Thru HDMI
Multiple Zones
2
HDMI Standby Pass-through
Yes
Composite Video Conversion
From Composite to HDMI
S-Video Conversion
No
Component Video Conversion
From Component Video to HDMI
Internet-ready
Yes
Apple AirPlay
Built in
DLNA Certified
Audio
Photo

Multibrand Remote Control
No
Learning Remote
No
LCD Remote
No
Width (inches)
17-1/8
Height (inches)
6-3/8
Depth (inches)
13-3/16
Weight (pounds)
20.8
Parts Warranty
2 Years
Labor Warranty
2 Years
Surround Processing
Dolby Digital
DD, EX, TrueHD, DD+
DTS
DTS, ES, HD, HDMA, Neo6, 96/24
Inputs & Outputs
Phono Input
No
Audio-Video Inputs
6
Audio-only Inputs
1
S-Video Inputs
None
S-Video Outputs
None
S-Video Monitor Outputs
None
Component Video Inputs
1
Component Video Monitor Outputs
None
Optical Digital Inputs
1
Coaxial Digital Inputs
1
Optical Digital Outputs
None
Coaxial Digital Outputs
None
HDMI Inputs
6
HDMI Monitor Outputs
1
Subwoofer Outputs
1
Preamp Outputs
1
Main Speaker Output Pairs
1
Main Speaker Terminals
Posts
Ethernet Port
1
USB Connections
1 Front
Executive Overview
Tight of wallet? Light of budget? Need a new receiver? With tax returns on the way, it's the perfect time of year to be planning your next receiver purchase. With the receivers from all camps getting a reboot, open a spreadsheet, list the most important features to you, and start whittling down the new offerings (we'll help). This time, we look at the new budget receivers from Denon.
Labeled the "E" series, the three new receivers from Denon start with the E200 at the very attractive $250 price point. Like other Denon budget offerings of late, the entry level E200 eschews most analogue video inputs in favor of HDMI . This means that any legacy gear with component video outputs will have to be run through some sort of HDMI converter or you'll need to look for a different receiver (or upgrade the source). The E200 sports 5.1 channels with 75 discrete watts per channel (20Hz-20kHz, 0.08% THD @ 8-ohms).
While there are only four HDMI inputs on the AVR E200, it has one located on the front. This is either a boon if you tend to hot-swap out sources like phones or camcorders, or a pain as it only puts three inputs on the back. It has a single HDMI output. The speaker terminals are all the spring-type which accept only bare wire. There are two composite video inputs and one output. There is, as to be expected at this price point, no video upconversion so any composite video input will have to be output over composite. There is a subwoofer pre-out, one of each type (coaxial and optical) digital audio input, and two stereo RCA analogue audio inputs. A nice feature on the front is a 3.5mm input for use with your portable music player.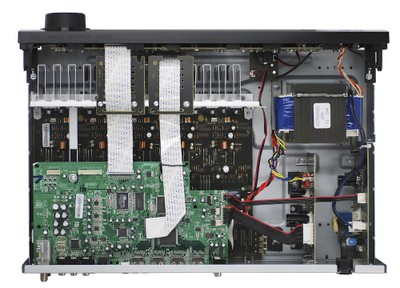 The AVR E200 weighs in a 17.4 pounds and has an on-screen menu over HDMI. There are quick select setting buttons on the front of the receiver and on the remote. The settings for each of these inputs is saved. This isn't so much an innovation as it is a convenience as receivers have been remembering settings for sources for years. The Denon AVR E200 has HDMI Standby Pass-Through, allowing the receiver to pass the audio and video to your display when it is powered off. The AVR E200 features variable crossovers for the speakers for the widest possible compatibility.
The next step in the E line is the E300. The E300 will run you $400 - a full $150 more than the E200. For this extra scratch, you'd expect more power but you'd be wrong (as far as we can discern, anyway). Denon is bucking the trend of increasing power with each higher priced receiver offering in favor of increasing the number of features. The E300 has the same 5 channels with the same 75 discrete watts per channel. It does add 0.7 pounds to the weight (up to 18.1 pounds over the E200's 17.4), all of which are full of features.
The biggest and probably most important change in the E300 is the addition of Internet connectivity. When connected to the Internet, the E300 can stream Pandora, SiriusXM and Spotify plus display your Flickr photos. More impressively for many is the inclusion of Apple's AirPlay for streaming from your iOS device, such as an iPod touch, iPhone, and iPad. This is huge bonus for those with iDevices as it allow you to stream much of your content on your portable device without the hassle of wires. Internet connectivity also means that you can control your E300 via the Denon Remote App for Android and iOS.
The front of the AVR E300 adds a USB port for streaming from your mobile device and it will even charge your iOS device. The 3.5mm jack has been replaced with the setup mic connection (more on this in a moment). With the USB port, it really wasn't needed anyhow. The rear has many of the same inputs with the addition of a fourth (five overall) HDMI input. The HDMI output now supports Audio Return Channel as well. The spring-type speaker terminals have all been replaced with "Denon Easy Connect" terminals which are still spring based but are now the higher quality pull type that accommodate up to 12AWG speaker cable. They are also all horizontally oriented for easier access and connectivity. Denon includes a disc with the full manual for use with your PC and an onscreen walk-through setup via the receiver's HDMI output.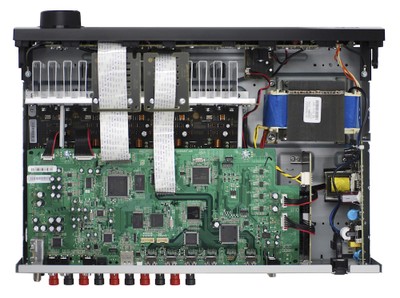 The last, and arguably more important than Internet connectivity, improvement is the inclusion of Audyssey's MultEQ auto setup and room correction. MultEQ is not the latest offering from Audyssey but it is a very good solution, especially at this price point. It also includes Audyssey's Dynamic EQ for maintaining sound quality across different volumes and Dynamic Volume for controlling volume level across time.
The Denon AVR E400 is the most expensive of the E series at $600. With the E400 we see not only an increase of power (up to 90 discrete watts) but also the number of channels (seven). The AVR E400 is over 2.5 pounds heavier than the E300 at 20.8 pounds. But it isn't all amps and channels that accounts for that increase. There are also features.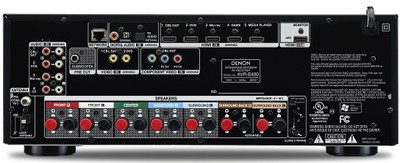 Glancing at the back, we see an additional HDMI input (now up to six including the one on the front panel) with a single output. There is now a component video input but the composite video output is now missing. This is because the Denon AVR E400 will now upconvert all the analogue inputs to HDMI which is a huge step forward. It will also scale your content all the way up to 4K. There are two additional pairs of analogue RCA stereo inputs.
The E400 is the first in the line that supports a second zone of audio which must (there are no pre-outs for adding an external amp) be powered by the internal amps. Denon did not include two additional speaker output terminals for zone 2 assignment. Instead you must utilize the "Surround Back" speaker terminals and configure them for zone 2 output assuming you want to power an additional zone with the E400's internal amp sections. You can do this simultaneously while still running a discrete 5.1 speaker system in the main zone.
Conclusion
With budget offerings, it is always important to know what features you'll need versus those you just want. With the new E series from Denon, you have quite a few choices. If you are tight on money but use exclusively HDMI devices, the E200 may be enough for you. If Internet connectivity, AirPlay, and room correction are important, you'll want to bump up to the E300. For scaling up to 4k, Zone 2 support, and 7.1 channels, the E400 will be the Denon for you. While compromises have been made on these receivers, that's always the case for budget offerings. It looks to us like Denon has a solid new line on tap for this year. Only time will tell how the public receives them.
For more information, please visit usa.denon.com.
j_garcia posts on March 12, 2013 15:36
garypen;956543
But, these look like junk. At those price points, one can find superior products from other brands.
Those are MSRP prices. They should street for less, meaning they should be favorably priced. Once you hit that top model though, I think a full featured AVR is probably a better choice. All manufacturers are likely to release something like this in their next lineups too would be my guess.
garypen posts on March 12, 2013 15:24
But, these look like junk. At those price points, one can find superior products from other brands.
j_garcia posts on March 07, 2013 12:29
I am kind of surprised to see spring type connectors on all of the models, but this clearly isn't part of the "flagship" lineup and they are targeted at keeping the cost down vs the features included. Interesting that they eliminated not only nearly all of the analog video, but almost all of the analog audio connections as well even on the highest of these models. I have no analog video at this point, but still use analog audio. Seems like a good fit for the way the average HT is going these days. Had they included preamp outputs for the top model also, it might even have made a decent pre/pro.

I was wondering when we would see a generation of receivers without any legacy connections. I do find it interesting that the HDMI prepro's from Outlaw and Emotiva made it out before them.

The Outlaw has analog video though, the Emotiva does not.
adk highlander posts on March 07, 2013 07:35
I was wondering when we would see a generation of receivers without any legacy connections. I do find it interesting that the HDMI prepro's from Outlaw and Emotiva made it out before them.