Channel Calibration and Audyssey Measurements
Channels

AVR-5805
Test Tones

DVE

DVE

Final Trim
Adjustment Changes

FL

75.0

75.1

75.3

0.0

C

75.0

75.5

75.5

-0.5

FR

75.0

75.0

75.0

0.0

SRA

75.0

75.0

75.2

0.0

SBR

75.5

75.8

76.0

-1.0

SBL

75.5

75.7

75.9

-1.0

SLA

74.5

74.1

74.5

+0.5

*SWL

78.0

78.0

80.0

+2.0

*SWR

77.0

77.0

78.0

+3.0

Notes

No Audyssey

No Audyssey

Audyssey Engaged

Relative to Auto Cal
*Difficult to read accurately on an SPL meter since results fluctuate more with bass frequencies.
I arrived at the final trim adjustments based on more advanced measurements using my Sencore SPC295 FFT Audio Analyzer and my ears (for the subs). While I am a fanatic about proper calibration, the Denon Auto Setup with Audyssey provided the most accurate auto setup I have yet to see in such a product. It correctly identified the speaker sizes, crossover points, distance compensation and approximate level trims which is great news for the non techno geek that wants instant gratification at the push of a button. As a reminder, following the calibration guidelines established herein will achieve the most accurate results. Take your time to do it right and you will be rewarded. Don't forget that any time your room undergoes a major change in orientation (i.e. furniture move, adding curtains, etc) you must recalibrate to achieve the best results. M y advice is to store the mic in a safe place for future usage.
Audyssey Measurements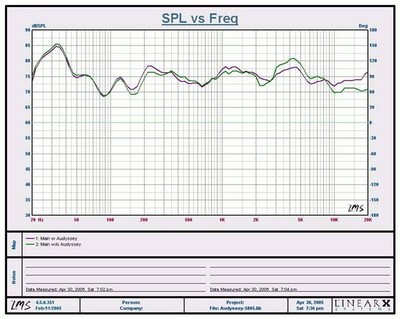 In room, on axis measurement at the primary listening position, 1/3 octave smoothed
The Green trace represents the summed frequency response of my main channels and subs without Audyssey, while the Purple trace represents the same measurement with Audyssey engaged. As you can see the high frequency response past 8kHz is greatly improved and extended while the midrange performance between 3kHz to 6kHz is flattened out to match the overall response. I was surprised to see very little difference in low frequency performance, especially since I did hear an improvement in my listening tests. I can only attribute this to the fact I am using an analog input of the AVR-5805 and the Audyssey LFE filters may not be engaged when this type of signal is present.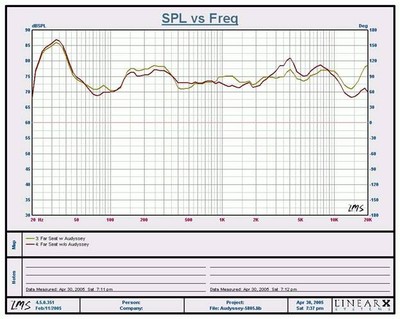 In room, on axis measurement at a far listening position, 1/3 octave smoothed
The red trace represents no Audyssey, while the gold trace represents Audyssey engaged. As you can see the overall frequency response is smoother and better extended with Audyssey engaged. What's most interesting here is that this mic position wasn't even placed at the exact position Audyssey calibrated for. Basically the spatial mapping of Audyssey was also improving the system's frequency response even at areas in between calibrated microphone positions.
Note: We are checking with Japan to verify that the latest firmware version has been installed. In conversations with Audyssey, their results indicate we should be seeing more effective bass correction than these measurements reveal. A review addendum will follow once we have more information.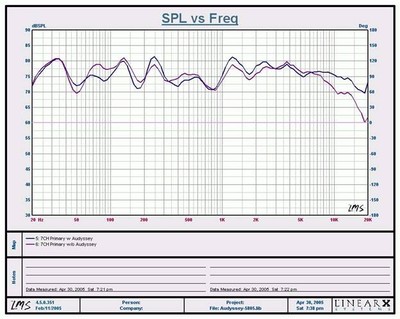 In room, mic vertically oriented at primary listening position, 1/3 octave smoothed
Just for fun I pointed my LMS mic straight in the air at my primary listening position and engaged 7CH Stereo mode on the AVR-5805. The purple trace represents no Audyssey, while the blue trace represents Audyssey engaged. It's quite impressive as to how much flatter and more extended the system's high frequency response from 5kHz to 20kHz is when Audyssey is engaged. The overall low end response also seems a bit flatter, probably due to the summed flattened response of all the channels.