Build Quality
Pretty much every current conceivable A/V connection (except for balanced and AES) is represented on the back panel of this baby. The speaker terminals are very high quality WBT binding posts that snugly fit even the most challenging banana plugs such as my 10AWG Cobalt Cables that slip off typical conventional plastic binding posts. Considering the complexity of this back panel, I found the arrangement to be well thought out and organized. I liked the fact that all of the toslink, coax, and HDMI connections were not assigned to any particular input. I found it useful to take note of what component I connected to each interface so I could later properly configure the settings in the OSD and eliminate the trial and error process of finding the right designations. Note the dual IEEE 1394 connections at the bottom center for digitally passing DVD-A and SACD from Universal DVD Players. Denon also provisions their own higher bandwidth D.Link ver 3 proprietary connection to function with their own Universal players (SACD transmission still pending approval). Also notice the Ethernet connection on the back. According to Denon, the Ethernet port upgrade later this summer will provide the ability to stream audio content from a PC with control and OSD by the AVR-5805 as well as Internet Radio access (no PC needed for this, only Broadband Internet access). Note, there is no access to the Internet or online service provided by Denon or the AVR-5805, it merely functions as a 'client'. Also coming is Web Browser functionality to permit off-site access to the AVR-5805 for diagnostics or updates.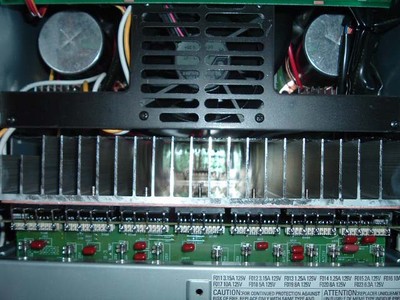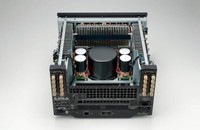 Inside the AVR-5805 is a marvel of technology including three of the latest 32 bit DSP chipsets from Texas Instruments (main zone) and one 32 bit analog SHARC borrowed from the AVR-2805 for Zone2. Top of the line Burr Brown DACs and ADCs, which by themselves cost more per chip than entire multi- channel DAC solutions from most costlier manufacturers of so called high end separates components. Silicon Image HD M I transceivers, Genesis I/P scaling and video processing are some of the other goodies found under the hood of this battleship. The power amps utilize robust power transistors in push pull configuration that, based on my measurements and listening tests, can go toe to toe with many dedicated multi-channel power amps in the $2-3k price range. There are plenty of heatsinks spread out across the front and side of the chassis to provide cooling. Two internal fans (which I only heard turn on briefly during my power torture tests) are mounted towards the center of the chassis and are used under extreme conditions to provide forced cooling, drawing heat away from critical components such as the transistors, chips and electrolytic capacitors. With over 10,000 components inside (more than 3 times that of the AVR-5803), this product certainly garners the respect of fellow engineers and the fear of service technicians.
The layout follows the proud tradition of the 5800 series of Denon receivers. The power supplies are located dead center, actually two additional E-core transformers (borrowed from the AVR-2805) are located on the backside of the receiver to provide additional power capability for the 10 internal 170wpc amplifiers. The power supply capacitance is more than double that of the AVR-5803! The power supply in the AVR-5805 rivals all other flagship receivers to date. Whether you are driving 2 channels or 10, the AVR-5805 is certainly up to the task at utilizing all of the current from a 15A wall outlet, so make sure you run a dedicated line for this monster.
Editorial Note on the AVR-5805 Amplifier Design

Two high current complementary output power BJTs per channel (with smaller cascaded devices) - paralleling multiple BJTs is a good method of ensuring amplifier output impedance is low enough to deliver high current while driving low impedance loads. It's also an effective way of minimizing frequency response variations which can occur when driving highly reactive speaker loads and exotic cabling. While the AVR-5805 doesn't have the real estate to sport multiple sets of power devices typically found on dedicated amps, it does have a single and conventionally much larger pair per channel that are top notch and as you can see in our measurements , perform commendably well.
Multiple high voltage (80V) capacitors (4 x 33,000uF = 132,000uF, or 66,000uF per rail). In order to do 170wpc, a minimum recommended cap voltage of sqrt(2)*34.64 + 5 = 57V should be used. Using 80V gives them plenty of design margin and added headroom since the rails can swing much higher.
A massive torodial transformer (borrowed from the AVR-5803) and dual E-core transformers (borrowed from the AVR-2805) ensures this amp can utilize the full rated power from the wall outlet (120V,15A) if called upon.