Denon AVR-5308CI(A) and AVP-A1HDCI Update Review
Summary
Product Name: Denon AVR-5308CI(A) and AVP-A1HDCI Update
Manufacturer: Denon
Review Date: August 21, 2012 00:15
MSRP: $1000
First Impression:

Pretty Cool

Specifications

Includes Sound Enhancement

Audyssey MultEQ XT 32—32 times the resolution of MultEQ XT
Audyssey DSX—Availability of Height or Width effect speakers
New Audyssey Calibration Microphone
dts Neo:X—Availability of Height or Width effect speakers
Dolby PLIIz—Availablity of Height effect speakers
Subwoofer Level Matching—Allows for proper level matching of multiple subs before Audyssey calibration

HDMI 3D Pass through

Allows for 3D video pass through on the all HDMI inputs and output.

Denon Link 4th

For AVR5308/AVPA1HDCI that did not get previous firmware update.

A Full firmware update service is performed

This ensures the unit is completely up to date and running properly.
Executive Overview
Would you pay $1000 to update a $5500 AV receiver to the latest firmware and features? Me neither. OK, to spend that kind of money - first of all you have to be the type of person who actually buys a $5500 AV receiver like Denon's AVR-5308CI. And believe me, there are a lot of you out there - maybe not YOU. But how about the guy who was installing them in the homes of his clients...? That's where this update starts to really make a lot of sense.
Let me back up just a bit. This review will address two things: First, what Denon is offering in this upgrade, and, second, who this upgrade is for and why we think you might be interested. To the first point, the update addresses a few shortcomings in the three year-old AVR-5308CI that have crept up as newer products seem to have leapt over this flagship AV receiver in recent years. And by leapt, we mean to imply that they have surpassed it in features - though not in raw power. No, the AVR-5308CI still holds the title of flagship AV receiver for Denon and, honestly, there doesn't seem to be anything else on the horizon for the immediate future.
So the update... updates the three year-old AVR-5308CI, or the newer AVP-A1HDCI pre-processor. It includes several feature enhancements that go well beyond a simple "firmware" update. The upgrades fall into two categories, really: audio enhancements and a 3D HDMI upgrade. The latter requires an entirely new firmware system and the former actually involves a DSP update to the Audyssey system.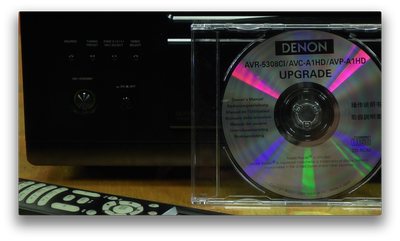 As for the audio enhancements, Denon bumps the 5308 to MultEQ XT32. XT32 has, quite literally, 32 times the filter resolution of the original MultEQ XT. Like MultEQ XT, and UNLIKE several other EQ systems on the market, the filters are applied to ALL channels including the subs. And really, in most systems, it's the subwoofer response calibration that benefits a room the most. With the included calibration mic - a new model that comes with the upgrade - you can take measurements from up to 8 different positions - 32 with a MultEQ Pro kit.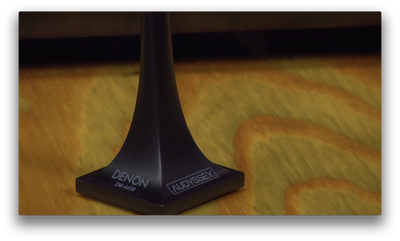 Feature Grid for MultEQ Modes
| Features | MultEQ XT32 | MultEQ XT | MultEQ | 2EQ |
| --- | --- | --- | --- | --- |
| Filter resolution (satellites) | 512x | 16x | 2x | x |
| Filter resolution (subwoofer) | 512x | 128x | 128x | N/A |
| Measurement Positions | 8* | 8* | 6 | 3 |
| Adaptive Low Freq Correction | Yes | Yes | Yes | N/A |
| Xover, Polarity, Delays, Levels | Yes | Yes | Yes | Yes |
*32 With the Pro Kit
The new Denon update also adds the new surround modes that incorporate Height and Width channels. The first, is Audyssey DSX which is designed to produce a bigger surround sound experience. On the Denon, Audyssey DSX can do 7.1 and 9.1 surround using a combination of Height and Width channels. DSX is also scalable, so you can build or expand your system over time. Along with Audyssey DSX, Denon added dts Neo:X, which can use both Height and Width channels and Dolby Pro Logic IIz which adds Height channels to 7.1 surround.
There is also Subwoofer Level Matching. This lets you set the correct volume levels in multiple-sub systems prior to Audyssey calibration. There's Denon Link 4th... but nobody cares about that since nobody we know actually has the patience to use Denon Blu-ray players anymore... awkward...
Moving right along... You can now use 3D - or at least pass it through the AVR-5308CI(A) thanks to the new firmware that gets installed with the update. There are a couple things to note about 3D and the overlay menu system. If you operate the receiver menu while playing back 3D video content, the menu screen covers the video - there's no more overlay. And if 2D video is converted to 3D video on the display, the menu screen and status display get all buggered up. To fix it you have to turn the 2D to 3D conversion off.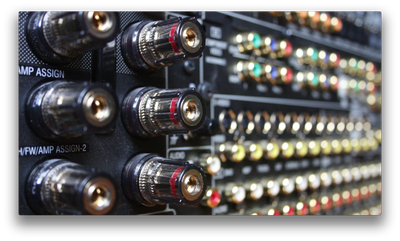 So - that's the upgrade, now who's it for? Custom installers and die-hard enthusiasts. Look, if you installed this AV receiver back in '09 and your client calls you wondering why their new 3D Blu-ray player doesn't work, this is your solution. If you're a die-hard enthusiast and you don't want to give up your flagship receiver, but want to add the enhanced benefits of Audyssey MultEQ XT32 - now you can. This upgrade isn't going to be for everybody, but we do appreciate how Denon is extending the life of one of its most popular flagship products. This is made even more important by the fact that, honestly, flagship products like this are coming out less and less frequently... so getting more life out of what you have is a great option.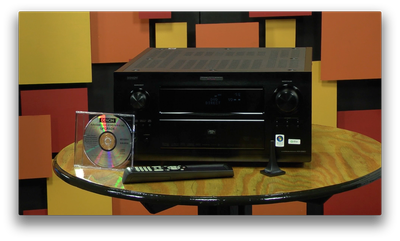 So here's the big question of the week: Do you want companies like Denon to put out new flagship receivers more frequently, or continue to provide updates to keep existing products more current? Let us know by leaving a comment on our video. And if you liked this review, please subscribe to our channel so we can keep bringing you more great videos. Also, Like us on Facebook at facebook.com/audioholics. And feel free to follow us on Twitter @AudioholicsLive.
kune posts on September 05, 2012 14:53
I wish to purchase a new Denon AVP-A1 HDCI. I called Denon to inquire how to receive the processor with the newest upgrade AVP-A1HDCI (A) installed. I was informed that I would need to purchase the AVP-A1HDCI (old model) for $7500 and then send the unit back with an extra $1000 for the upgrade. This seems ludicrous. If I purchased this model in 2008, I would be happy to be offered the option to upgrade. However, why should I be punished and inconvienced because I wish to purchase the processor today? Any thoughts?
pmiranda posts on August 27, 2012 14:30
I think it's great. I just wish they'd continue to support older gear just as long, especially with top of the line power amps on board, but I guess that's what separates are for.
scb2scb2 posts on August 22, 2012 05:14
I think the review missed a few important details of the upgrade that explain the price.

1) it was mostly aimed at the avp owners so even more expensive box. I paid about $10k when it was released in europe. So being able for 1200euro's to upgrade large parts is very nice since it keeps the machine in the game it saves me money since i don't have to switch to something else (assuming there is something like the avp for that price).

2) They didn't replace the hdmi board, they where able to upgrade that part in the fpga's but to reprogram them special tools are needed so it had to be shipped back to denon.

3) What they did replace/add is a whole new 'brain' at the core of each modern pre/pro these days is cpu power and memory. What denon needed todo for xt32 and the new audio formats is replace that whole part. They added 3 new DSP's and memory of a much more powerful model. They also added memory to be able to run some of the new modes and create some more headroom.

4) These (both the avr and avp) are 60lbs (30kg). so part of the cost was them sending you a new box, shipping and sending it back (depends on country a little).

What we have seen is that most high-end brands promise to update but don't. If they did do updates (a few did classe for example) the price seems to be between $500 and $1000 for less things they replaced. Not saying the update is cheap but if you consider it was aimed for the avp its good value and i was happy to pay it to extend the life of my avp/poa by 3 or 4 years.

Daniel.
JonFo posts on August 21, 2012 18:02
As an AVP owner, this was great news when we first heard about it last year.

As for the price, ouch, but totally worth it.
Denon provides free firmware updates, and I've applied seven or eight since I purchased my unit in '09.

Now, in '12, paying $1K (installed) for a totally new DSP board (with four current gen DSPs), labor and all that is completely reasonable IMHO.

XT32 alone is worth the price of admission. I even paid $700 for the Audyssey pro kit several years ago and that was worth it then, and now can re-apply on top of XT32 to get the ultimate our of what is (after the update) the best pre-pro on the market.

Kudos to Denon for supporting us enthusiastic owners and keeping this unit up-to-date.
ratso posts on August 21, 2012 10:53
if i had to pay to update the firmware on my oppo, i would be somewhat pissed. am i the only one on earth thinking why isn't this free (or at least minimal charge to cover the new circuit board)? especially if you paid almost 6K for it in the first place?