Denon AVR-4810CI 9.3 Channel Receiver First Look
Summary
Product Name:

AVR-4810CI A/V Receiver

Manufacturer:

Denon Electronics

Review Date:

September 28, 2009 03:45

MSRP: $2,999
First Impression:

Pretty Cool

Executive Overview
A 9.3 channel receiver? Yes, we had to do a double take as well. The Denon AVR-4810CI has three subwoofer outputs paired with nine channels pushing 140 watts each. The receiver boasts a host of features that you didn't even know you needed but will so be hard pressed to live without.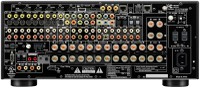 The back of the receiver is a virtual smorgasbord of connections. Rather than listing the numbers and types of each one, lets focus on the most important. We've got five HDMI inputs on the back and one on the front with dual HDMI outputs for multiple monitors. You can send component video to Zone 2. The amplifier structure is a multi-mono block design with dedicated terminals for Zones 2 and 3 along with bi-amp, height/width, and surround back terminals. This means that you can switch your amplifier configuration on the fly without having to get behind your receiver. There are up to four zones available with Zone 4 getting optical output only (perfect for sending to a bedroom system with separate A/V receiver).
To take advantage of the height channels, the AVR-4810CI includes Dolby ProLogic IIz and Audyssey DSX for height and width channels. There are analogue outputs for two additional DSX channels so you can add additional amps for an 11.3 setup. Of course the AVR-4810CI has all the latest upconversion/scaling courtesy of Anchor Bay's ABT VRS technology. You probably already knew that all the latest audio formats can be decoded natively including Dolby TrueHD and DTS HD.
The unit is networkable for streaming Rhapsody, Napster, Internet Radio, or just content from your PC. You can make this connection either through an Ethernet cable or wireless - a nice feature we've been missing from recent offerings lately. Any sort of radio you might have (terrestrial, XM, HD, or Sirius) is supported as is vertical stretch mode for anamorphic 2.40:1 widescreen projection. Expect to be able to calibrate at the receiver each video input for maximum flexibility. For installers, this flexibility doesn't stop there. They can setup the receiver and access it via the web to "unfix" settings that a well meaning client adjusted.
Audyssey room correction has been a staple with Denon products for a while and you would be right to assume that they are present again. The MultEQ XT is available for causal users but for custom installers, the AVR-4810CI is MultEQ Pro ready. This expands the number of measurement locations from 8 (XT) to 32 (Pro) and gives the installer much more flexibility when configuring and tuning the system.
Flexibility is really the key with the AVR-4810CI. Zone 2 not only gets component video output, but also on-screen support. The USB port allows connection of iPods and other storage devices. When using an iPod/XM/HD Radio/Streaming Audio, Zone 2 can also view meta-data. iPod content can be streamed to all three zones giving the user tons of choices.
Conclusion
It's really hard to wrap your head around everything the AVR-4810CI can do. It truly is a one stop shop for whole home audio. In the hands of an amateur, it is an extremely powerful receiver with every option they could possibly want. In the hands of a custom installer, it is a tool for keeping the customer happy while making their job a lot easier. Feature packed, powerful, and most of all flexible, it is probably more receiver than you need. But it's just the receiver you want.
For more information, please visit www.usa.denon.com.
Rickrack17 posts on January 10, 2010 16:09
The Denon AVR-4810CI Has 3 subwoofer pre outputs you just have to dig deep into the setup and configuration menu to to find them.
cynan posts on September 29, 2009 12:31
What's with the "VCR" label on the 4rth HDMI input? Aside form a few VCR/DVD combo players, how many VCRs had/have HDMI out?
fredk posts on September 29, 2009 11:34
Call me electronically challenged, but I thought that each time you add an additional sub/line to the sub out you somehow degrade the signal.

Still, it would be nice to have a cleaner solution. Get rid of that plethora of other useless (to me) connectors and put in a few more sub outs.
indulger posts on September 28, 2009 17:43
JerryLove;629027
Their midline receivers have been designed to expand to support multiple, mono, single-source (no multi-room, multi-source) subs. They are fully complaint with the industry-standard adapter commonly referred to as a "y-cable"
ROFLMAO!!!
JerryLove posts on September 28, 2009 12:36
Their midline receivers have been designed to expand to support multiple, mono, single-source (no multi-room, multi-source) subs. They are fully complaint with the industry-standard adapter commonly referred to as a "y-cable"