Denon AVR-4310CI Setup
Setting up a receiver should be old hat to most people looking at a receiver in this price category (or the people that they are paying to set up their home theater) but we'll take you through some basics. First, understand that just about every input on a Denon receiver is assignable. You don't need to locate the DVR input if you don't want to. It will make things easier down the road as the DVR button on the remote will actually switch to the DVR rather than you having to remember that HDP=DVR and DVR=DVD and DVD=… well you get the picture. Regardless, the labels that you will see displayed on the front panel of the receiver and the onscreen display can be changed so that even if the button doesn't match the function, the onscreen label will let you know what it does control.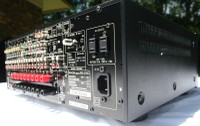 You'll want to connect up all your speakers and sources as well as the antennas for your satellite, terrestrial, and HD radios. Also, don't forget to connect an Ethernet run to your router. If you don't have a dedicated Ethernet run to your home theater (and many don't) you can use one of the PowerLine solutions that are available from a number of companies (including the one we reviewed from Belkin). You probably won't be streaming anything that will require full bandwidth so these solutions should be more than enough. While you may not ever use the Ethernet connection for streaming, it is handy to have around for firmware updates (which the Denon AVR-4310CI will let you know about). If you are happy with the performance and features of the unit out of the box - well, maybe you can skip this. But if you do, remember that you'll have to disconnect everything and drag your receiver into your office for updates or else buy a super-long Ethernet cable to use when you find out at a new feature is available.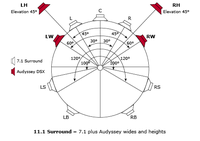 The Denon AVR-4310CI has a full compliment of auto setup and calibration options as well as a number of user-configurable features that need to be addressed. Audyssey and Denon have had a long history together and the AVR-4310CI is no different. Audyssey's MultEQ XT is the top of the line from the company which strives to make every seat the "best seat" for playback. We've covered this technology before so we won't go into much detail here but understand that Audyssey's technology is fundamentally different from the rest of the solutions out there which used parametric EQs. On top of that, the AVR-4310CI has the brand new DSX (stands for Dynamic Sound eXpansion) processing which adds height or width channels to the front of the room. These speakers are to be placed (according to Audyssey) at about 45degrees off center and pointed down at 45 degrees to the main listening position for height or off center 60 degrees at ear level for width. While Audyssey DSX has the ability to do up to 11.1 surround, the AVR-4310CI has 7 internal amps and two assignable analogue outputs for a total of 9.1. (Edit - turns out you can't assign the pre-outs separate from the internal amps so this receiver is hamstringed at a grand total of 7.1.) Since it also supports Dolby Pro Logix IIz which also has front height channels, we recommend that if you are going to install these extra speakers, you go with height over width.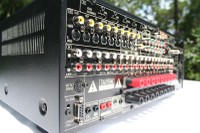 You may have noticed the extra pair of speaker terminals labeled "Surround Speaker B." These are essentially the same as your surround speakers but are only used for multichannel music. The same information is sent to each pair of terminals but the difference is that the A terminals are meant to be utilized for speakers placed to the sides of the listening area and elevated while the B terminals are designed to be connected to speakers that are slightly behind the listening position and at ear height. When you enable a music mode, the Denon automatically switches the amps to the appropriate surround speakers. We would have liked Denon to make these terminals assignable as well so that the user could switch on the fly from a 7.1 configuration to a 5.1 with powered Zone 2 or 3 without having to switch cables. The Surround Back terminals can be assigned to Back speakers, either of the extra zones, or to Bi-amp the front speakers.
The AVR-4310CI has the much lauded Anchor Bay VRS video processing. This is an upconversion technology that essentially makes all of your video sources look as good as possible. While you won't need it for 1080p native sources like Blu-ray, DVDs, cable TV and more will all benefit. What you want to find out is the native resolution for your display. From there, you want the AVR-4310CI to convert all video signals (sans Blu-ray) to that resolution. This will mean that your display only has to, well, display. Since chances are that the Anchor Bay VRS is way better than the scaling/upconversion of any of your sources or your display, you'll want to use that. The last step is to go into the menus of each of your sources and make sure they are outputting the native resolution. For DVDs, that is 480i. It's the same for SD cable/satellite and it is 1080i (usually) for HD. Check with your manuals for each source. The idea is that the source and the display are doing NO processing. What is especially nice about the Denon AVR-4310CI is that it allows you to set the video processing on each source individually rather than one global setting. So for your Blu-ray player you can turn it off while enabling different levels of upconversion for each device.
For those that have had displays that love to jitter and stall when switching between an HD and SD channel, you're going to particularly love this feature. Since the scaling/upconversion is all happening at the receiver, all of those delays will be gone. While this might be a minor quip to those that haven't experienced it, I say it is probably the biggest thing that impressed the rest of my family. They were so used to the delays when switching from an SD to HD channel that they thought something was broken when it moved so quickly. That being said, the videophiles in the audience will appreciate the increased video clarity especially over the traditionally mediocre performance of such devices as low end DVD players and cable/satellite boxes. When we tested the same chipset in the $9k Marantz VP-15S1 projector, it scored a very respectable 95/130 on the HQV test for 480i sources (it passed all but some obscure cadence tests that you'll rarely need).
The only other point the needs to be touched on is the dual HDMI outputs. You may expect that it is too much to ask to have a receiver that can put out two different video/audio signals to two different rooms… and you'd be right. These are parallel HDMI outputs that will convey both audio and video but it is the same signal. For multi-room support, you have analogue audio outputs for both Zone 2 and Zone 3 along with a composite video output for Zone 2.
See also:
khoffman posts on January 30, 2011 14:31
The only thing new here is the receiver. The devices that are inputs are a directv dvr and an oppo bd 83. They have been working fine with my old 3802. I will check the other stuff. Presently have an issue with home network. Hope to fix that when I get home this evening.
highfigh posts on January 30, 2011 12:40
khoffman;787761
I'm the buddy from the greenline post. What's happening is if I switch inputs (I'm only using two, one for a dvr and one for a dvd) the screen goes blank. Both sound and video are gone. The TV says "no input". If I cycle the power the input that I just switched to comes on. If I switch back to the other input the same thing happens. I have to cycle the power for the video and sound to come back.
You don't need to reset the processor if you connect to the receiver in your browser (assuming you have it connected to your network although, if you're only using two inputs, it shouldn't take too long to reconfigure.
If you're using HDMI, bypass the receiver and find out if they work flawlessly all the time (a day should do, as a time period. If you're using baluns because the distance to the TV is farther than HDMI cables will go, check the output resolution for the DVD player- is it BD or DVD?
Did you check the output resolution settings for the DVD and DVR?
Make sure you set the Input and Decode to AUTO, in Input Setup. Also, in 'Input Setup', click on Video when you're using the DVD and the DVR and make sure it's not set to 'Source'. You need to do this in each, separately, because it's source-dependent.
The most important thing to remember- don't look at or consider all of the possible configuration areas at one time- think as if you have mental blinders and just ignore anything you're not dealing with at the moment. IMO, a lot of the manual could be left out and posted online in a separate section so it doesn't seem so intimidating. I don't care if it's a seasoned pro or a first-timer, nobody wants to read a 125 page manual from cover to cover.
AVRat posts on January 30, 2011 11:58
First thing I'd do is reset the microprocessor, pg 111. You'll have to redo all the settings afterward though. You may also try reseating all the HDMI connections first.
khoffman posts on January 30, 2011 11:25
I'm the buddy from the greenline post. What's happening is if I switch inputs (I'm only using two, one for a dvr and one for a dvd) the screen goes blank. Both sound and video are gone. The TV says "no input". If I cycle the power the input that I just switched to comes on. If I switch back to the other input the same thing happens. I have to cycle the power for the video and sound to come back.
highfigh posts on January 30, 2011 09:33
thegreenline;787675
My buddy is having problems on a new 4310. Whenever he switches input the TV goes blank then says no signal. His TV is a vizo, not sure of the model.

Any help on this would be greatly appreciated.

Thanks Ron
Sounds like the input assignment wasn't done. Out of the box, it isn't set for any kind of input. If he presses the Menu button, does he see that?