Listening Environment, Build Quality, and Set Up
Reference System 2 is a dedicated theater room with acoustical treatments supplied by RPG Diffusor Systems. The main listening system is the RBH Sound CinemaSITE, which features a truncated line array for fronts and centers (SI-6100) and hybrid dipole/bipole speakers (66-SE) for the surrounds. The surround back speakers are direct radiating 2-way speakers (41-SE). The listening position is about 11' back from the system and the display utilized was a Yamaha LPX-510 LCD projector in conjunction with a Studiotek 130 screen from Stewart. The room has good low frequency balance which is helped a tiny bit by a Velodyne SMS-1 EQ system (disabled when testing the Audyssey MultEQxt system. I think it is important to describe the listening room so readers have an understanding of what the reviewer is listening to and in what kind of environment. If we don't then you are left to wonder about the basis for any drawn conclusions or opinions.

First Impressions
Heavy. At almost 41 pounds, the AVR-4306 is no slouch. It's not as much of a boat anchor as most monoblock or dedicated multi-channel amplifiers, but it's a respectable weight for an AV receiver costing less than $2000. I've always liked the user interface for Denon receivers. It's not as polished as a GUI interface, but seems infinitely more flexible than most of the competition we've experienced. The presence of three (3) HDMI inputs made me smile, as many other units think that two is plenty (and for people who don't review products for a living they may just be right.) The new remote looked good, and I welcomed the additional hard buttons that gave access to such things as volume control, menu navigation, channel controls and a keypad. This is much improved over the 2004 Denon EL remote.
The receiver had the same great options I expected from Denon, including extensive bass management controls, Dolby Pro Logic IIx overlay, PCM-1791 Burr-Brown DACs, 24-bit/192kHz digital input capability, Denon Link III(supports DVD-Audio and SACD), and a wealth of analogue and digital inputs (fully assignable.) There are even 8 analogue multi-channel inputs for full 7.1 support (which will come in handy for handling the new uncompressed audio formats present on present and upcoming high definition DVD players). But the things that really got my focus were the really new features and digital video section.
Here's the summary on those:
HDMI upconversion and scaling to 720p/1080i (3 HDMI inputs, 1 output)
XM satellite radio support
Internet radio support
USB device support for audio playback
Network audio support for playing back files from a PC, this is HUGE and very welcomed
Denon Link III (supports all currently-shipping digital audio formats)
3 source, 3 zone control
One other thing to note is that the Zone 2/3 outputs WILL benefit from a digital to analogue conversion of PCM digital sources input to the coaxial and optical inputs. This is a big deal as most other products we've reviewed will only pass analogue audio to these outputs, causing the user to connect redundant analogue connections when desiring to use
Build Quality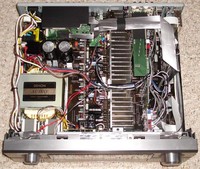 The Denon AVR-4306 has a notably good build quality. Based on the fuse rating of 8.0 amps, we can surmise that the power transformer is around 960VA (8.0A x 120V). Taking into account amplifier and power supply efficiency and processor overhead, true output power into 8 ohm loads should be well within its rated limit and there should be plenty of reserve for it to pump out additional juice into 4 ohm loads... This pretty much correlates with our actual bench tests (shown further along in the review.)
Note: If you are looking for an All Channels Driven measurement, we don't do those since they aren't very representative of real world listening conditions and most publications create very special test conditions (preconditioned 20A or greater line, short power supply fuse, etc) so they can take this instantaneous 1kHz power vs distortion test and pawn it off as a continuous power rating.
The AVR-4306 features a very hefty equal power amplifier section, with discrete output devices on all seven channels. It has a large power supply that took up a rather large chunk of the interior of the receiver and is coupled with a rectifier diode and oversized power supply capacitors to stabilize the power at high output levels.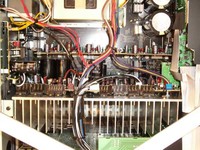 The heat sink for the amplification section runs along the middle of the receiver and interior design of the unit looked well laid out with adept cabling choices and good separation of the power supply and more sensitive components.
Setting Up the Receiver - Overview

Setting up any receiver can be a pain, but it doesn't have to if you understand the basics and mind your goals. I start by connecting the equipment to the logical inputs, taking notes as I go, because depending upon how many source components you have it can be hard to remember where everything is sometimes. OK, so maybe I have a few more devices than most... In either case, the next step is to correctly set up and route your inputs so that the source selection controls on the receiver engage the correct audio and video sources out to the monitor outputs and speakers. We'll go into more detail below as there are a myriad of choices given the flexibility and features of the AVR-4306. After this you will want to set up your system in terms of speaker levels and distance so that the sound is properly balanced in the room. Whether you enlist the help of the Audyssey MultEQxt system is up to you - I would heartily suggest at least trying it out.

Back Panel of the Denon AVR-4306 Receiver
Of Particular Note:
3 HDMI inputs, 2 component outputs

iPod (front/rear), USB (front) and XM satellite connections

Ethernet port for Internet radio & streaming music from PC

Zone 2 video monitor output

Zone 3 audio preamp outputs

Surround Back speaker amplifiers configurable for powering Zone 2 or 3)

Surround A or B speakers

7.1 multi-channel preamp inputs/outputs

Dual assignable 12V triggers