AVR-4306 Setup and Configuration
Denon's manual setup is, to date, unmatched in the industry. It is so sophisticated, that even the most "battle-hardened" Audiophiles will stare, agape, at the many configuration options and controls available to the consumer within the Setup menu system. If you are planning to give this receiver to your Dad for Christmas, better make sure you can set it up for him or it is likely that your gift will eventually come sailing out the second story window in a fit of rage. With endless options and configurability comes complexity and, so far, the two are inseparable.
Here's a quick overview of a manual setup process so you can have a fighting chance of "surviving" the AVR-4306's menu system. We'll start with the Main Setup Menu and work downward. I won't go over everything here, but will touch upon each of the main sections you'll need to be concerned about as you move through the system performing the basics needed to get up and running:
Speaker Setup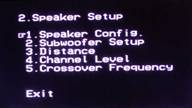 When beginning, it's always good to start at the top and work down. The Denon's Setup Menu is arranged in a logical manner and I never found myself having to jump up and down or back and forth between menus due to a poor design layout of the required steps. The Speaker Setup menu is where you configure your channel levels, speaker distance (delay), crossover, subwoofer and bass management settings. It's a one-stop shop for all things loudspeaker. Using an SPL meter and a measuring tape, I manually set up the Reference System 2 as follows:
Speaker

Size

dB SPL

Distance

Front Left

Small

0.0

10.5 ft

Front Right

+1.0

10.5 ft

Center

Small

+0.5

10.0 ft

Surround Right

Small

+1.0

7.5 ft

Surround Back Right

Small

+3.5

6.5 ft

Surround Back Left

Small

+4.0

6.5 ft

Surround Left

Small

-1.5

7.5 ft

Subwoofer

Yes

-12.0

10.0 ft

Crossover Setting 80 Hz ; Subwoofer = LFE

Reference Level Calibration to 80 dB SPL
Once again I was blown away by the level of detail the Denon is able to provide to the user (in fact the tenth-inch increments are so detailed as to make one wonder if the delay is real at those levels or if they simply provided that resolution in the Setup menu to placate obnoxious reviewers like myself!) In either case, adjustments can be made in .1 ft or .01 meter (finer) increments.
Under Subwoofer Setup you can select whether the subwoofer will get just the LFE + bass managed channels, or the LFE and Main + bass managed channels subwoofer information. The LFE + Main setting is a good setting to try if you have truly Large main speakers (which go down to 20-40Hz) and want to double up the low frequency information to the subwoofer in an effort to smooth out the overall room response. Though I caution you may find too much gain at common frequencies between the subwoofer and main speakers. Only accurate measurements and careful listening will determine which setting will work best for your speakers and room.
The crossover frequency can be set to just about anything and has a range of 40 - 250Hz in various step sizes. You can be sure of one thing... there will be an optimal setting for your system.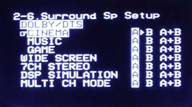 For those of you who can afford to have and extra set of surround speakers and have a real affinity for multi-channel music, you may choose to make use of the Surround A & B modes of the AVR-4306. Simply assign Surround A as your movie speakers (side-mounted dipoles for example) and Surround B as your ITU 5.1 (or equivalent) direct-radiating music surround speakers. Now, you can go into the Surround Sp Setup submenu and select which speakers should be utilized with each surround mode. Folks, this is a POWERFUL tool for getting a very customized sound that puts you in the driver's seat regarding what kind of loudspeaker configuration you want to have in various listening situations. This submenu option only appears if you have indicated that you have both A & B surround speakers connected. Keep in mind, this isn't simply a reconfiguration of your 7.1 Surround Back speakers. This is a dedicated system whereby you can connect an additional pair of surround speakers and have them powered and automatically selected by the Denon based on the input signal or surround mode. Denon even gives you separate level and distance adjustments so you are not just copying the information over from your other Surround speakers.
If you're not interested in utilizing dual Surround speakers, Denon also allows you to reassign the Surround Back channels for bi-amping the main channels or powering a second Zone. Flexibility is the bottom line and Denon presents user with enough options to satisfy just about anyone's needs.
Audio Input Setup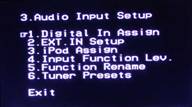 This area of the Setup menu is very important as it will enable you to set the DLINK, HDMI, optical and coaxial digital input assignments for your DVD players, cable/satellite boxes, video game systems, etc... This is where you tell the audio which input source it will be associated with. If you don't accurately set up this area you may be watching your cable TV while listening to your DVD player! If you are using HDMI or Denon Link II/III to send audio to the receiver, this is a "must-visit" section for proper receiver operation.
If you are using the multi-channel inputs on the receiver, the EXT. IN SETUP section will allow you to optionally boost the subwoofer level by 5-15dB. If you plan on connecting an iPod to the AVR-4306, the iPod Assign function allows you to select which inputs the iPod's audio and video will be sourced to. One of my all-time favorite functions, input level trim, is available on the Denon through the Input Function Lev. Menu item. Use this to lower or raise the preamp volume of any devices which may be connected to your AVR-4306 that are excessively loud or soft compared to other input sources. There are a couple other goodies in here, such as the ability to rename sources inputs, and automatically configure (and then manually name) preset stations for the tuner.
Video Setup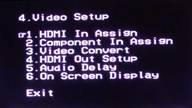 The Video Setup submenu sets the HDMI and component video sources as well as the higher processing features of the AVR-4306 - like upconversion and scaling. While the Denon can upconvert all standard definition video input as 480/576p, 720p, or 1080i, there is also a "Through" option which should be utilized if your display device has a better scaler than the AVR-4306 (see HQV results below). HDMI upconversion is a compelling feature and can, for some, really simplify the process of connecting multiple source components to a single display.
Audio delay is present here. At first glance this seems like it would be better placed in the Audio Input Setup menu, however audio delay is primarily a tool for syncing the dialogue to the video, so it does make sense in that context. For the most part, audio delay has not made itself a large or consistent issue in the AV world, with most display manufacturers correcting for it or utilizing fast enough processing so as to render it a "non-issue". I utilized audio delay for the 2006 Superbowl XL Party as it helped me eliminate a distinct slap-back echo between two of the main theater rooms. I'm sure the product managers didn't quite have that in mind when they added the feature, but I was sure glad it was available at the time!
Advanced Setup Options

You've done it - the receiver basics are setup! Before you put down your remote and celebrate with a nice surround sound selection, however, realize that the Denon AVR-4306 has some rather advanced setup options for those willing to endure a few more submenus...
Advanced Playback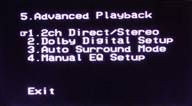 The Advanced Playback menu grants you access to a special section which can set unique bass management options for 2ch Direct/Stereo modes. While you may want tighter bass management for multi-channel surround sound and movies, some of you with full range speakers may opt to set them Large and disengage the subwoofer (or not) for stereo listening. The 2ch Direct/Stereo submenu allows you to do precisely that AND even configure a different crossover and distance delay setting. Couple this with the Surround A & B options in the Speaker Config and Surround Sp Setup submenus and you have yourself a VERY flexible receiver.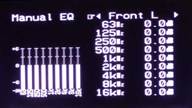 In this setup menu you may also enable a manual graphical EQ (not parametric, oddly enough) for each channel and you can engage Auto Surround Mode which remembers the last surround mode used for analogue & PCM 2-channel signals, Dolby Digital/DTS 2-channel signals, Dolby/DTS multi-channel signals, and DVD-Audio (PCM) and DSD multi-channel signals [not DD or DTS]. I would recommend leaving this enabled so that your surround formats change to your preference each time you begin in a new track for playback.

Option Setup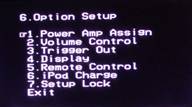 The Option Setup menu handles the "leftover" settings that don't really fit nicely into the other categories. There are some important features here, such as Power Amp Assign which lets you dedicate two channels of amplification to your choice of the "S. Back" speakers, "Zone 2" , "Zone 3", "Front" (for actively or passively bi-amping the main speakers), or "Front B". "Front" and "Front B" are essentially the same, and the correct matching level is set automatically. This is a giant leap forward in simplicity from the last time we used an extra stereo pair of amplifiers on a Denon receiver to bi-amp the mains!
Trigger outputs can not only be activated in this submenu but also assigned to a Zone. After this, each device/source can determine whether the 12V trigger is activated upon selection of that device/input. If you have an iPod, this is where you will set whether the receiver will charge the battery while powered on or in standby modes.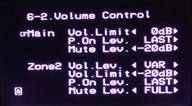 There are more areas in this menu that will prove to be useful, but the Volume Control submenu is the last I'll discuss. This allows a default "power on" and "volume limit" level for all three Zones (Main, Zone 2, Zone 3). To be honest, with a 3 year old in the house I set this up almost immediately once I get a bearing on how loud I want to have the sound in the room. I also like the -20dB Mute option as I prefer this to a complete cut off of all sound.
Network Setup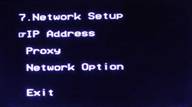 This setup area will likely not be touched by many, unless you have an internal network with a fancy non-DHCP configuration... hey, it happens. The bottom line is that the AVR-4306 works well with a standard network and we found that this section was merely to verify that the receiver was properly assigned an IP address. You can grab the Mac address (helpful for some security network configurations) and set up the receiver to utilize a proxy as well.