AVR-3805 Features

Ever since agreeing to take on the review of the Denon AVR-3805 I couldn't go a day (much less an hour) without getting an email or a forum post requesting info on the unit or a deadline for my review (you know who you are!) I hadn't experienced this level of anticipation on Audioholics for quite some time and wondered if the new receiver would hold up to everyone's preconceived expectations. As is typical with Audioholics, the AVR-3805 receiver would receive a thorough workout, with all of its functions dissected and exposited for all to see. Suffice it to say, at the time of this writing this review, the AVR-3805 is the most feature-rich receiver in its price class... and not by a small margin. Some of its more notable features include:
DENON Link 3rd Edition for "one-cable" SACD and DVD-Audio decoding from compatible Denon DVD players.
16 Burr Brown 192 kHz/24-bit DACs in differential configuration on all 8 channels (Note: Upon having Gene review the schematics for the AVR-5803 and this receiver, he discovered that Denon counts the + and - of each differential DAC as a separate DAC. In reality, this is still one DAC. Hence, there are really 8 DACs all configured differentially, with paralleling two DACs per channel for noise averaging in "direct stereo mode.")
Dolby Pro Logic IIx
HDCD decoding
Auto Setup and Room EQ feature (optional Denon DM-S305 or compatible mic)
100MHz component video inputs/output (with component video up-conversion and monitor out via component video overlay)
120W x 7-channels (8 ohms, 20 Hz-20 kHz, < .05%THD; FTC spec rates with 2-channels driven)
Lip Sync delay (up to 200ms)

This receiver is geared towards the serious home theater enthusiast, while being priced for the (subjectively-speaking) budget-conscious. As you can tell from our more recent reviews, it is possible to achieve excellent audio performance while forgoing separates in favor of the more solidly-built receivers. Your mileage may vary from model to model, but considering all the different components that make up a home theater room, a feature-laden receiver at this price point is mighty attractive. Since the introduction of the Denon AVR-5803 in 2002, Denon has been consistently breaking new ground with its receivers - and this unit is no exception.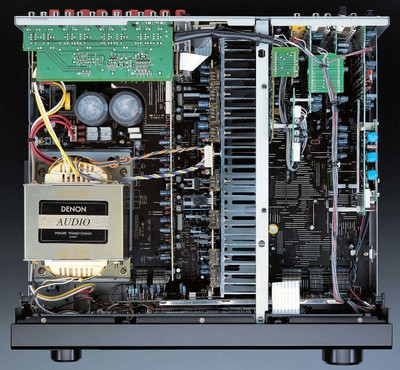 Company History
From its beginning in the 1930s as a supplier of professional recording studio and broadcast equipment, Denon has become a world leader in the manufacture of the highest quality audio, audio/video, and software products. Denon is recognized internationally for innovative and groundbreaking products and has a long history of technical innovations, including the development and first commercialization of PCM digital audio. Denon is a subsidiary of D & M Holdings Inc. which is based in Tokyo and is the parent company of wholly owned subsidiaries Denon Ltd., Marantz Japan, Inc. and McIntosh Laboratory, Inc. Denon, Marantz and McIntosh are global industry leaders in the specialist home theater, audio/video consumer electronics and professional audio markets, with a strong and long-standing heritage of manufacturing and marketing high-performance audio and video components.