LPX-510 Calibration & Viewing Distance
A Projector That Requires No Calibration?
Utilizing the Milori ColorFacts CF6500 I tweaked the brightness (black level), contrast (white level), saturation (color/chroma), sharpness, and hue (tint) to accurate levels in the user menu. Before I performed the ISF calibration I reset the projector and took some measurements. Here are some of the before and after measurements as shown by the Milori ColorFacts 5.5 software:
| | |
| --- | --- |
| Before Calibration | After Calibration |
| | |
| Um, what's that you say? Pretty darn good for "out of the box". There's a bit of blue in the lower IRE levels, but that's not really a problem for any but the most demanding of viewers. | After calibrating the LPX-510, I was able to... hey, wait a minute that's the same photo! No, actually performing a full calibration from scratch netted me a nearly identical result. Yamaha swears my sample was "stock" but I have my doubts. |
| | |
| When the unit is stepped through levels of grey from 0 IRE to 100 IRE, the measurements hold a rather uniform luminance histogram. | No surprise here. After adjusting the set we have an equally uniform luminance performance. |
CIE Chart - Color Reproduction & Saturation Potential
The Milori ColorFacts CIE Chart is used to display the colors for the Yamaha LPX-510's HDTV color reference, as well as the gamut of colors that it is capable of creating. Here you can see the LPX-510 reproduces excellent blues and reds. Please note that the AVIA test disc was utilized for this test, rather than a higher quality source such as a test generator. We did this so that we could calibrate the same inputs we would be running comparisons on later.
Viewing Evaluation - Where Do You Sit?
I was privileged to be able to view movies on the Yamaha LPX-510 over a period of two months, becoming very familiar and acclimated to its performance and picking up on the subtle nuances of how the unit performed and what its limitations were. First of all, here are some notes on LCD projectors and viewing distance. Sometime when you're at the movies, take a look at where you like to sit and compare that to the width of the projection screen. There is a ratio, different for each of us, that tells us just what we consider to be "big screen" - Here's the formula:
Distance from Screen / Screen Width = Desired Big Screen Effect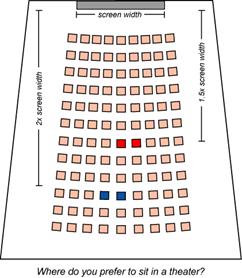 Yes, that's pretty much it. A simple formula if there ever was one. I have found that I like to sit 2 screen widths back from the projection screen (174"/ 87" = 2.0). This wasn't always the case, but as more and more movies take on the look and feel of the Normandy Beach scene from Saving Private Ryan it is nearly impossible for me to sit closer without missing much of the action and nearly getting a headache. Most recently, I experienced this during The Bourne Supremacy , where we were sitting about 1.5 screen widths from the picture and found the chase scenes to be a dizzying mess of confusion. Fight scenes were equally difficult to focus on.
With that said, I recommend a 1.75 to 2.0 ratio for the Yamaha LPX-510. If you have an 87" wide screen like mine, that would mean you'd want to sit about 12.5 to 14.5 feet away from the screen (see the preceding formula). If you sit closer than that, you may see some gaps between the LCD pixels during brighter areas of the picture. Most likely, however, if you sit at least 1.25 - 1.5 times the screen width away you will only occasionally see gaps during bright movement-filled scenes and almost never during medium to dark scenes - it's that good. With many other LCD projectors I've experienced, the "screen door effect" is a given and you'd need to be almost 3.0 times away to lose the gaps. Yamaha has given the LPX-510 some incredible Mojo, allowing an LCD system to perform more like a seamless film projector.