PLV-Z4 Menu System & Throw Chart
In setting up and reviewing any projector I generally take some time to go through and explore the entire menu system. I'd recommend this to any new user as it demystifies many of the functions you will use to customize the projector to your needs. Remember, you can always engage the 'Factory Reset' function to get back to your starting point. After you have a feel for what is possible in terms of adjustments you can go through each of the relevant areas and tweak the settings as needed.
Image Menu

Here you can select from the seven presets Sanyo offers for various uses. The names are somewhat deceptive, but in general you will probably use either 'Pure Cinema' for watching movies in a light controlled environment, or 'Dynamic' when you are entertaining a sporting event in a well-lit environment. Four 'User' presets are also located on page 2 of this menu where you can recall your stored settings following calibration.
To take a sneak peek at what the Image Menu settings really did to the projector output, we took some 'on-the-fly' measurements using the Datacolor ColorFacts 6.0 software, capturing the color information associated with each Image mode at 80 IRE as opposed to the calibrated default (based on Pure cinema):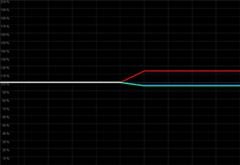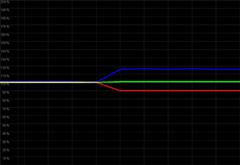 Creative Cinema (left) and Natural (right)
Creative Cinema mode shows a warmer picture overall while Natural mode provides a bit more blue, rendering a cooler image that has the feel of "whiter" whites along with warmer skin tones.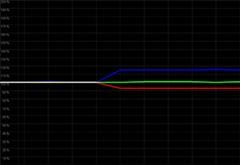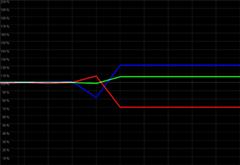 Living (left) and Dynamic (right)
Living mode, though it appears to be very similar to Natural mode differs in that it adjusts the color temperature for a cooler presentation and at the same time, boosts reds and saturation. It also opens up the lens and lamp irises all the way. The result was not very pleasing to my eye, though some may find it helpful for a more colorful representation of on-screen elements.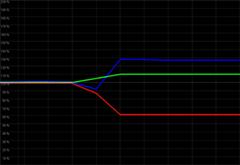 Powerful (left) and Vivid (right)
Powerful mode is very handy for use with sporting events and whenever you really need to eke out every last bit of light from the projector. It puts the bulb on full (normal) power with no automatic adjustment or iris. If you run the unit in this mode it is likely that your bulb life will be shortened somewhat. Dynamic range is not the point here, but total output power at all times. Vivid mode is another alternative, but it turned reds orange and rendered poorer color response overall.
Pure Cinema mode is represented most closely by the flat white line (though it wasn't that pristine when we began) and was the default setting we used as a starting point when calibrating the unit in a light-controlled environment. It is the only mode which runs the bulb at Eco (economy) mode which, in addition to gaining better black levels, garners the longest life expectancy for the bulb.
Image Adj (Level Adjust) Menu
The Image Adj menu is ground zero for all of your calibration settings. Here you can make adjustments to Color, Brightness, Contrast, and Tint. You can also select a color temperature (Low3, Low2, Low1, Mid, High) which upon the system's default settings (Low2 at PureCinema) yielded a 6580K reading at 80IRE which is where I recommend you start. You may want to store a calibrated setting using Low3 as a base if you tend to watch black and white films - then try to coax it down to around 5000K - 5400K for a nice, authentic black and white film look. I personally tend to do this and store it under a custom user setting.
After enabling the 'Advanced Menu' in the Setting menu you will have access to RGB Gain, Offset and Gamma adjustment parameters. General RGB and Gamma controls are also provided for course modifications and so that entry-level users can modify color parameters without having to delve into more detailed adjustments.
If you happen to be feeding the Sanyo an interlaced signal, you will be able to select from three deinterlacing ('Progressive') modes. One is designed for 30fps video, one is for stills and one is for 2:3 pull-down conversion. The only useful setting is Film (see our HQV test results).
A lamp control setting provides for a couple auto modes that vary brightness according to the input signal. The lower the lamp power, the lower the fan noise and the PLV-Z4 even offers an economy lamp mode for longer lamp life and the lowest fan output. The lens iris is adjustable to allow for greater dynamic range into blacks, but this is a setting you will want to adjust carefully to ensure you don't sacrifice too much in terms of overall output.
There is a Color Management system which allows selection and adjustment of certain colors - levels, phase and gamma. While I could blow a couple pages outlining its use and implementation, my summarized thoughts are that 99.9% of users will not really benefit from this type of feature, especially since the Sanyo does such a great job of supplying the required color configuration and gamma settings in the user menu. Before leaving the Image Adj menu be sure to store your settings into one of the 4 available presets.
Picture Adj (Picture Adjust) Menu

The Picture Adj menu will be of most use when inputting either computer or interlaced sources. The 'Overscan' setting is available to all video inputs, however, and can be set to taste. I found myself putting it at +3 to eliminate the overscan artifacts displayed on many cable TV shows but found the 0 or +1 setting adequate for most DVDs. With PC and some interlaced inputs you will be able to adjust horizontal and vertical image position as well as horizontal pixel mapping (called 'Total dots') in order to get as close as possible to 1:1 pixel mapping.
Screen (size) Menu

There are eight Screen size settings available on the PLV-Z4. Several of them are even quite useful. I found myself parked mostly on'Full'which is the proper setting for anamorphic DVDs and 4:3 content you want stretched to fill a 16:9 screen. 'Zoom' mode can be used to better fit letterboxed TV content to fill more of the screen. Finally, a 'Normal' mode will show 4:3 source material in its proper aspect ratio. One other mode I utilized was'Natural Wide 1'which is an excellent nonlinear scalar, keeping the center of a 4:3 source image in proper perspective while steadily expanding the image to the sides of a 16:9 screen. One issue I found that I didn't like was the inability of the system to allow for 'Normal' mode while taking in a progressive image via HDMI. This would be nice for the majority of Special Features and Deleted Scenes appearing on DVDs which, for some unknown reason, are rarely ever filmed in widescreen. When inputting a progressive signal via HDMI, the only available options are: Full, Zoom, Caption In, and Natural Wide 2.
Input Menu
The Input menu simply allows the user to select from the six available inputs: Video (composite), S-video, Component 1, Component 2, HDMI and Computer (HD15). These inputs are also directly accessible from the remote control making it easy to program macros to select the proper projector input. This is a rare find and a cherished feature.
Setting Menu

Within the Setting menu you can configure some of the major projector controls including orientation (as a ceiling or table unit), keystoning, power management, and lamp counter reset. This is also the place where you unlock the 'Advanced Menu' or reset the PLV-Z4 to the factory default settings.
The Sanyo PLV-Z4 has a panel adjustment feature which helps eliminate potential vertical noise or line issues in the picture. A cleaning mode shuts the lamp iris and engages the fan to clear out internal dust that may find its way onto the LCD panels. There's more (custom startup image, blue background, startup display mode, etc) but you get the idea.
Information Menu
This section of the user menu shows the current input signal (handy for configuring the often obscure digital cable box output resolution settings), horizontal and vertical frequency, and lamp time.
Throw Chart for Distancing the Projector from the Projection Screen
The Sanyo PLV-Z4 has an incredible 2x optical zoom. This is somewhat larger than most I've seen and allows you a very wide range of positioning options. Think of it like this: You can set this projector anywhere from 10 feet back to 20 feet back and watch the action on a 100" diagonal 16:9 screen. That's a 10' area of play you have to utilize the optical zoom function and hit your target. If you can't reach a reasonably-sized screen in your room with this projector you must have very unusual requirements.
Screen Size
Diagonal (inches)

Size (Inches)

Distance (Feet)




width

height

wide

tele

70

61.0

34.3

6.9

14.0

80

69.7

39.2

7.9

16.0

90

78.4

44.1

8.9

18.0

100

87.2

49.0

9.9

20.1

110

95.9

53.9

10.9

22.1

120

104.6

58.8

11.9

24.2

130

113.3

63.7

13.0

26.2

150

130.7

73.5

15.0

30.3
Ambient Light Control and Screen Recommendations
We recommend this projector for use in light-controlled environments. With the right screen you can do some effective daytime viewing, but for the most part, you'll want to draw the shades and keep to the dark. An ambient "light controlled" room should:
Not have more than 4-5% ambient light entering it at any time it is being used for watching movies
Not have an abundance of bright or reflective surface areas. I have known a couple people who painted their entire theater rooms a neutral medium-dark color only to realize that their ceiling, furniture and adjoining room cast so much reflective light it rendered their paint choice useless.
If you cannot do a thorough job of controlling ambient light, not all is lost. You can compromise by using a reduced gain gray screen (like the Stewart GrayHawk RS, FireHawk G2, or Carada's High Contrast Gray ) which will aid in attaining black levels and delivering a more pleasing picture. For those who can control light (including the ceiling) we recommend a white screen similar to the Carada Brilliant White or Stewart Studiotek 130.
We ran two different cables to the projector for our tests. A well-shielded component video cable was supplied by Impact Acoustics and gave us an excellent analogue connection from the Denon DVD-3910 player's component outputs. A well-built SHR HDMI cable, supplied by DVIGear, enabled us to compare the digital HDMI input of the Sanyo as well. We ran all of the HDMI source components through a PureLink HDMI Switcher (HDS-41R) which allowed us to send the projector a myriad of sources including multiple DVD players and HDTV from our Scientific Atlanta 8300HD cable box.
Editor's Note
Set up the Sanyo PLV-Z4 in 'Pure cinema' mode for home theater use in a light-controlled environment. This will set the lamp to economy mode and will place the color temperature setting very close to D65. While this projector isn't perfectly calibrated out of the box, it is in pretty good shape and you can watch movies with a good picture right off the bat. If you are using a bright white screen around 1.4 gain then you can try implementing some of the settings listed later that resulted from our calibration of this projector with our Studiotek 130 projection screen from Stewart Filmscreen.

If you're unpacking this projector for Monday Night Football - forget what I said. Engage 'Powerful' mode. You don't really need to set anything else as the projector adjusts the iris and lamp power for you. This is a suitable mode for sporting events or program material without a lot of black detail.
Scott-Rex posts on January 23, 2007 01:15
Just wondering how the PLV-Z5 would stack up to the Panasonic PT-AX100U. Does the Z5 improve as much over the Z4 comparing to the level of improvement from the 900 to the 100?

Thanks for all the great information.
krabapple posts on July 13, 2006 13:37
krabapple posts on July 13, 2006 13:29
krabapple
absent a response, a tentative guess -- L1 = HDMI connection; the other is component? Am I getting warmer?
no , wait, maybe L1 is moving images and L2 is still photos. But that doesn't explain why there are duplicate sets of L1 headers in the review, with different test values. Different inputs?
I suppose I'll get it eventually. Not getting any answers just makes it more fun.
So why not ask a few more --
I now have the HQV test disc, and want to compare varioous modes of my player and projector. Does turning off 'progressive' (i.e. deinterlacing) in the Sanyo also turn off (up)scaling? Or does it still (up)scale an interlaced DVD input? If you feed it a progressive (420p) DVD input via component, is there a way to turn off upscaling to 720p in the projector (or does upscaling only happen with HDMI input)? And what is the 'native' resolution of the Sanyo anyway?
krabapple posts on July 10, 2006 10:54
absent a response, a tentative guess -- L1 = HDMI connection; the other is component? Am I getting warmer?
krabapple posts on July 05, 2006 13:17
Thanks. I still don't get what the L1 (and L1 Pass/Fail) columns are, and why they are shown twice , with different performance. What does that mean? Video and computer-type sources, versus Film? I don't see anything about 'L1' in HQV's benchmark document or the audioholics page either.