PLC-XT16 Viewing Evaluation & Conclusion
We tried out several different source components and materials on the Sanyo PLC-XT16 projector and found them all to succeed in their primary objective: produce bright, enjoyable pictures within an environment that may produce a significant amount of ambient light. All testing was done using a Stewart Studiotek 130 screen, though I would recommend a higher gain screen for use in a house of worship or other commercial-style installation. Here are some screen shots and descriptions: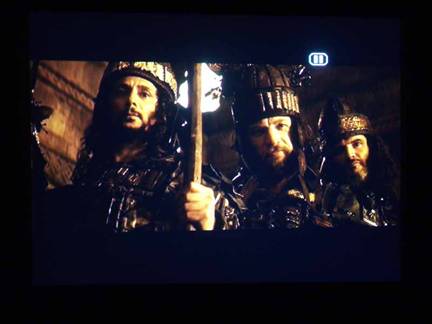 A scene from The Passion taken with no ambient light - projector in Cinema mode, lamp in Eco mode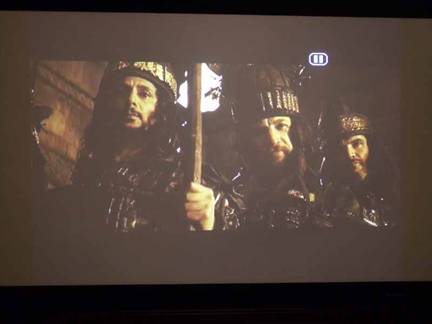 Same scene taken with full ambient light - projector in Cinema mode, lamp in Eco mode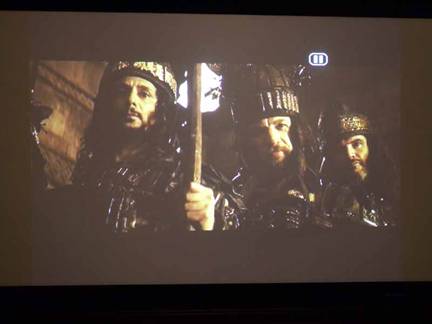 Same scene taken with full ambient light - projector in Standard mode, lamp in standard mode
It's important to note that the ambient light projecting onto the screen during these particular shots was about 7 feet away, making for a very unrealistic test condition. It also consisted of three 60W bulbs, one of which was pointed directly at the screen. In a true commercial setting you would do your best to reduce ambient light to the screen, dimming or otherwise reducing the lights to a point at which the contrast of the screen was a bit more appropriate. Taking this into account, the brightness of the picture here is actually quite impressive.
The more common use of projectors in worship services (though we do play our fair share of DVD movie clips) is for song lyrics, bible verses, and sermon notes. To test this we hooked up the projector to a laptop using the VGA inputs. While this was a laptop with a 1440 widescreen resolution, we changed the screen res to 1024x768 to match the native resolution of the Sanyo and piped out perfectly clean images (maintained in their correct aspect ratio) to the screen. Taking a look at what this yields in terms of screen brightness and performance we get: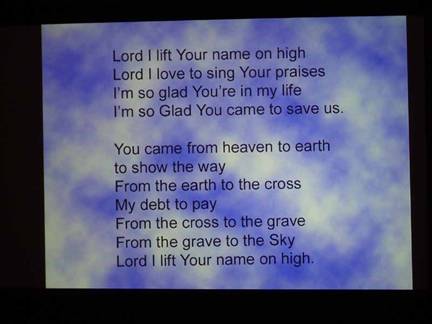 Song lyrics are simply not a problem for the Sanyo PLC-XT16.
You'll have plenty of brightness in any type of lighting.
We even decided to put up a web page to really look at the available detail and to see how well a more complex image would do at greater distances and in ambient light: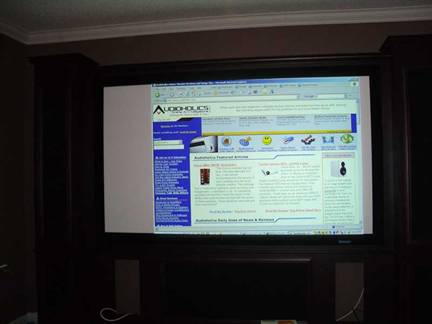 I don't think there's any lack of brightness here. This is one "hot" projector.
The pictures looked bright and I was able to get a convincing amount of contrast from the projector, even in an unrealistically bright room. The Sanyo will be able to hit a larger screen size without losing so much light as to render its 2500 ANSI lumens impotent. The idea with this projector would be to ceiling mount it close to a higher gain screen and watch the images simply pop off the material. You can buy a brighter projector, but for what you can pick up these Sanyo's for it seems that the price-to-performance ratio is extremely high and therefore hard to ignore.
Conclusion
Custom installers have recently been discovering the rather large market surrounding houses of worship. As such it is important to make the proper distinction between what makes a good commercial installation projector vs. a good home theater projector. Contrast ratios must now take ambient light and (typically) larger screen sizes into account and remote control IR range and functions suddenly take a front seat. In a competitive sea of bright projectors, the 3500 ANSI lumen PLC-XT16 is a strong buy and a good value 舑 especially at street prices which easily dip below $3000. For brighter projectors there are other options available from Sanyo , but for general use the PLC-XT16 is a good buy.
Sanyo PLC-XT16 3LCD Projector
MSRP: $5495
Sanyo North America
http://www.sanyo.com/business/projectors


About Sanyo North America
SANYO Group's corporate philosophy is the guiding principle in accomplishing the key management policy of ensuring products and services that are indispensable in creating harmony between people and the environment. SANYO's priorities are: Customer Satisfaction and Harmonizing with the Environment. SANYO's digital technology and core competence (the source of our competitiveness) supply the products and services that generate joy, excitement, and impact.
The Score Card
The scoring below is based on each piece of equipment doing the duty it is designed for. The numbers are weighed heavily with respect to the individual cost of each unit, thus giving a rating roughly equal to:
Performance × Price Factor/Value = Rating
Audioholics.com note: The ratings indicated below are based on subjective listening and objective testing of the product in question. The rating scale is based on performance/value ratio. If you notice better performing products in future reviews that have lower numbers in certain areas, be aware that the value factor is most likely the culprit. Other Audioholics reviewers may rate products solely based on performance, and each reviewer has his/her own system for ratings.
Audioholics Rating Scale
— Excellent
— Very Good
— Good
— Fair
— Poor
| Metric | Rating |
| --- | --- |
| Detail and Resolution | |
| Contrast and Black Levels | |
| Color Reproduction | |
| Build Quality | |
| Ergonomics & Usability | |
| Features | |
| Remote Control | |
| Performance | |
| Value | |