PLC-XT16 Build Quality, Inputs & Remote
The Sanyo came safely packed and protected and included a laser pointer remote control, 10' power cable, VGA (HD15) cable, serial (RS-232) cable, DVI/VGA adapter, protective carry bag, User Manual (actually several copies in various languages) and USB cable. The projector is well-equipped for use with a laptop or PC. Those installing it in a sanctuary or commercial environment will want to run the most commonly used input lines: composite, s-video and VGA. These are more common due to the nature of the source components and switchers that smaller churches implement in their video systems. More advanced systems will make good use of component and DVI-D inputs.
Tech Note: Sending S-VHS to a Projector or Over Long Distances
If you are installing this projector in a ceiling-mount configuration and wish to run s-video to it from a control room or other source, be sure to use two well-shielded RG6 cables which will carry the luminance and chrominance signals independently. Be sure to tape the cables together intermittently so they remain parallel for the entire run. This is far more stable a solution over longer distances than a commercial s-video cable and you can use an s-video breakaway cable like this one from Impact Acoustics to make the final projector and source connections.

Input Options and Installation
There are a goodly amount of inputs on the Sanyo, including composite, s-video, component, VGA and DVI-D (not HDCP-compatible). The advantage here is that churches often want to implement several different uses for the in-house projectors. While the main function of the system may be for Sunday mornings, there may be study groups or other functions that also need to use the projector. Instead of having to train your crews to use the video switching system which may be tied into the component or even composite inputs, you can simply set up a parallel input using VGA or s-video. Sometimes the simplest solution is best.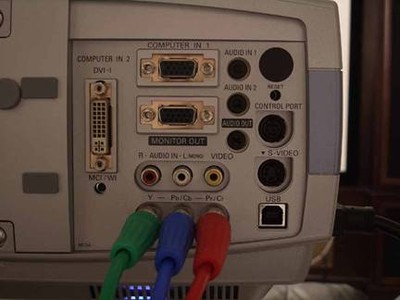 For those considering the Sanyo PLC-XT16 in their home theater room, take a look at the 16:9 throw chart:
Throw Chart for Distancing the Projector from the Projection Screen
Screen Size
Diagonal (inches)

Size (Inches)

Distance (Feet)




width

height

wide

tele

100

87.2

49.0

10.8

14.1

150

130.7

73.5

16.3

21.2

200

174.3

98.1

21.8

28.4
Remote Control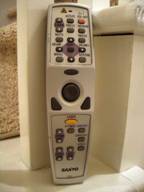 I was very impressed by the Sanyo CXLZ remote - but for very different reasons than usual. First of all, with an installation in a house of worship, the button layout and controls are not particularly important. This is because typically the installation is a 舠 set it and forget it 舡 type of situation. Once the projector is ceiling mounted you typically only need to be able to switch inputs and turn the units on and off. This remote has an almost UNCANNY IR range. I stood off axis in my home and got it to respond to IR signals beamed from the remote while over 60 FEET AWAY from the projector. THAT makes for a good remote in a house of worship.
Tech Note: Aiming Projector Remotes Using the Laser Pointer
A little tip for those looking to initiate long-distance OnOff commands from the back of the room: Use the laser pointer to aim the remote to the rear-mounted IR sensor.

Now, I'd love to take credit for this, but it's actually a trick I learned from Angela, an Administrative Assistant at my church (which means she basically runs the place) and it has made it possible for me to stand at the back of the room and power on/off the projectors rather than walk up to them and have parishioners wonder what on earth I am doing.