PLC-HF10000L Technology Overview
Some projectors are designed for home theater, others for commercial applications. Anyone stumbling onto this review should be 100% convinced that this projector is designed, intended, and perfectly suited for large venue applications and is not created to compete with less-expensive home theater models. To be quite frank, the Sanyo PLC-HF10000L projector is in a completely different class altogether. First off, it's the world's first "QuaDrive" projector with Real 2K resolution. What that means is this projector has, natively, a resolution of 2048 x 1080 pixels on each of its three 1.64" TFT Poly LCD panels. This not only exceeds the requirements for full HD resolution, it also makes this projector suitable for commercial cinema use. In fact, when comparing this style of projector with its 3-chip DLP counterparts, the Sanyo comes in at a very reasonable price that makes it exceptionally competitive. This widescreen 3LCD projector puts out an incredible 10,000 ANSI lumens when using both of its 380W UHP lamps.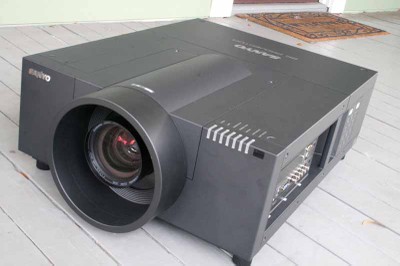 The QuaDrive engine adds a yellow color control device to the red, green and blue elements of the projector's 3LCD system. By automatically controlling the amount of yellow light in the image, it supposedly improves color accuracy, produces a wider color gamut and enables higher brightness levels. It was first introduced in 2008 in the PLC-XP200L, and in 2009 the technology was putting out effective color at high brightness levels of 12,000 lumens with the PLC-XF1000.
The PLC-HF10000L is new in that it's the first QuaDrive projector capable of native 2K resolution (Sanyo calls this "Real 2K"), with no image compression. Its dual high-output lamps are used in combination with three internal mirrors that produce uniform light output, reduce color irregularities and produce exceptional image quality even at the remarkably high image brightness of 10,000 lumens. We've seen it first-hand and will attest that the colors are impressive, even at high lumen output.
Sanyo's Durable Inorganic Optical System ("D.I.O.S.") works in tandem with QuaDrive to produce a 3,000:1 contrast ratio and also extend the life of the optical system. In terms of design goals, Sanyo wanted a lower total cost of ownership (TCO) - a feat they advanced through the use of an Active Maintenance Filter (AMF) system. The AMF aids long-term reliability and reduces maintenance costs by monitoring the intake air volume through the filter and automatically advancing the cartridge-like filter media to provide a clean surface once reduced airflow through the filter is detected. As with many of the other features available on the PLC-HF10000L, the AMF is designed to enable the projector to be used commercially, with a minimum amount of maintenance or adjusting - over a long period of time with high volume continuous use.
mozi121 posts on May 19, 2011 02:21
Pros

* Super bright
* 2K resolution
* Multiple lens options
* Multiple lens modes (single, dual, progressive)

Performance Rating: (4.5 out of 5)
Value Rating: (4.0 out of 5)


joshika posts on May 11, 2011 00:47
SANYO, one of the world's largest manufacturers of projectors introduces the PLC-XTC50L, a unique 3LCD projector for the education and business presentations market, which incorporates a dual lamp system, advanced easy-maintenance functions and continuous (24/7) operations.





-----------------------------------------