Planar PD7150 Connections, Remote and Menu System
While there is no HDMI input (a bit odd in this day and age) the PD7150 does sport a DVI-D input in addition to dual component inputs and standard definition s-video and composite connections. A 12V trigger and dedicated RS-232C port separates this from many other entry-level units. Custom installers will have a unit designed with them in mind. For those looking to truly hide the wiring on an installation, DVI-D is a big potential problem, however with modular, field-termination-capable products like Impact Acoustics' RapidRun Digital this might not be such an issue.


The PD7150 has a unique door in the back that clicks open to allow access to the connections. Cables can be run underneath the door through a provided opening (in a ceiling mount scenario this would allow cables to come directly into the unit while hiding the connections from view. This is a very nice design and shows that Planar is doing more than just throwing in some projectors to the competition; they are listening and responding to their target market.
Remote Control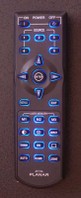 This remote is elegant, but has a few flaws. First and foremost, the 'light' button is located at the bottom right. Ergonomically this is easy to remember, but very had to get to with your thumb. Backlighting also doesn't engage automatically when a button is pressed - I've always liked this function on home theater projector remotes since they almost always get utilized in the dark.

The presence of discrete power 'On' and 'Off' buttons on the remote is a VERY welcome sight and it seems that Planar listened carefully to requests from custom installers. The programmable source buttons are a feature, but they are almost overkill. Labeled direct inputs might be a better way to go rather than having to remember which input is assigned to a number. In terms of importance, this rates about a '1' on a scale of 100… The remote was more than a tad finicky on angle and at times I had to stretch to get the unit to respond when mounted in a front projection, floor-oriented position. Menu delay was also an issue at times, though this was unpredictable and typically limited to such items as recalling the Memory Picture Settings.
The Menu System
There's nothing too confusing about the Planar menu system except that I kept looking for more. It is very succinct and does its job without being too confusing. It also doesn't have endless regressed levels of embedded menus within menus. Just about everything is a maximum of one step below the Main Menu items. The 'Menu' button activates the menu and using the arrow keys takes you into the submenu area. At that point making any horizontal movements adjusts parameters while vertical movements navigate between the various settings. Pressing the 'Enter' button removes the menu and allows access to only the current control while allowing a full screen presentation. Pressing the 'Menu' button again causes the menu to go away.
I found the menu system to be a bit quirky at times. For example, the way to "back out" of an area is to hit the 'Exit' button on the remote. Intuitively, you would simply arrow left, however this activates the parameter control instead. Most menu systems we've used seem to favor the "click to activate" functionality with the left and right controlling parameters only once activated to that adjustment mode. One thing I did appreciate was that the Menu system did remember where you were last. So re-entering the menu and navigating with the 'right arrow' got you immediately to the place you were, even if it was half way down the submenu listing.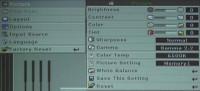 Picture Menu
Browsing through the Picture menu you'll have access to all main picture controls including Brightness, Contrast, Color and Tint. You'll also be able to adjust Sharpness (keep this on 'Normal' and Gamma as well as Color Temp settings. The Picture Setting control is for recalling one of the Memory positions (we could only get 2 working despite the 3 hard buttons on the remote control.)

Since the Planar PD7150 has no "Picture Modes" per se (i.e. Sports, Vivid, Daytime, Cinema, etc) you'll likely want to use the Gamma controls to adjust the unit for day and night viewing - at least until you can set up some stored calibrated Memory settings. Setting a Gamma of 1.0, for example, gives you the brightest image for daytime viewing of television in a room that is not light controlled. For cinema watching we found the default Gamma 2.2 to be a very good starting point. You may find different results depending upon your screen type and viewing room. RGB Gain and Offset controls are available under the designation "White Balance".
Layout Menu
The Layout menu should be unused by most. It sets the system to 16:9 or 4:3 (not adjustable for HD input at the correct mode) and allows for control over horizontal and vertical positioning and keystoning.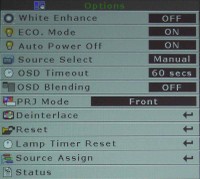 Options Menu
You may spend some time in the Options menu. Serving as a sort of 'catch-all' for important adjustment items, this menu permits access to lamp modes (ECO and Auto power off) and a White Enhance mode that basically steps up the Contrast to allow whites to appear more vibrant.
The Projection mode (front, rear, etc) as well as On-screen display settings can be found here as well. Deinterlacing mode settings, an important aspect of the PD7150 for proper functionality with DVDs, are also found here. It is very important to ensure you have the right settings here in order for 24 frame-per-second film-sourced DVDs to be accurately converted to 30 frame-per-second video. Another feature is the ability to assign sources to each of the 5 remote key positions.
Editor's Note: All of our primary evaluations were done using the 3:2 pull down Film Mode with Video on film (VOF) set to 'On' excepting times when we played with settings and gamma to tweak the projector and find out its capabilities and flexibility.
Everything else in the menu system is self-explanatory. Language can be selected for the on-screen menu system and you can do a factory reset from the top menu (unusual and a tad dangerous for overzealous 'clickers'). There is a nice way to monitor the input source format with horizontal and vertical timings (as well as the lamp timer). It also provides the firmware version (258.11.157 as of this review).

E-A-G-L-E-S posts on October 17, 2008 10:37
This is one fantastic 720p 1 chip DC3 DLP PJ!
The Dukester posts on October 14, 2008 11:30
Thanks for the review. The Planar 1080p's are on my short list. Any chance of seeing an 8150 or 8130 review? I'd really like to see how these stack up against the new JVC's coming out and the Sony's. Too bad there are no dealers close to me to see any of these.
Clint DeBoer posts on October 14, 2008 09:08
Grayson73 posts on October 14, 2008 08:21
White Enhance, if I recall correctly, enabled whiter than white response, regardless of gamma setting. I don't typically retain calibration settings since most people's rooms and systems are different from mine.

So you recommend that it is always "on", right? Why is it good to have "whiter than white"?
Clint DeBoer posts on October 13, 2008 18:42
White Enhance, if I recall correctly, enabled whiter than white response, regardless of gamma setting. I don't typically retain calibration settings since most people's rooms and systems are different from mine.